Djokovic Advances To Wimbledon Final

Novak Djokovic is through to his ninth Wimbledon final. He defeated Jannik Sinner 6-3, 6-4, 7-6(4).
If he wins on Sunday, he will have an eighth Wimbledon title and his 24th Grand Slam title.
Jannik Sinner has bludgeoning power. His backhand is class. His forehand can be huge, though at times today that is the stroke that cost him too many points. But the Italian had his chances. In the third set, he lifted his level, his intensity, and even had two set points.
Djokovic, though, was too dominant. He was always better in the big moments.
Djokovic is just so disciplined. All facets of his game are good. Mentally, physically, he just knows how to play.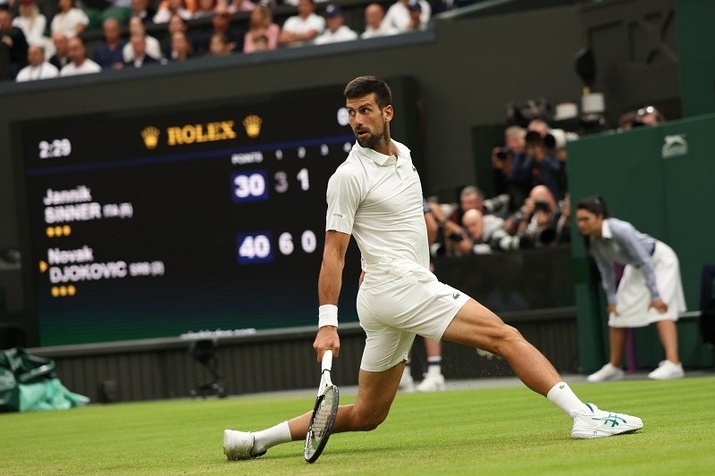 There was a hindrance call by the umpire who thought that Djokovic had grunted too late that resulted in a point penalty. Djokovic pleaded with the umpire, asking, "What are you doing?" The point could have changed the course of the match, but Djokovic had tremendous poise.
In his post-match press conference, Djokovic said: "Well, it was a well-fought, straight-set victory. Each set was closer than it appears maybe on the scoreboard. I knew that he is going to try to be aggressive and hit from both forehand and backhand quite flat and fast, so I needed to be really sharp from the beginning, which I think I have.
"I think I found the right shots at the right time. Serve was kind of going up and down, but I managed to make him play always an extra shot, especially towards the end of the match.
"Yeah, he basically made some unforced errors to give me the victory in the tiebreak. Also, he was two set points up in the third. But that's tennis, obviously. That pressure point moments, it's not easy to play the shots that you desire.
"So, it was, of course, great for me that I was able to finish the job in straight sets."
Djokovic was asked if he'd had a chance to watch back the hindrance call. He said: "First of all, I have to accept the decision from a chair umpire. That's it. It was quite a close call, I must say. I mean, it has never happened to me. I've never had a hindrance call for extended grunt.
"I saw the replay. I saw that my grunt finished before he hit the shot. So, I thought that chair umpire's call was not correct. I mean, my opinion.
"Again, you have to accept it."
On Sunday, Djokovic will play top seed Carlos Alcaraz in the final.
Djokovic said of the young Spaniard: "This is probably the most anticipated finals I guess from the beginning of the tournament, from most of the people. Alcaraz, myself… It will be his first finals in Wimbledon.
"He's so young, but he's incredibly consistent now, also on grass. Which I don't think many people expected him to play so well because his game is basically, yeah, built and constructed and developed for clay mostly or slower hard courts. But he's been incredibly successful in adapting to the surfaces and demands and challenges of opponents on a given day.
"I see this as a great trait, as a great virtue. I see this as one of my biggest strengths throughout my career, that I was able to constantly develop, adapt, and adjust my game depending on the challenges basically. That's what he's doing very early on in his career.
"Kudos to him. Amazing player. Great guy also off the court. He carries himself very, very well. He respects the history of the sport, respects everyone. No bad words about him at all.
"His team, his family… I've seen him play in Queen's a little bit. Here he's been very impressive. I think he already developed a very accurate game on grass.
"I think, judging by the performances that we have seen from all the players, I think this is probably the best finals that we could have. We are both in good form. We're both playing well.
"I guess I want to take this title without a doubt. I look forward to it. It's going to be a great challenge, greatest challenge that I could have at the moment from any angle really: physical, mental, emotional."