Discussing Doubles At Indian Wells

I'm sitting in Stadium 2 at Indian Wells with Will Boucek from The Tennis Tribe. Will is a doubles strategy analyst and host of the Doubles Only Tennis Podcast.
We've just watched the remarkable team of second seed Hsieh/Mertens win their semifinal match in dominant fashion over the third seeded Japanese duo, Shibahara/Aoyama, 6-2, 6-0. Up next is the second semifinal between Kudermetova/Rybakina and Ostapenko/Kichenok.
Tennis View Magazine: What's been your overall impression of doubles at the tournament so far from a fan's perspective?
Will Boucek: It's been fascinating to see how the fans at the tournament have embraced the doubles. I noticed singles stars attracting fans to the doubles court the past few days which isn't too surprising, but to see the actual differences is enlightening.
Coco Gauff's match with Leylah Fernandez against Hsieh and Mertens probably had the biggest crowd from the time that I've been here, and it seems like the women's doubles are drawing bigger crowds than the men's. Meanwhile, the best doubles team in the world on the men's side, Mektic and Pavic, haven't had as many fans. I've been able to easily sit first row for almost every men's match, while that's not true for the women's side.
A lot of this comes down to personality. Hsieh Su-Wei, for example, is so likeable and funny interacting with the media that she draws a crowd. Other players can learn from her and help grow doubles.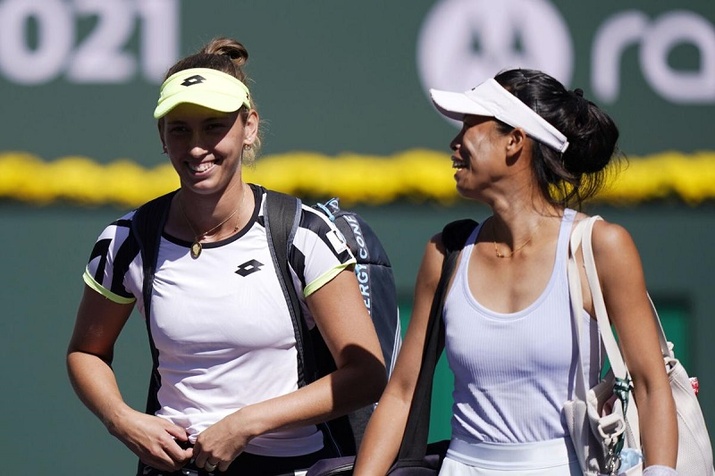 Mark J. Terrill - AP
TVM: What have been your big takeaways in the men's doubles draw so far?
WB: The team that returns better seems to win the match. I watched several big favorites go down and the commonality I noticed is that the team that won missed fewer returns. The 5th and 1st seeds both lost last night in straight sets and there were no easy holds for the favorites. The match winners were constantly applying pressure to their opponents' serve. Of course, how well you serve plays a factor in this as well. It's two sides of the same coin.
TVM: What have been your big takeaways in the women's doubles draw so far?
WB: The women play a lot more from the baseline, and Elise Mertens is probably the best at it right now. The perfect combination is a power baseliner who can hit with precision along with an active net player who can both apply pressure and finish the point. All of the best teams have this type of chemistry, but it seems like Hsieh and Mertens do it best.
TVM: From a coach's perspective, what's been the best part of being here?
WB: Without a doubt the practice courts. I was able to watch Bethanie Mattek-Sands practice for 45 minutes with no one else watching. We chatted afterwards for several minutes. That sort of access doesn't typically come easy.
I also watched several doubles teams practice together and have been able to take away a few drills to start using and recommending. Yesterday, for example, I watched Hsieh and Mertens working on their offensive and defensive volleys. Both players were at the net crosscourt from each other, in the position of the server's partner and returner's partner. Their coach fed a fast paced "return" down the line, then another over the middle net strap. While Hseih (server's partner) tried to put the volleys away at Mertens (returner's partner) feet, Mertens, standing at the service line, had to play defense and try to stay in the point.
TVM: How do you think we can get people to watch more doubles?
WB: I ask this question to almost all my podcast guests, so I've heard a lot of perspectives on this. My take is that it's sort of a chicken or the egg problem. The media can do a better job of covering it, but the players can also do a better job of promoting themselves.
Which has to come first? Both. If players can prove that people want to watch them by attracting more fans, then media outlets like the Tennis Channel will cover it more. That said, if those companies showed doubles on TV more or created more content around doubles, then more fans would show up.
It helps that many of the young singles stars are embracing doubles. I mentioned Coco Gauff above on the women's side, but you also have Denis Shapovalov and Andrey Rublev in the quarterfinals of the men's doubles tonight. They're both out of the singles draw, but have decided to stick around. It's certainly an underserved market, and I think at some point we'll see it grow much faster. I'm trying to help make that happen.