Denis Shapovalov: Future Looks Bright For Canadian Tennis

Nineteen-year-old Canadian Denis Shapovalov is through to the second round of the Rogers Cup. Shapovalov, the world No. 26, defeated world No. 46 Jeremy Chardy 6-1, 6-4 in just over an hour.
Shapovalov got off to a good start, holding serve in the first game and breaking in the second. In the third game, it looked like Frenchman Chardy was going to break back, but Shapovalov was able to hold with three big serves. In the fourth game, he broke Chardy at love as everything was going his way. He held the next game for a 5-0 lead. Finally, Chardy won his serve for 5-1. But Shapovalov, with another big serve, held again easily.
In the second set, Chardy tried to get some momentum and held his serve in the first game. But then Shapovalov held at love. Chardy just looked a step slow reacting to Shapovalov's ball. Soon, the Canadian got another break, and he remained calm and cool to the end, playing at a very high level.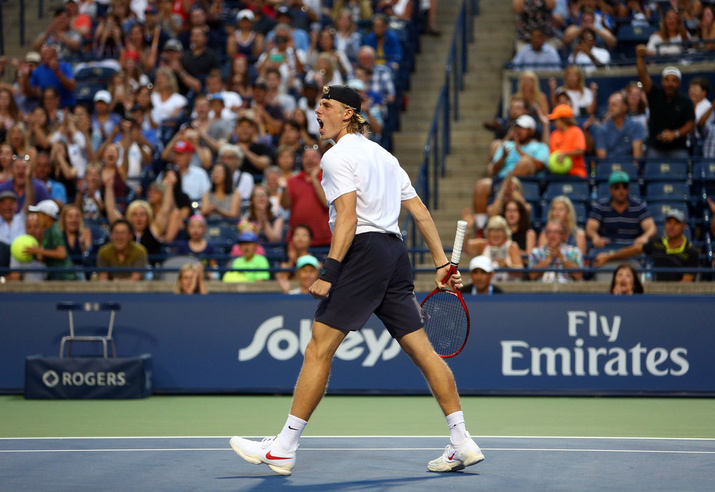 After his win, Shapovalov threw his arms in the air, patted his heart, and blew kisses to his hometown crowd. "Rogers Cup, for me, it's not another week on the tour," he said. "It's a bonus week. I get to play at home. It's an honor for me to go out there in front of all my fans and just put on a show."
Shapovalov is a star. He brings that same electricity to a stadium as Federer or Nadal. With his earnest swagger and blond hair peeking out from under his signature backwards baseball cap, he's an absolute joy to watch. He's long-limbed with long swings. He flows like a surfer or skater, sliding easily on a hard court. Yet he also has a jumpy energy and often takes big leaps in his pursuit to win every point.
Like Nadal, he's left-handed with a vicious forehand. He's also confident without being arrogant. He even has Nadal-like routines. Before he serves, he bounces the ball back through his legs twice, then four times in front. When he sits on changeovers, one knee moves nervously up and down.
Like Federer, he has a graceful one-handed backhand with exquisite timing. He also likes to mix up his shots and spins and isn't afraid to come to the net.
It was, as Shapovalov said, "a really good day for Canadian tennis." Fellow Canadian and rising star Felix Auger-Aliassime, a day shy of his eighteenth birthday, took out another Frenchman, world No. 18 Lucas Pouille 6-4, 6-3.
Auger-Aliassime and Shapovalov are good friends and have a huge opportunity to change the dynamic of Canadian tennis. Put these two together with Milos Raonic, age 27, former Canadian No. 1 and world No. 3, who's coming back from numerous injuries and had a big win over world No. 11 David Goffin 6-3, 6-4, and the future looks very bright for Canadian tennis.
"My goal is to raise the level of Canadian tennis," Shapovalov has said, "and just have more kids picking up a racquet instead of a hockey stick."