Daniel Evans: Behind the Biggest Upset of Day 1

If we had to pick a moment when Daniel Evans made his debut on the big stage in tennis, we would have to go back a few months to April. Great Britain and Russia were squaring off in Davis Cup, with the winner having a chance to move out of Group I and compete in the World Group Play-offs. It was a tough draw for Great Britain, though, for Andy Murray wasn't competing. That left it up to Evans and James Ward to pick things up.
Evans fought well in a five-set loss to Dmitry Tursunov. After Ward upset Tursunov, also in five sets, Evans took the court in a winner-take-all final rubber against Evgeny Donskoy. Donskoy was ranked No. 80 in the world, while Evans was outside the top 300. But Evans blew Donskoy off the court in a shockingly impressive performance that told everyone that he would not be outside the top 300 for long.
Evans, though, was still playing Futures tournaments at that time. He played his first Challenger of the year in Nottingham, where he upset Ryan Harrison before losing in the quarterfinals. He then upset Guido Pella and Jarkko Nieminen at Queen's Club before losing to Juan Martin Del Potro in the third round. Since Wimbledon has a rule against giving wild cards to players ranked outside the top 250, Evans was forced to attempt to qualify, which he failed to do.
Evans' real breakout came in the last month. He reached back-to-back Challenger finals in Vancouver and Aptos, looking impressive along the way. He upset both Pella and Donskoy again and easily beat Bobby Reynolds in the Vancouver semifinal. Then, this past week, Evans successfully qualified for the US Open to make his first main draw at a major other than Wimbledon, where he is 0-2 in main-draw matches.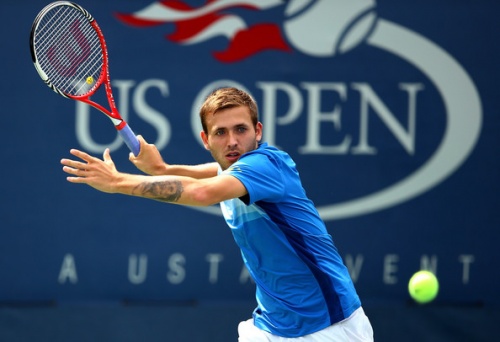 Drawn to face Kei Nishikori, it would not have been fair to expect too much of Evans, regardless of the form that he showed this past month. Evans had different expectations, apparently. He went toe-to-toe with Nishikori and never gave up his aggressive game, even when Kei went up a break early in the first set. Evans simply outhit Nishikori (no small feat) to get the break back and take the first set. He then repeated this process to win the second. Nishikori lost his cool a bit after Evans held in a lengthy game to open the third set and everything went the Brit's way from there. Evans advanced in three relatively easy sets for his first top-20 win and his first win in a main draw at a major.
It cannot be overstated how well Evans played. He has never been inside the top 150 before, yet he played like a top-20 player for three full sets. He went for his shots and made them a lot more than he missed, especially attacking Nishikori's second serves. He was credited with 27 winners and 32 unforced errors, but those numbers do not tell the full story of the match. Evans worked himself into the rallies, and his power forced Nishikori into a lot of awkward positions because the Japanese star had to fear Evans' ability to hit clean winners. The most telling stat of that match was Evans winning 48% of points on return, something that not many players can do against Nishikori.
Evans does not want his story to stop at just one win here. He thinks that he can go farther.
"I'm happy with how the day went and how the match went, but I really want to win the second round," said the British underdog. "One round isn't enough at the minute. So I want to win again on Thursday."
The match could have gone poorly for Evans if he had been slightly off on his shots, and his attitude on court sometimes suggested that he could not sustain this level much longer. One thing is clear, though. If Evans hits the ball this cleanly and this accurately, he may very well get that second win. And even if it does not come this tournament, he will be getting multiple wins at majors very, very soon.