Courting Drama (or Not): Venus, Serena, and Jankovic in Dubai

When it comes to the more dramatic moments in tennis, fans either love it, or pretend to hate it. But in the high-school auditorium that the WTA Tour can sometimes be, who is the head of the drama department?
Among more casual fans, there is a naïve inclination to believe that the Williams sisters are the ones making the loudest noise, even when they're not hitting a tennis ball. Mention Serena's name at a tournament and you might hear about one or two or three different US Open meltdowns. Where Serena has been deemed "dramatic," Venus has been spun into a full-on Greek tragedy. Injuries, age, and the all-too-real Sjogren's Syndrome have been constant narrative plot points in the last several years. Far from a drama queen, the elder of the two sisters is instead portrayed as a veritable Mary Sue, for whom fans and journalists openly support in light of her adversity and "advanced age."
Yet, aside from those isolated incidences, and certainly this week in Dubai, both Williamses were all business on the court. In particular, Venus's title run to wrap up the WTA's Middle Eastern swing underscored her competitive fire. Unaffected by calls to retire so that we might be spared her week-to-week struggle against players she once dominated, Venus roared through her difficult Dubai draw. She avenged recent losses to Elena Vesnina and Ana Ivanovic in the opening rounds and punctuated her second Dubai title in five years with an emphatic scoreline against the surging Alizé Cornet.
Among the few unsurprised by this development might well be Venus herself. After all, had she believed this level of tennis was beyond her, she likely would have retired long ago, opting for less stressful exhibition matches should she have felt inclined to pick up a racquet.
At the same time, that isn't to say a Williams sister didn't play a drama-filled match in Dubai. On the contrary, there were some moments so compelling that they made it onto YouTube before the match was even over. But in those instances, the focus was rarely on Venus or Serena, but rather on their infinitely more dramatic opponents, Cornet and Jelena Jankovic, respectively.
In a relatively subdued moment, Cornet conferred with her coach after losing her break lead over Venus in the final. No sooner did her coach make his opening remarks than the floodgates opened for the Frenchwoman. Trying to plead her case to her unsurprisingly unruffled coach, Cornet could hardly speak, perhaps in the effort to expel the negative emotions that had evidently built up in the first eight games of the match. Although Cornet had professed to loving Dubai's "ambiance" in her win over "better sister" Serena in the semifinals, she found it as stifling in the final as she had when she played her home tournament in Paris. She only took one more game en route to a 6-3, 6-0 drubbing.
This might have been the nuttiest scene of the tournament, but given Jelena Jankovic's presence in the draw, Cornet never had a chance to win the drama award. Like the Frenchwoman, Jankovic has had a resurgence of her own in the past year, returning to the top 10 and reaching her first Grand Slam quarterfinal since 2010 at last year's Roland Garros. At her best, the Serb was able to keep up with Serena Williams as well as anyone ever has, and she was more than capable of keeping things competitive over their rivalry.
But, in their last few matches, the drama has turned up several notches. As far back as a Rome semifinal in 2010, the two have had issues synchronizing their serve and return readiness. Serena told Jankovic, "I'm not Justine," referring to the 2003 French Open when Justine Henin held her hand up in an attempt to disrupt the American's timing. During last year's encounter in Charleston, Jankovic was playing some of her best tennis against a sluggish Serena, and yet she became angry when the American held up her hand to stop the Serb from serving. In a rare moment in tennis, the two spared verbally, with Serena proclaiming, "I am not the one" to a frenzied and frustrated Jankovic, who ceded all momentum and lost the match in three sets.
Their match last week was far less competitive overall. Down a set and 5-2, Jankovic was attempting to save a slew of match points, only to pause in the midst of all of this athletic drama for a case of déjà vu. The debate concerning time taken between points is never more interesting than during the matches between these two women. While the American has a well-established pre-return ritual that can (and has) run long, the Serb plays with little rhythm on serve. Jankovic can be ready in 12 seconds for one point, and another will take 25 seconds, regardless of the length of the previous point. Neither looks close to adjusting any time soon.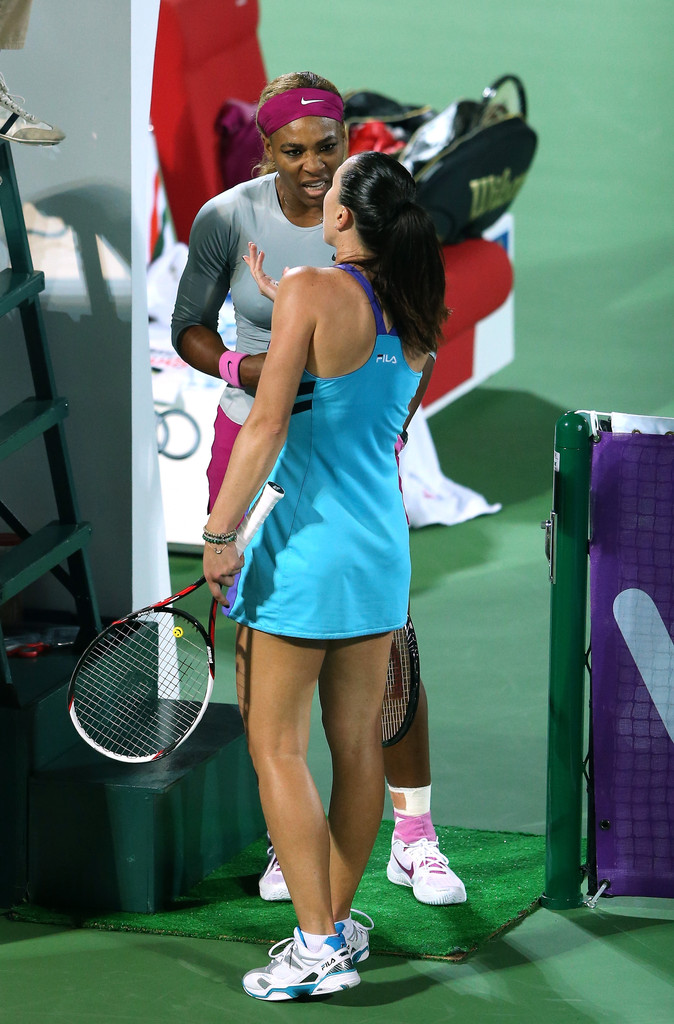 And thank goodness for that, for an otherwise unremarkable match got another dose of banter between the two rivals, with an exasperated Serena asking, "Do you want to do this again, Jelena?" The handshake was even more dramatic for what wasn't heard. The two had a long conversation at the net, with interviewer Annabel Croft looking on, too engrossed to take notes. From the body language, it was clear that Williams regrets these constant spats, and said as much afterwards in press.
It all comes down to intention. In her book, On the Line, Serena wrote that, to play her best, she needs to play "angry." For Jankovic and Cornet, the emphasis is less on anger and more on theatricality. Either way, it makes for entertaining tennis.