Could Davis Cup Boost the Prospects of America's Next Generation?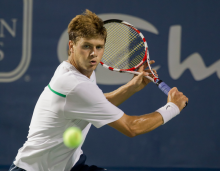 Far removed from the third ATP Masters 1000 Series event in Monte Carlo, Americans Ryan Harrison and Donald Young—two players that have been tabbed for success since their junior days—fell in the first round of events on the ATP Challenger Circuit this week to less-heralded opponents.
Those defeats continue what has been an inconsistent season for the pair: Harrison currently has a 4-10 mark, while Young—who won a Challenger event in Leon, Mexico, a couple of weeks ago—has lost his last two matches after that.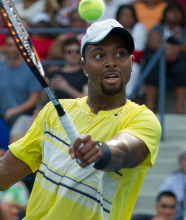 Any observer of the game would concur with the fact that the rankings for the two Americans don't do justice to their talent. However, as the setbacks begin to pile up, their confidence starts to take a hit, hindering any progress.
But there is a venue where the two could possibly work toward erasing self-doubt and setting a stronger foundation to develop success on the ATP World Tour.
And that's Davis Cup.
Granted, the U. S. team is already out of this year's competition, having fallen recently in the quarterfinals to the Novak Djokovic-led Serbian squad. The opportunities were there for the upset, but the Americans fell short in what could've been their best chance to make a significant run at the title for years to come.
While John Isner and Sam Querrey are solid top-20-caliber talents and have both notched impressive wins in team competition in recent years, the pair could be hard-pressed to overcome some of the depth and ability presented by other nations.
So why not start thinking of the somewhat-dreaded "R" word: rebuilding? And if that were to happen, why not turn over the reins to Young and Harrison?
Those two have both had a turn in the top 50 and are young enough to say that their best years are still ahead of them. However, at the moment, they're caught in a cycle of playing Challengers and qualifying rounds at the ATP tournaments. It's a difficult path to break out of, especially when there's the thought in their heads that they should've made a major breakthrough at this point.
Plus, when they manage to get in a main draw, they're often forced to face a top seed early on: Harrison's second-round opponents at the Australian Open and in Indian Wells were Novak Djokovic and Rafael Nadal, respectively. It's hard to prepare for that as a young player coming up.
That's where Davis Cup comes into play.
You're often tasked with facing a nation's top two players over the course of a weekend. Add to that the pressure of competing for your nation—whether it's a home or away tie—and it becomes a situation that could test anyone.
Perhaps, though, that's something Harrison and Young could use over the next couple of years for their development. Odds are, if they're on a team facing Djokovic and Janko Tipsarevic indoors in Serbia or David Ferrer and Nicolas Almagro in Spain, they're going to take their lumps.
But what if they're drawn against a Russian squad led by veterans Nikolay Davydenko and Mikhail Youzhny at home and come up with a win? That's a nice result anyone would be happy to take and could do wonders for their confidence.
It's not without precedent to go with a "youth movement" in U. S. team tennis competition. Look what Mary Joe Fernandez has accomplished captaining the Fed Cup team over the years: two final-round appearances without the assistance of the Williams sisters.
Davis Cup Captain Jim Courier could follow that path, something his predecessor Patrick McEnroe did as well. He challenged Bob and Mike Bryan to make the team and gave James Blake a spot on the team well before he had ever cracked the top 50. Years later, they were the core of the team—along with Andy Roddick—that won the Davis Cup in 2007.
Granted, those four are some of the best male players the U. S. has produced in decades, and Harrison and Young are far from their achievements.
It's not too late for them to get on track, though, and maybe next year's Davis Cup could provide that opportunity.