Continuity and Change: The Champions of Roland Garros 2013

An uninformed viewer would not have guessed that Rafael Nadal had won Roland Garros before when they watched him fall behind Daniel Brands and Martin Klizan in his first two matches. Nor would an uninformed viewer have guessed that Nadal had won Roland Garros before when he pitched backward in ecstasy onto his beloved terre battue, having dominated David Ferrer in the men's final. The eighth time tasted just as sweet to the King of Clay as did the first, and perhaps more so considering the circumstances of this year.
The challenge of winning the same prestigious title again and again comes with its own special set of burdens. Nadal has entered Roland Garros as the clear favorite almost every year for nearly a decade, leaving him little to gain and much to lose. Anything less than a title would come as a shock and a disappointment, as his loss to Robin Soderling did four years ago. This situation leaves Nadal no margin for error at a tournament featuring the best players in the world, where each of his seven opponents knows how much it would mean to knock him off his pedestal. And yet somehow he comes back to Paris each spring and methodically breaks down each of his challengers, attaining a level of consistent excellence unparalleled by anyone ever at any major.
This year, Nadal came to Paris after the extraordinary sweep through the European clay season that has become ordinary to him. But 2013 was not quite the same as most of his previous appearances. Nadal had not progressed far into a comeback from an eight-month absence, and his struggles against unseeded opponents in the first week raised eyebrows. Drawing Novak Djokovic in the semifinals looked increasingly dangerous as the defending champion continued to show traces of fallibility. But Nadal's epic five-set win in that match, filled with courageous comebacks and missed opportunities, seemed to free him of the anxieties that hovered over him early in the fortnight.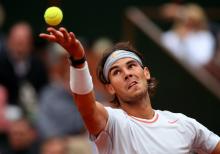 In the aftermath of that statement victory, many players would have come into the final emotionally flat or a bit complacent. After all, Nadal had won 16 consecutive clay meetings against Sunday's opponent, David Ferrer, and had compiled a 19-4 record in their matches overall. He again faced a situation with little to gain, much to lose, and plenty of incentive to take victory for granted. But that is the case every time that he takes the court in Paris, and this time was no different from those before.
Never seriously threatened at any stage of the final, Nadal soared past Ferrer for the loss of just eight games. The resounding victory testified less to his opponent's flaws than to the eight-time champion's relentless focus and intensity. Every tournament is a new day for Nadal, every match a new match, every victory a new cause for celebration, and every Roland Garros title just like the first. That is the reason for his singular stretch of sustained success, built upon a foundation of not just talent but will.
---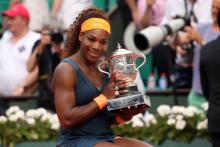 If Nadal wanted to experience the same feeling in Paris that he did last year, Serena Williams most certainly did not. A ten-year drought since winning her first title there had climaxed last year with a first-round loss to Virginie Razzano. That setback spurred Serena's surge back to the pinnacle of women's tennis last year, and it spurred her over the last fortnight to accomplish what she might otherwise have left undone.
Only one set did the world No. 1 lose this tournament, and in only two of her seven matches did she lose more than four games. Having looked confused and helpless on the Paris clay last year, Serena displayed a crisp, disciplined brand of tennis nearly from the first ball of the first round to championship point. Some of the credit belongs to her coach, Patrick Mouratoglou, who has guided her through the longest winning streak of her career. Like Nadal, Serena could have become complacent after encountering scant resistance earlier in the clay season en route to titles in Madrid and Rome. Like Nadal, she did not take victories for granted.
Serena finished the tournament with 85 more winners than unforced errors, a staggering differential for a shot-maker on a clay court. That statistic testifies not just to how easily her groundstrokes can penetrate a slow surface but to how intelligently she chose when to pull the trigger. Rarely celebrated for her patience, Serena recognized its importance at Roland Garros and checked her champion's stubbornness just enough to adapt. She claimed her 16th major title in a compelling final against world No. 2 Maria Sharapova, whom she has dominated as relentlessly as world No. 3 Victoria Azarenka. Those who lament the absence of rivalries in the WTA have nothing to blame but Serena's brilliance.
Implicit in that observation is a paradox. Women's tennis is more interesting, in a sense, when those at the top of the game are vulnerable or imperfect. Outcomes are less predictable, and several players can harbor legitimate hopes to seize the biggest titles. When a champion like Serena reaches her best form, by contrast, the rest of the women are playing for second best. Even if we regret the imbalance of a top-heavy WTA and its rigid hierarchy, though, we should relish the experience of witnessing Serena's dominance while it lasts. Seeing the best in the world do what they do best is a pleasure and privilege not to be underestimated.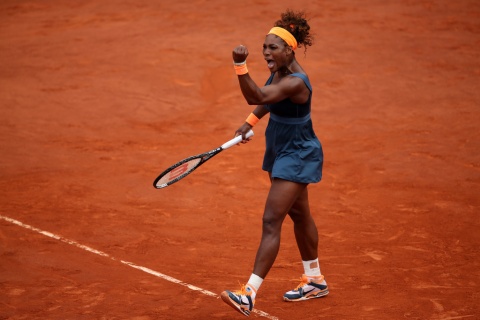 Where can Serena go from here? A woman who routinely defies projections, she often produces her best tennis when least anticipated and her least impressive tennis when most anticipated. But her first Roland Garros title triggered the famous Serena Slam of 2002-03, and the grass of Wimbledon always has showcased her serve better than any other surface. Perhaps winning on the terre battue that has frustrated her so often will make Serena believe that she can win anywhere. With limited time left to burnish her resume, the 31-year-old champion still may make her case to be the greatest ever.