Collision Course In New York?

After the epic Cincinnati Masters final, many fans are hoping for a US Open final between Novak Djokovic and Carlos Alcaraz. Just 10 days ago, the world number one and two put on an epic display of tennis in one of the best 3-setters in memory. Djokovic came out on top 5-7, 7-6, 7-6.
Tennis fans are usually savvy and can feel a ground shift. For two decades, the men's game has been dominated by 3 players – Roger Federer, Novak Djokovic, and Rafael Nadal. The trio have combined for a feat I don't think we will see again, at least anytime soon. They have amassed an incredible 65 grand slam championships between them during their era. No other era can sniff this cache of accolades with perhaps the closest being the Aussie-dominated era where Rod Laver, Roy Emerson, Ken Rosewall, and John Newcombe combined for 38 from the mid-1950's through to the early 1970's. With Federer in retirement and Nadal soon to join him, Djokovic appears to be the last player standing in the gap between the "big three" and the "next generation."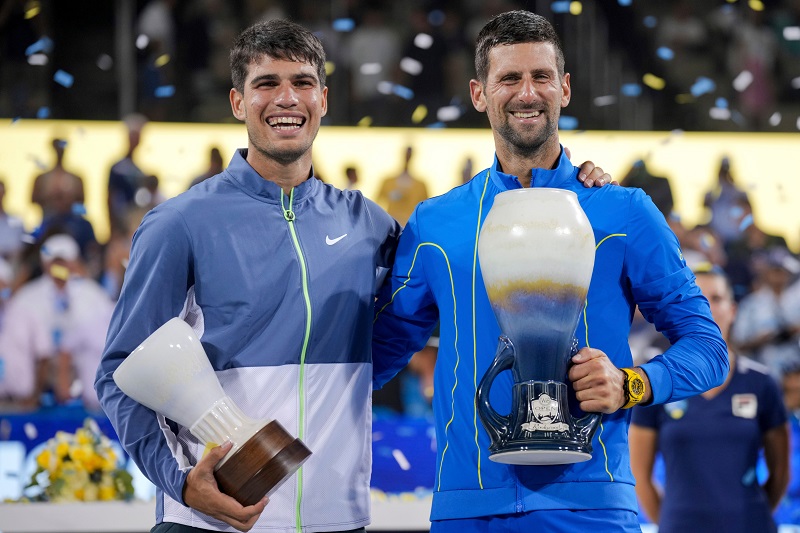 (Aaron Doster/AP)
Make no mistake about it, Carlos Alcaraz is the next generation. For years, we have heard ponderings as to who will break through and break the stranglehold that these three elite players have had on the men's game. Players have lined up one after another, only to fall short. Dimitrov, Thiem, Zverev, Medvedev, Tsitsipas are among those who were anointed by many as the next player who could rack up a trophy case full of slams. And while all are formidable and most still have the chance to add some hardware, it is becoming more unlikely that they will ever win more than the occasional slam title at best in the coming years, particularly as they enter their late 20s and into their 30s.
This is where Alcaraz is different. At the ripe old age of 20, Alcaraz has already won 2 slams, including the 2023 Wimbledon title where he slayed Novak Djokovic. He is the defending champion in New York. Even to the layman fan, there is something special and different about Alcaraz. One gets the feeling that he is on the cusp of kicking the door completely off the hinges, opening a floodgate of rewards in the coming years even though there are sure to be rivals who come up with and behind him.
This brings me back to Djokovic, who is playing remarkable tennis at the age of 36. The Serb is not ready to relinquish his status to a kid who was 4 years old when he won his first of 23 grand slam titles in Australia in 2008. Fans have been spoiled with men's tennis over the last 20 years as a trio accomplished remarkable feats during this time. But I would suggest that it is a great time for tennis in the present as the wily veteran attempts to hold off the up-and-coming young gun. It's a battle of young versus old (in tennis terms) – what drama. This could be the making of a great short-term rivalry for the next couple of years. If Wimbledon and Cincinnati 2023 are any indication, there is more drama to come.
And while both have a lot of work to do during this fortnight, they may just be on a collision course to square off again in the final a week from Sunday. There are some landmines scattered throughout the draw as players such as Jannik Sinner, Casper Ruud, Daniil Medvedev, and Alexander Zverev lie in wait. But it is understandable why fans in New York are clamoring for an Alcaraz-Djokovic final.