Collins Battles Into Roland Garros Quarterfinals

In a high-quality, topsy-turvy match, American Danielle Collins defeated Tunisian Ons Jabeur 6-4, 4-6, 6-4 to move into the quarterfinals at Roland-Garros.
Collins and Jabeur have contrasting game styles, which made for an incredibly exciting and fun match to watch. Collins is a power baseliner with a vicious backhand, and Jabeur is an all-court player with creative variety, able to change speeds and spins.
In the first set, for the first seven games, they held serve comfortably, neither player facing a break point. But in the eighth game, Jabeur was serving at 3-4, 15-30, and Collins crushed a backhand crosscourt and made an easy volley to the open court for 15-40. But then Jabeur hit a perfect backhand down the line, a powerful forehand crosscourt, and an ace up the T, saving the game. 4-all.
In the next game, Collins read the Jabeur dropshot and hit a backhand down-the-line winner. Serving well, she held at fifteen, and with intensity, yelled, "Let's go!"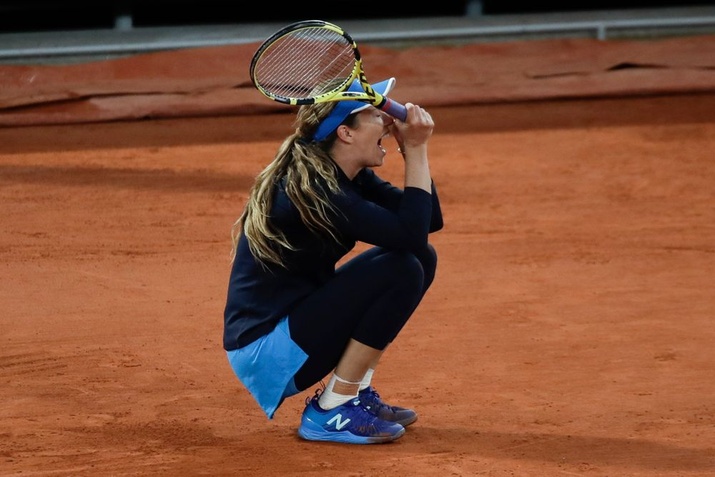 Still on serve, 4-5, Jabeur got down love-30, and Collins seized the opportunity. She broke with a scintillating backhand down-the-line passing shot.
In the second set, Collins continued her high-level playing and led 3-love. But then she began to miss a few shots that she'd been making easily, and Jabeur began playing with a new calmness, more variation with slice and topspin, and a lot of wicked drop shots.
Jabeur won four straight games, was up a break, and Collins was frustrated. Jabeur kept her composure, kept changing pace, and closed.
In the opening game of the decider, Collins served first and double-faulted twice. Jabeur then hit a forehand down the line that found the corner and broke. Collins looked a bit flat. But in the next game, she gained intensity again, hitting incredible backhands, and broke back.
The breaks of serve continued until 2-all, when Collins finally held. It felt not only like a physical battle, but a mental one as well. Collins hit a good return at 30-40, and Jabeur missed long to give Collins another break to lead 4-2. Collins screamed, "Come on!"
Collins was full of energy, but Jabeur stayed tough, breaking back with a forehand winner down the line. Jabeur then held with a beauty backhand slice down the line. Then she hit another of her trademark combinations—a tricky dropshot and a volley to the open court.
It was 4-all, and it felt impossible to predict which player would win.
Collins was serving. She hit a terrific forehand crosscourt and a forehand down the line. Then Jabeur hit a blistering backhand down the line. But Collins held her nerve, hitting a big ace up the T to hold.
Jabeur was serving, 4-5, and hit a brave crosscourt winner in a big moment. But then she double-faulted, her first of the match, at a terrible time. At 30-40, Jabeur hit a forehand into the net, and Collins was into the quarterfinals of the French Open for the first time.
Another first for Collins is working with her new coach, Nicolás Almagro of Spain.
In her on-court interview, after the match, Collins said: "Yeah, Nico and I started working with each other last week. So, it's all new. I didn't have a coach at the US Open, so I tried to find somebody right away.
"And, luckily, I found somebody with an incredible career. Somebody that was a top ten player.
"So, it's a really special treat for me to be able to work with him."
(AP Photo/Alessandra Tarantino)