College MatchDay Flourishes At USTA National Campus

Orlando, FL - On a breezy Friday evening in March, one of college sports' most intense rivalries, a clash between the Florida Gators and Florida State Seminoles, took place in front of a packed outdoor stadium without a football in sight.
As fight songs blared over the intercom, garnet and gold dressed Seminoles fans taunted the Gators with the tomahawk chop. Orange and blue drenched Florida fans chanted back "Go Gators!"
This scene takes place every year at football games. However, this was tennis, a non-revenue generating college sport.
But this wasn't an ordinary college tennis match. This was tennis on College MatchDay at the USTA's new national campus in Orlando.
Held at the world-class Collegiate Complex, the USTA's College MatchDay serves up an exciting brand of tennis.
College MatchDay has been around for nearly four years. But this year, the series included six matches at the USTA campus, one of the largest tennis facilities in the world.
Opened earlier this year, the campus sits on 64 acres and features more than 100 tennis courts, including12 located in the designated collegiate area.
A record-setting 1,756  people watched Florida State upset No. 11 Florida. It was the Seminoles first win over the Gators since 2007.
Meanwhile, the Central Florida Knights hosted Tulsa in a stadium on the opposite side. The FSU-Florida match aired on ESPN3, an integral part of College MatchDay.
While college football draws 1,700  people to team scrimmages, that type of crowd is unheard of in collegiate tennis. In fact, even some pro-circuit tennis events fail to draw numbers this big.
"Tennis really was served tonight," said Florida Coach Bryan Shelton. "I think that USTA did a fantastic job hosting this event. I thought that the turnout was just phenomenal, I saw so many familiar Gator faces up there in the crowd and to have that type of support was pretty special. Even in a loss, certainly a lot of positives out there."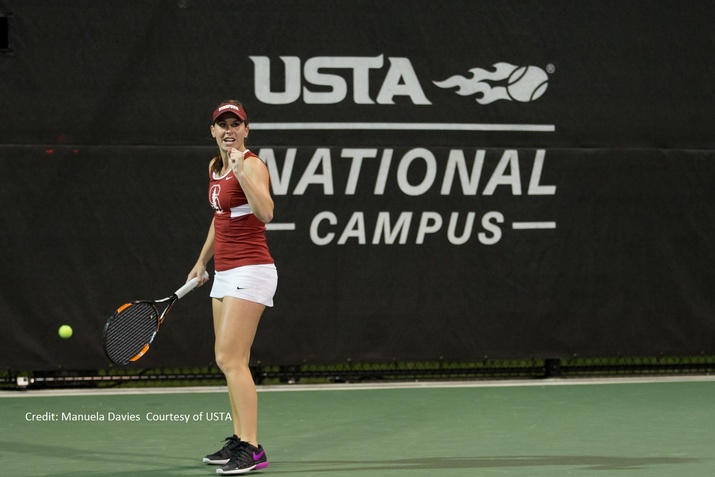 "Atmosphere was electric as the largest-attended match this year," said Florida State Coach Dwayne Hultquist. "It really showed what the USTA is doing with College MatchDay to promote the event. Bigger days are ahead for college tennis."
The brainchild of Virgil Christian, the USTA senior director of Collegiate Tennis and Market/Facility Development, College MatchDay is tennis' answer to College GameDay football specials featured on ESPN.
"We had to work on the format," said Christian. "We wanted to rally tennis fans, college tennis fans and college sports fans around something. So we said, let's do six to nine premiere matches, not play at two in the afternoon, but six o'clock at night."
When it comes to bringing the college football atmosphere to tennis, Christian admits to being more orchestrator than innovator. He took a few traditions deep-fried in college football and sprinkled them over tennis, a sport steeped in country club culture.
Before the matches, fans are treated to tailgate-style activities including grilled burgers and hotdogs, face-painting for kids and team meet and greets. The UF and FSU match began with the presentation of colors and a live performance of the National Anthem.
"So it's not all original. Do we have food and beverage? Yes, we have a signature drink for each school. We have Cornhole. Who doesn't have Cornhole before a football game? We have a dance off. We wanted to make it a product and event."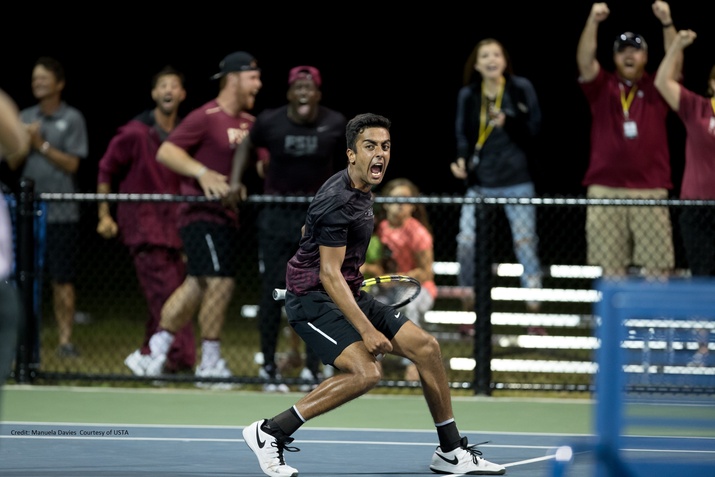 To create more buzz, Christian worked with the NCAA to speed up the game. The matches begin with doubles, "the fastest 22 minutes in sports," said Christian.
There's no ad scoring and no warmup before each match. "You warm up with your team and you play," said Christian. "College tennis, for many years has been all about the player and the coach. Hey, we want to play at two o'clock, we play at two, who cares how many people come?"
Now, I think the players are going to have a better experience than ever before. We're playing at six o'clock on a Friday night? Why? Because we can get 2,000  people here tonight and they're not coming at four o'clock."
Patrick McEnroe played on two national championship teams at Stanford and remembers his college days fondly. But he said the atmosphere back then was nothing like what the USTA has created in Orlando.
"This is just another level," McEnroe said. "This is amazing. It's great to see this campus come to fruition here."
McEnroe, in Orlando to call the match for ESPN, was involved in the planning process of the campus and believes it will provide a boost to American tennis.
"I was lucky enough to play in all the major tournaments and play all over the world and be the Davis Cup captain for a decade, etc. But some of my greatest memories are from college tennis, playing for my school, my friends, my coaches and getting that kind of energy you get from playing for more than just yourself," said McEnroe. "I'm just happy to see this growing, this kind of interest in college tennis."
McEnroe noted that college tennis might be making a comeback. "I think the pendulum is sort of swinging back," he said, pointing to the success of players such as John Isner, Steve Johnson, Nicole Gibbs and Irina Falconi.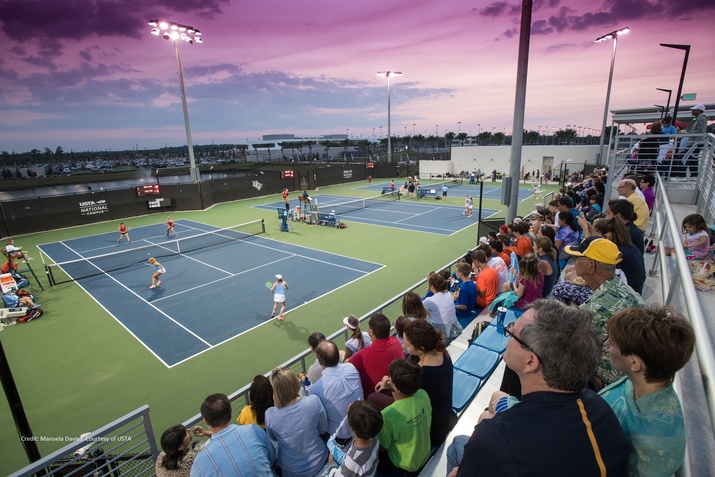 "I think it (college tennis) is certainly becoming more viable now than it's been in the last twenty years. Back when I was playing in the 70s and 80s, pretty much everybody went to college. That changed over the years because of how the game blossomed all over the world," said McEnroe.
The collegiate complex is also home to the UCF tennis team, coached by John Roddick, older brother of Andy Roddick.
Roddick played college tennis at Georgia in the late 1990s. Although considered one of the best college tennis programs in the country, Georgia never provided the type of scene created at College MatchDay.
Sidewalks leading to the stadium were flanked with flags representing both teams. You could hear old school and hip-hop music blasting as a DJ encouraged fans to dance. Smoke filled the air near the grill. Pulled pork, sausage, home-style macaroni and cheese, cold beer, wine and team-themed drinks were served from two Collegiate Café concession stands.
"It's more of an event," said Roddick. "For us, it's a great advantage to be the home team. We have a tremendous college purpose-built facility and then you blend in all the USTA campus and when a recruit comes, it's different. And anytime you're different in a good way, it's an advantage. So, I think we're not going to be losing recruits because of facilities."
Nestled in an affluent Lake Nona neighborhood, the USTA campus is a public facility and the College MatchDays are free. This includes a pre-match tennis clinic held for kids.
"Attendance is off the charts and the ratings are growing," said Christian. "It really comes down to live attendance. If we can do 2,000  to 1,500  people at a match, that's significant in college sports not just in college tennis. If we're really honest, we can look around the college landscape and we can start counting numbers and say what does this sport do and what does that sport do and why is tennis drawing this many people?"
"I think it's incredible," said Hultquist. "The vision for the USTA to include a collegiate center is very unique…They're going out of their way…it's very much like college basketball or college football in the sense that they're doing extra things to attract people to become a part of it. Everyone wants to get down here and play."
His Florida counterpart agrees. "I think they've done a phenomenal job of creating an atmosphere that supports college tennis," said Shelton, who played for Georgia Tech. "I think the USTA understands the value of college tennis and to see them highlight it in this way is great. I think it's great for college tennis and great for American tennis."
Merlisa Lawrence Corbett is an independent sports journalist who covers tennis for Bleacher Report and TennisLive. A former reporter for Sports Illustrated, she also wrote the foreword for Arthur Ashe. Jr.'s "Hard Road to Glory: Track and Field."
Photo Credit: Manuela Davies Courtesy of USTA