Clay Demands Craft

AS OUR ATTENTION has turned from hard court to clay, it's interesting to dis- cuss what makes for a great clay-court player. Being the slowest of surfaces, players must be incredibly fit and highly intelligent strategists to dominate on clay.
When asked why the Paris clay is the most challenging of all surfaces, retired American touring pro Justin Gimelstob, a Roland Garros mixed doubles champion with Venus Williams, says told me clay requires the ability to finish points, choose the right shots, patience and slid- ing. Taking these skills into consideration, Gimelstob says predicting the Roland Garros winner isn't complicated.
"Nadal or Nole. Nadal is virtually impossible to beat in Paris. But Novak can make Rafa change his patterns. He has the endurance. It would be a monumental upset if anyone but Rafa or Djokovic lifted the Roland Garros trophy."
If anyone were prepared for an upset, I believe it to be Federer. His record this year is too impressive to rule the G. O. A.T out of the race.
Turning to the women, watch for Wozniacki because of her defensive ability and fitness level, Stosur due to her kick serve, heavy topspin forehand and ability to finish shots, and Azarenka, who is threatening from both wings and plays a great defensive and offensive game.
Americans are generally the underdogs on clay surfaces because, by and large young tennis players learn the game on hard courts, whereas players from most countries train on clay. Although
US
acad-emies are trying to shift their emphasis to include more clay time, Americans still have less exposure – fewer court hours – on clay than hard courts. For Americans to have improved results on clay Gimelstob says repetition, familiarity, movement, coordination between movements and of course, the ability to slide are needed.
Whoever hoists the Roland Garros trophy, one can bet that the ability to slide well will be a major factor. To learn moreabout this necessary clay-court skill, turn to page
44
, Style in Motion: The Art of the Slide.
---
New Racquet Anyone?
When was the last time you updated your racquet? If your game and skill level have changed and you haven't switched racquets to accommodate, then it may be time to try something new.
Whether you want more control, power or spin, there are racquets that cater to your game. I want more control as opposed to more power, for instance, so I'm advised to swing a racquet with a smaller head size that's head light, has a thinner beam and has a more closed string pattern.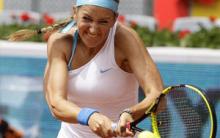 Or, for those players with pain or injury to the elbow; swinging a heavier racquet [11-13 ounces] is suggested, because of their greater stability and shock absorption.
If you enjoy the features and benefits of modern innovations, a new racquet may help you achieve your desired level and also reduce pain and injuries.
Turn to page 34 for the Spring Racquet Showcase to see a sampling of new and/or improved racquets on the market, then visit your local tennis retailer or online dealer to start testing.
Enjoy the testing process and taking your game to the next level!
---
Running for Tennis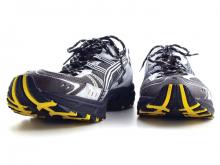 ABOUT TWO YEARS AGO, I started running again, as I have off and on since I was 13. But this time I was more committed [borderline obsessed, I'm told] than ever before, jogging every day, sometimes twice.For me, running is mentally hard and not necessarily fun. In fact, the best part is when it's over! The first five minutes are complete torture as I convince myself to complete the course. Remarkably, after an hour of putting one foot in front of the other, I'm done, feel invigorated and can't wait to do it again.
One of the reasons I started jogging was to improve my ten- nis, and it has done that – and a lot more. I'm faster and can play longer and harder. Unlike tennis where it's possible to leave a match disappointed with my performance, I always feel a sense of accomplishment and more centered after a long, sweaty jog.
If you've thought about starting a running program, now might be the time to dis- cover if it can impact your life. Flip to page
56
, Run Today – Win Tomorrow, to read more about the activity.
This article is from the May / June 2012 issue

SOLD OUT

Subscribe now and you'll never miss an issue!