Citi Open: McDonald Battles Past Nishikori In Semifinals

On a cloudy, cool, and humid Saturday night in Washington, D. C.—there had been a few rain showers earlier in the day—26-year-old American Mackenzie McDonald, edged out 31-year-old Japanese star Kei Nishikori in the Citi Open semifinals, 6-4, 3-6, 7-5, in two hours and 45 minutes.
The American will face 19-year-old Italian Jannik Sinner, the fifth seed, in the final, which is set to begin this evening at 5 p. m. eastern time. It will be the pair's first meeting.
It will be the biggest career-title for either player, but it's McDonald's first ATP Tour final.
A very even match, with two very similar game styles, often it felt like you were looking at a mirror.
They are both 5'10", weigh 160, right-handed with two-handed backhands.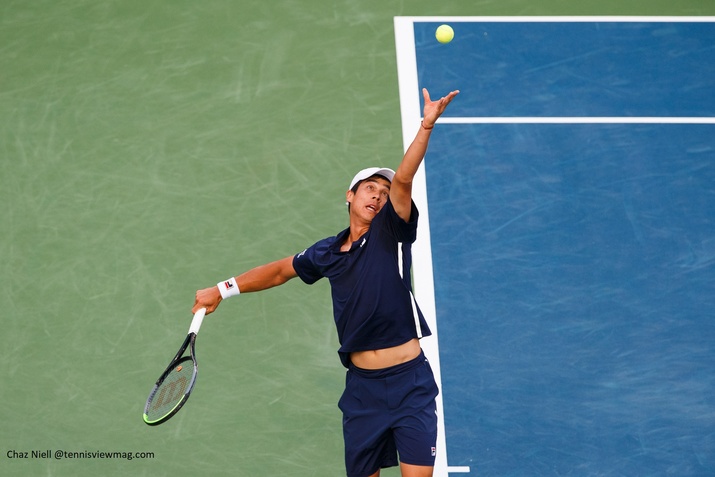 Both move superbly, taking the ball early with excellent timing, which takes time away from their opponent.
Both are fantastic off the ground, especially their backhands, which they like to hit down the line with exquisite ease.
Both men played sensational tennis in the third set, where it really mattered.
Both hit a little bit of everything—scintillating forehands and backhands (fearlessly up the line and crosscourt), angle volleys, fierce overheads, lobs and dropshots with silky feel.
In his post-match press conference, Nishikori said: "Well, I think he played good tennis today. I think I didn't start well, but I start playing better, but he was playing really solid till the end.
"Credit to him. Yeah, we kind of similar tennis. Good to see him back. I know him well. I'm good friend with him. I'm happy with how he's doing well right now. Yeah, he played some good tennis today.
"Yeah, it was good week. I mean, I didn't want to lose today, but, I mean, still, I had couple good matches, good tennis, and happy how I played today, I mean, this week. Hope I can keep going next week."
In his post-match press conference, McDonald said: "Yeah, it was a pretty tough match today. I feel like physically it was tough. I mean, the time on the match kind of says it, for sure. Physically, especially in the third, it was getting—I could tell both of us were digging deep in there.
"Yeah, mentally I think I just hung in there really well. You know, I made good decisions towards the end. I think going for my shots at the end there was big. You know, I mean, yeah, it paid off."
When asked about reaching his first ATP final, McDonald said: "Yeah, it means a lot. My biggest goal, results-wise, I wrote down, was win a 250 ATP title. This is one step closer that I haven't been to that.
"Yeah, it means a lot. I'm trying to downplay, or I guess downplay a little bit, try to keep my cool. I guess that's what's really helping me, not make the moments too big, getting too high or too low, staying focused, knowing the values behind it."
When asked what this moment meant to him, the American said: "Yeah, I mean, honestly I still can't believe it was over. I just let it all out. I slapped those forehands and, yeah, just let it all out and screamed loud."