Citi Open: Auger-Aliassime Rallies To Defeat Seppi

On Day 2 of the Citi Open, in the nation's capital, the No. 2 seed Felix Auger-Aliassime of Canada came back to beat Andreas Seppi of Italy 2-6, 6-2, 6-2.
In the match, 37-year-old Seppi, who is an incredibly smooth mover and pleasure to watch, saved seven of twelve break points, so he did not make it easy for 20-year-old Auger-Aliassime, who had a strong serving day, with nine aces and only two double faults.
After the match, Auger-Aliassime talked in his press conference about overcoming the slow start. "Yeah, well, I think first I allowed myself to play a bad first set, even though it's never great to start a match like this, to start a tournament like this. But in my mind, I wanted to find a way to come back.
"I think to get that early break and to kind of get the lead in the second set helped me a lot. I think I served a little bit better. I think I put more volume on my shot, more height. I think I was more patient also. A little bit maybe in the first set missing too quickly in the rallies.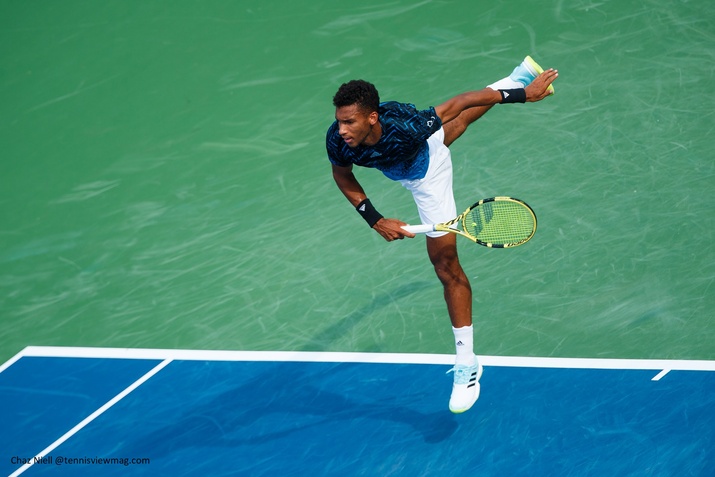 "I think just the combination of all of that, also just digging deep physically and mentally, allowed me to come back nicely in the match, to finish strong in the third set.
"I'm happy with the way things turned around for me today."
Auger-Aliassime spoke about playing a great 2021 Wimbledon, where he made the quarterfinals, and his first-round loss in the Tokyo Olympics and how the comeback win over Seppi will help him.
"Yeah, I think this win hopefully will help me, sure, because of course Wimbledon has been great, but the transition has not been easy physically, mentally, the traveling. I think I'm still a little bit jetlagged from Tokyo. Just this whole combination hasn't made it easy for me the last couple weeks after Wimbledon.
"But to dig deep and to find a way to I guess win ugly in a way, coming back from really a poor set of tennis in the first, to come back and win it, yeah, it's good that I can also win matches that way, not only playing my best tennis and winning in straight sets."
Meanwhile, Australian fan favorite Nick Kyrgios, the tournament's 2019 champion, lost on Tuesday night to American Mackenzie McDonald 6-4, 6-4.
Afterward, Kyrgios said: "I don't really feel like my body and my mind quite understand the severity of some points here or there because I haven't played that much. Look, I'm disappointed."
Kyrgios, though, will remain in Washington as he is playing doubles with American Frances Tiafoe, the hometown favorite, who also lost his opening match.
Kyrgios added: "As I've said, I got doubles still this week. I'll try and enjoy every bit of time I have on court. I'll get back on the practice court. All I can do is just keep trying to play, keep swinging and hopefully things will turn.
"The more tennis I play day in, day out, hopefully I'll get some momentum, get back to some of the old tennis that I can play. As of now, I can't be too hard on myself."