Cincy: Djokovic Completes Set Of Nine Masters Titles

The weather was on good behavior for Final Sunday in Cincinnati. The Order of Play included both the ATP Doubles and Singles matches flanking the women's final where [17] Kiki Bertens d. [1] Simona Halep.
Jamie Murray and Bruno Soares Capture First Cincy Title
The day began with the ATP doubles match on the Grandstand. The Grandstand is my personal favorite as the environment is intimate and every seat feels "up close." At 12:15 p. m., an intense battle began between Colombia's Juan Sebastian Cabal and Robert Farah versus Jamie Murray and Bruno Soares. All four players were reaching for their first Western & Southern Open title.
Despite a first set lead closed by breaking Jamie Murray, the Colombians found themselves in a fierce breaker. The heat and humidity kicked up adding to the list of obstacles. I was melting just watching. On Sunday, the elder statesmen and international Brazilian and Scottish pair had more fire. While Juan Sebastian and Robert achieved better results in break points saved and won, Jamie and Bruno cashed in on first serve points and returns. Final score, Murray-Soares, 4-6 6-3 10-6.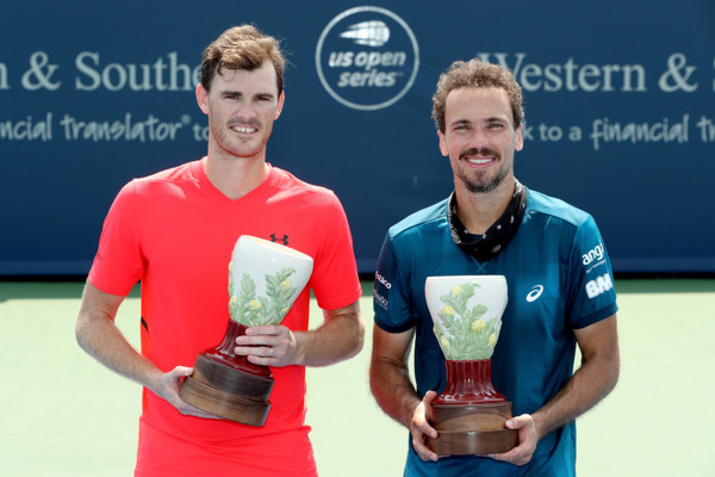 Mason fans appreciate doubles as they filled the stands and waited patiently behind security manned ropes as the world No. 7 Jamie and No. 8 Bruno exited the court with the title in hand. The appreciation was mutual as both lavished the attention, signing every ball in sight and smiling for selfies.
In the post-match presser, Jamie revealed that Bruno is no help when he makes errors like the break of serve at the end of the first set. What is apparent, is they enjoy competing together, perhaps push either other in a tough love suck it up sort of way, they co-strategize and lastly, chase down every point.
Novak Djokovic d. Roger Federer 6-4 6-4
After a brief break following a lengthy women's final, Roger and Novak took center stage around 4:30 p. m. As the players were announced, the atmosphere was immediately electric. The stadium felt more like a Real Madrid versus Barcelona match with flags waving and chanting throughout. Loyal fans displayed their own passion.
I am certain that there are far more nuances than I am able to detect but here are a few things that I observed in the straight sets win by Novak Djokovic as he captured his first Cincy title and complete the Masters 1000 "slam."
With Sunday's result, Novak is the first ATP player to own all nine masters 1000 titles. For those that may not follow non-slam events, I am often asked who plays these tournaments? My stock answer is everyone. Yes, everyone who isn't injured or physically exhausted like Rafa this time around. People are generally surprised. Besides the best-of-3 format, Masters 1000 events are heavily contested, 1000 ranking points are significant.
So, what did I see? Roger struggled with his return game on Sunday. However, Novak may have held the key. As I settled into the first set breaker, I began to monitor the service speed clock. Novak was delivering a kaleidoscope today. I watched as the numbers change from 96 MPH to 113 MPH to a 118 MPH ace, then to 86 MPH. I can only imagine this wreaked havoc on any rhythm and momentum that Federer attempted to attain. I also felt it put questions in his head and perhaps created a tiny seed of doubt for the Swiss champion. Roger did, however, crush a 78 MPH Djokovic serve. The numbers don't lie, Novak did not face a single break point and Roger's first and second return points won were recorded at 29% and more telling 22% respectively.
Novak held enough of an upper hand to be able to play more aggressive points throughout. We all know that rarely ends well for his opponents. At their level, it always comes down to tiny margins. Roger pulled out his usual genius serves at key moments and elegant backhands to the delight of fans including a 118 MPH ace and 119 MPH to hold to 5-4, Novak. With Djokovic on serve for the match, you could feel the tension and realization that the end might be near. Roger made his best attempt pushing to 40-30 but a final error sealed his fate.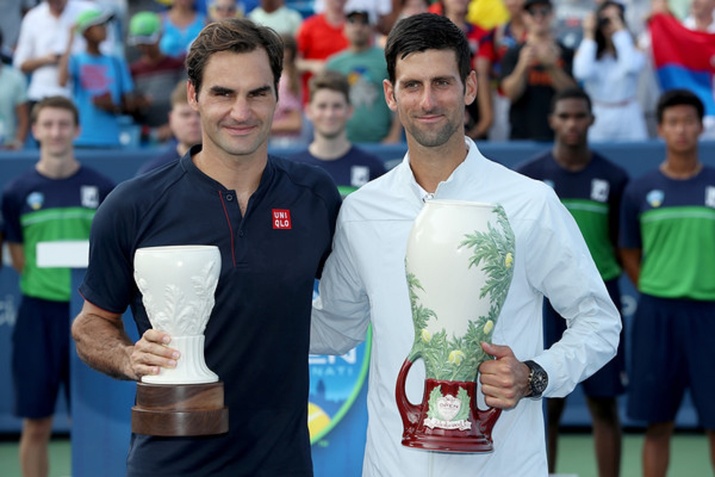 As the pair of tennis rock stars stood together with trophies in hand and speaking words of support for each other, I felt a massive sentimental wave as Novak thanked Roger for letting him win one. First, was the thought of how many more times will I witness a Djokovic-Federer final? Second, with the privilege of a press credential, I get to see and hear the stories of injuries, surgeries, fears about their post-surgery future, their stories of recovery and the resulting grace in their own words. While I truly love this game, the places, the players, the demonstration of intensity and passion. I also realize that from a distance, I love the "people" who bring the game to life more. They are amazing and flawed people just like us. They achieve great things by working hard and seeing the glass as half full. Post-match, Roger spoke of it being Novak's moment and how he deserved to win today. In the next breath, he stated he was looking forward to playing an exhibition for Novak's foundation. Today was one of the most gracious versions of Novak I have seen. That's not a slight to Novak. It is impressive and remarkable.
Take note as the 2019 Western & Southern Open will be held August 10-August 18. Remember, early rounds offer those grandstand views of top players that will not happen in later rounds. Just saying!
Photo Source: Matthew Stockman/Getty Images North America​