Cincinnati: Semifinals Recap

Saturday was semifinals day in Cincinnati.
On the women's side, in the first match, top seed Ashleigh Barty of Australia was upset by wild card Svetlana Kuznetsova of Russia 6-2, 6-4.
"Sveta was incredible today," Barty said. "All credit to her. She put the ball in really difficult positions for me and was in control of the match from the get-go."
Kuznetsova, 34, is a former world No. 2 and two-time major champion.
In her post-match press conference, Kuznetsova talked about her decision to run around a forehand and hit it down the line rather than crosscourt. "I always love that shot. Just in Spain they teach me to go crosscourt. They say it's more stable. And the thing is why Russian people go so well with Spanish tennis, because we are, like, really crazy and really go 100% and risk it. Spanish, they put us calmer.
"So there I was going for Russian way. Sometimes I put patience but then something Russian comes out. You cannot hold it all the time (smiling)."
The second women's semifinal was an all-American affair. World No. 18 and 2017 US Open runner-up Madison Keys defeated world No. 22 Sofia Kenin 7-5, 6-4.
In her press conference after the match, Keys said, "Yeah, I feel really good. Every day I'm kind of waking up, hoping that everything still feels like it's in one piece and it feels really good. Yeah, body feels really great."
On the men's side, David Goffin of Belgium defeated Richard Gasquet of France 6-3, 6-4.
Afterward, Gasquet said: "Yeah, he was playing good. He's one of the best players. Very fast from the baseline. He has no weaknesses, so it's always tough to play him, especially with his return."
Goffin said: "No, but I knew that he was in the semifinal for the first time in Masters since a long time. He had big injury. It was hot, humid. I felt that it was a little bit heavy.
"And he played a really nice match yesterday against Roberto Bautista Agut. I knew that for him it was tough physically, and I had to put him under pressure to move him a lot.
"And I felt, yeah, that he was a little bit tired. Me yesterday I just had an easy hit, like almost a day off. So I was a little bit lucky today."
The last match of the day was a major upset with world No. 8 Danil Medvedev of Russia defeating world No. 1 and defending champion Novak Djokovic of Serbia 3-6, 6-3, 6-3.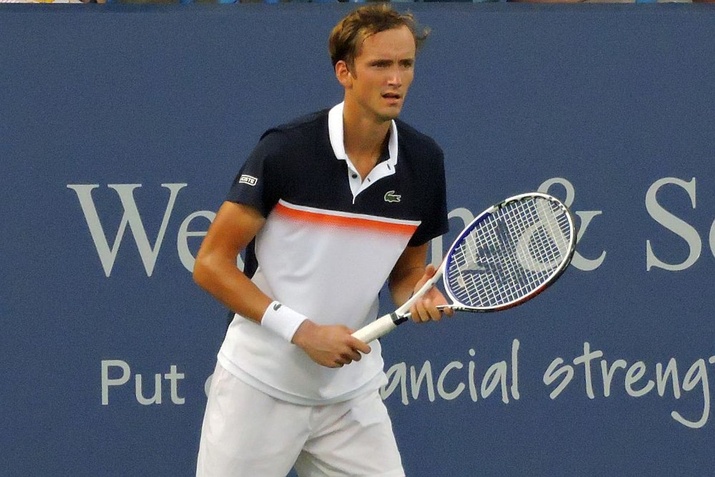 Kuznetsova would say that Medvedev played the Russian way, taking risks on his serve, hitting 16 aces, five of those on second serves.
In his post-match press conference, Djokovic said: "I thought I played really good match. Yes, maybe in those games, especially in the third set when I was broken, at 1-all I could have done a little bit better, but, I mean, when someone serves 128-miles-per-hour second serve and doesn't make too many doubles faults and goes for every shot, I mean, you just have to put your hat down and congratulate him.
"I mean, he has played amazing tennis from 4-3 in the second set. Not much that I could really do. I mean, I tried to return his serve. And when I had my racquet on the ball I was returning also his serves, but you can't really predict someone or prepare yourself for someone serving that big second serve consistently from 4-3 to the end of the match with making maybe two double faults out of God knows how many serves.
"Well done. I mean, he definitely has a lot of confidence. When you have so much confidence, then obviously you allow yourself to go for these kind of shots. I congratulate him. He deserved to win the match."
Medvedev said in his press conference: "Yeah, as I said on the court, at one moment, I think it was 3-all, 30-all when I did [second-serve ace] the first time, and I was standing there before my second serve, and I was, like, I'm losing literally. I don't know the percentage I had, but in my opinion I had, like, 20% the second service won. Especially in the crucial moments he was pushing me.
"So I say, If I do one double fault it won't change my life. Same result. But if I put it in, it's maybe going to be an ace, and I actually made a good decision to do it like this."