Cincinnati Recap: Djokovic, Kerber Advance

A more typical Cincinnati summer day arrived, hazy, humid and then the rains came halting and later suspending play for the evening.
For perspective, after a mild run over to Court 4, I stood watching Elise Mertens and Swedish qualifier Rebecca Peterson. Sweat ran down my body like Nadal in a 5th set breaker. While that probably says more about my conditioning I imagine it was uncomfortable for those on court. Note to self, ask Roger Federer about training for media in Dubai next year.
The upsets began…
Lesia Tsurenko d. Garbine Muguruza 2-6 6-4 6-4
The reigning Western & Southern Open Champion said goodbye to Cincy from Center Court. Clearly disappointed by the performance, Garbine felt she could not take any real positives today other than she kept fighting. Champions may not always win but they don't quit.
Robin Hasse d. Alexander Zverev 5-7 6-4 7-5
Clearly a lopsided match by ranking, this match was intense until the end with both players showing laser-like focus. Despite breaking Zverev's first service game, Hasse would fall to the NextGen star after 44 minutes.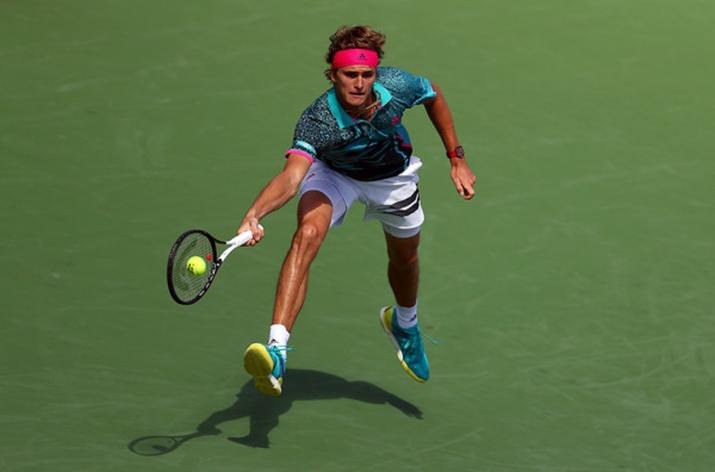 This was such an even match with very similar stats, 7 aces for both, 1st serve percentage 50 and 53. In fact, both players won exactly 101 of 202 points played. The standout stat, break points saved, for Hasse 64% and Zverev 14%. No doubt Zverev felt the burn today. In press Hasse reflected on the first point, a 136MPH serve from the 21-year old. Hasse received the torpedo and returned it "effectively." Perhaps that was an early sign of things to come. Next Hasse plays Spaniard Pablo Carreno Busta for a chance to join the final 8.
In the women's draw, Kiki Bertens advanced by virtue of a Wozniacki walkover. The Dane sported a heavily taped shoulder as she took the court.
Aryna Sabalenka d. Karolina Pliskova 2-6 6-3 7-5
While by ranking a definite upset, the Belarus native nearly defeated No. 2 Caroline Wozniacki in the Eastbourne final. Aryna is a powerful aggressive hitter and one to watch.
Angelique Kerber d. Anastasia Pavlyuchenkova 4-6 7-5 6-4
Another great match on Grandstand. This match is probably the most intense WTA match I've seen so far. The duration was two hours, 41 minutes.
The first set was all about breaks of serve - 7 in total. Both players had their share of double-faults, but Anastasia built a 4-2 lead that Kerber could not break in time.
The powerful shots, defense to offense shifts and double faults continued. Perhaps both players were going for a bit more to create an opening. In the end, Angelique toughed it out. Kerber has spoken about having a high pain tolerance which enables her to get through matches like today.
Grigor Dimitrov d. Misha Zverev 7-6 7-5
The defending champion had a serious challenge from the German serve-and-volley specialist. The playing style combination delivered on both intensity and artistry. Advancing, the Bulgarian earned the opportunity to take on Novak Djokovic. This event is the only Masters 1000 event missing in the Serb's trophy case. Expect both players to come out swinging at "play."
Kevin Anderson d. Jeremy Chardy 7-6 6-2
At age 32, Kevin Anderson is without a doubt having his best tennis season ever. As fans continue to be amazed by the new age of player longevity they also appreciate the added dimension of marriages, children, and displays of personal growth. Kevin is no exception.
On Wednesday, success over the Frenchman was inevitable as the South African won 95% of first serve points.
A fun note: Kevin suggested that some of his recent success may be connected to the adoption of his rescue pup Lady Kady. Dogs have a way of diffusing stress and to them, you are awesome win or lose.
As well-matured adults, we now witness stories with a depth that is less typical of 20-somethings. Anderson is a prime example. In July, we saw a heartwarming display of respect and compassion from the Wimbledon finalist for his semi-final opponent John Isner. While John is no stranger to marathon matches, after 6-hours 36 minutes battling Anderson, Isner left SW19 empty-handed. Anderson's immediate instinct was to express consideration for John's feelings rather than his own joy.
I had a few moments with Kevin following his win. He presents as genuine, forthright and aware of his place in the world and his impact on others. He has been a regular member of the ATP player council. This is a position elected by his peers. As a council vice president, Kevin is championing an imitative to reduce the amount of plastic used on tour, Advantage-Anderson.
Anderson's next round opponent is compact but mighty David Goffin of Belgium. Another player that is in a word - pleasant. After visiting Belgium last year, I have an insight into the Belgian culture. It might be the Trappist ale, the chocolate, the saxophone & jazz, frites & waffles or a culture that celebrates comic strips as an art form. Like his homeland, Goffin is capable of 5-star performances. However, this next round is no laughing matter.
Djokovic d. Adrian Mannarino 4-6 6-2 6-1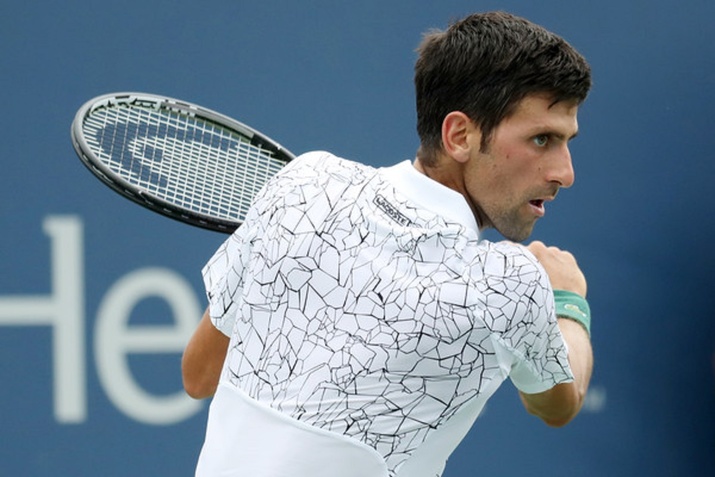 Ok, folks, this one took place on Grandstand. I point this out only because watching Novak on Grandstand was like watching him play in a high school gymnasium, awesome view. This is the reason why I encourage fans to visit events during the early rounds. There are so many matches that must be completed in the first few days. As a result, some top players will always play in non-center court stadiums. This is necessary to accommodate the tournament schedule rather than a slight to any player.
Despite a stomach ailment, Djokovic found a way to win in 3-sets. Maybe not reaching the best tennis of his career yet but enough to advance.
Sloan Stephens d. Tatiana Maria 6-3 6-2
Sloane arrived late Tuesday but wasted no time hitting the practice courts. She was focused and efficient on Wednesday. As the reigning US Open Champion, Stephens is not dwelling on that but rather what she needs to do on court.
Nick Kyrgios d. Borna Coric 7-6 0-6 6-3
Don't let this scoreline fool you. Nick was never in danger today. In the second set, he fell victim to a period of discontent over bad line calls. That funk kept him pre-occupied in the second set. He gave it away while he physically diffused the situation in his own way.
In the third set, he regrouped. Choosing to fight again, Kyrgios was in charge closing with his signature service game and short intense points. In hindsight, Nick on a non-Hawkeye equipped court, not the best decision.