Cincinnati: Monday Wrap Up

The 2018 edition of the Western & Southern Open is in "swing" in the friendly Cincinnati suburb of Mason Ohio.
The qualifying draws contained a mix of interesting newcomers and familiar faces. For the WTA there was Alize Cornet, Nicole Gibbs, Andrea Petkovic, Caroline Dolehide, Monica Puig, Su-Wei Hsieh, Belina Bencic, Sachia Vickery, Sibine Lisicki, Sam Stosur and more. On the ATP side there was Daniil Medvedev, Feliciano Lopez, Ryan Harrison, Ivo Karlovic, Tennys Sandgren, Marcos Baghdatis, Cam Norrie and Yuichi Sugita, and that was just the qualies. Twelve women and seven men advanced with several upsets on the ATP board, Lopez, and Harrison in particular. A standout qualifier Cornet took out Jelena Ostapenko late night in three sets on Grandstand.
This year there are some unique circumstances with respect to the WTA draw that have made early round matches a top pick. Due to their current ranking, titans Serena Williams and Victoria Azarenka played and advanced in their 1st round matches on Monday. On the ATP side, we started with a "near" complete Big-4 draw after the withdrawal of Rafael Nadal. However, Monday, we lost Andy Murray to the talented Frenchman Lucas Pouille. For perspective, it was Pouille who defeated Rafa at the US Open in 2016. Not an easy first round match for the Brit.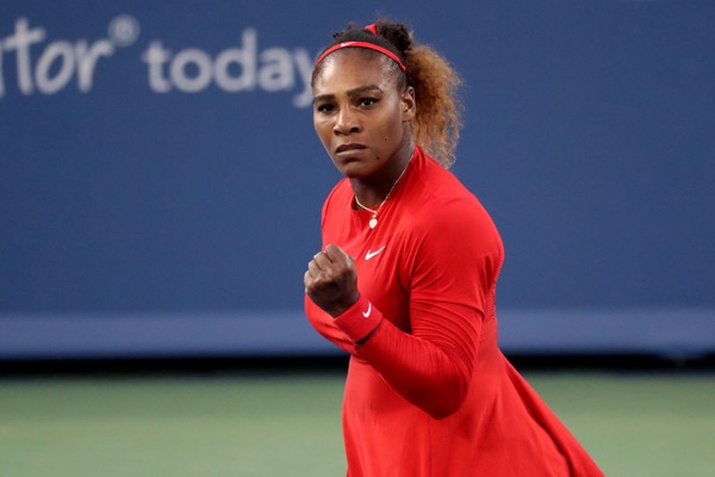 Some may underestimate Cincinnati when compared to the US Open, but the draw is significant. The players know the criticality of a solid performance and preparation in Cincy heading to the final major of the year. Along with the "senior" ATP Big-4 there's a new formation building with their own unique qualities and abilities - Zverev, Shapovalov, Medvedev, Khachanov to name a few. There is a common thread, Russian heritage for all. Zverev addressed this in the ATP roundtable discussion.
WTA Matches in Review
Serena Williams d. Daria Gavrilova 61 62
Despite Serena's status update that she is still working on form and balancing motherhood, she made her win "look" easy. There was really no point in this match where Daria held an upper hand. There were some interesting rallies. Serena was moving well, seemed relaxed and hit her marks. In 1-hour and six minutes, Serena was signing autographs for the enthusiastic crowd that filled the stadium supporting her.
The WTA singles draw remained intact in terms of top seeds along with Serena and Victoria. The most significant loss in terms of ranking was Jo Konta [GBR], Julia Goerges [GER] and Jelena Ostapenko [LAT]. Highly notable winners were Aryna Sabalenka of Belarus and wildcard Svetlana Kuznetsova. Sabalenka may be a new name to some. She is a strong returner and aggressive player who challenged No. 2 Caroline Wozniacki for the grass title in Eastbourne, England in June. Sabalenka is another name to watch on the WTA tour that grows in depth of talent daily.
ATP Matches in Review
Denis Shapovalov [CAN] d. Frances Tiafoe [USA]
This match between friends kept fans on the edge of their seat until the embrace at net. But it was the Canadian moving on to the next round.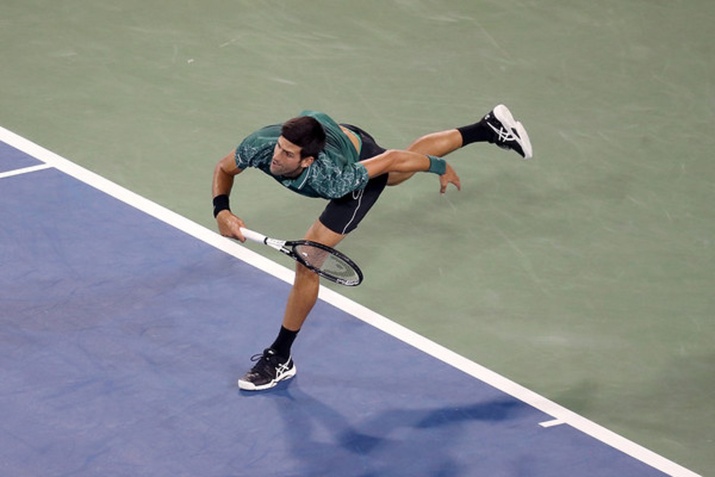 Two other highly notable matches featured the continued progress of Stan Wawrinka and Novak Djokovic. While their performances were perhaps not on par with their own high expectations, both pulled out solid wins and glimpses of golden moments. Stan's backhand looked good as ever and his movement was fluid. Very positive indeed.
However, the ATP singles draw did lose some big names on Monday - Andy Murray, John Isner, Richard Gasquet, David Ferrer and Fernando Verdasco.
The ATP Round Table
During the ATP roundtable, Alexander Zverev had an interesting discussion on the link with players who have a Russian background. He stated that he shares a common bond with the Canadian (Shapovalov) in their Russian heritage and, in part, attributes their fighting spirit and unwillingness to back down no matter who is on the other side of the net to this genetic/cultural bond. Both players found success against "Big 4" opponents at an early age.