Christmas Gifts: Presents for the Top Men

Santa makes his annual descent from the North Pole next week. What gifts might his sleigh hold for some of the leading men in tennis? These suggestions are not predictions, or even wishes, but each of them tries to identify something of particular significance that each player could accomplish in 2014.
Rafael Nadal: What can one give a man who has virtually everything worth having already? Nadal's resume ranks among the most complete in tennis history, ranging from a career Grand Slam, a record-breaking haul of Masters 1000 titles, and an Olympic gold medal to multiple Davis Cup titles and over 100 weeks at No. 1. Only two holes of any significance remain: the Sony Open in Miami, where Nadal has lost three finals, and the World Tour Finals, where he has lost two. A title at the season-ending event in London would be the more valuable of the two, for it would mark his conquest of the only surface (indoor hard) that still frustrates him.
Novak Djokovic: Selecting a gift for the Serb might prove more difficult in 2016, considering his fervent patriotism. In a non-Olympic year, the choice seems obvious. A career Grand Slam with a Roland Garros title would erase painful memories of Paris disappointments and give the ATP three active players who have won every major. An intriguing alternative, a Cincinnati title would make Djokovic the first man ever to win every Masters 1000 tournament. But that achievement would not compensate for his lack of a Roland Garros title.
David Ferrer: Shortly before the 2013 season ended, a free trip to the fountain of youth might have been a logical choice for a 31-year-old veteran suffering a second-half swoon. Nevertheless, Ferrer started to resemble his former self in the last few tournaments of a season when he reached his first major final. More belief against elite opponents would be the most useful asset for him to gain, and belief might start with a more imposing serve. Ferrer gets four extra inches to help him earn free points under pressure.
Andy Murray: What can one give a man who has the (tennis-related) thing most important to him? Murray must set new goals for himself after capturing Wimbledon this summer for his second major title. A swift recovery from back surgery this fall seems like a stocking stuffer, for that procedure unfolded smoothly and did not delay his return to the courts for long. Murray has finished runner-up at the Australian Open in three of the last four years, winning one total set in those finals. Make it the fourth time lucky for the Scot in Melbourne.
Juan Martin Del Potro: The Big Four of Nadal, Djokovic, Murray, and Roger Federer have combined to win 33 of the last 34 majors, the 34th landing in Del Potro's cabinet. On the other hand, the Argentine never has won a Masters 1000 title, losing all three of his finals at that level. Two of those runner-up finishes came in 2013, when he led Nadal by a set and a break at Indian Wells and forced Djokovic into a final-set tiebreak at Shanghai. Tie a bow around the Tower of Tandil's first shield in 2014.
Roger Federer: If the greatest player of all time can rebound from a meager 2013 campaign, he may struggle to find new records to break. One of them might especially resonate with Federer, who won his first major title and his record-breaking 15th crown at Wimbledon. Currently, he stands tied with Pete Sampras for the record in men's titles there with seven. An eighth Wimbledon would separate him further from the encroaching Nadal and atone for a crushing second-round loss at the All England Club in 2013.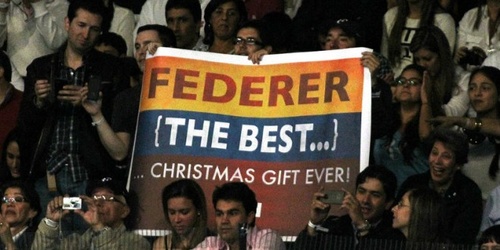 Tomas Berdych: A man who envisions himself as a challenger to the game's leading champions must seethe when he thinks of his abysmal record against Nadal and Djokovic. The top two men have throttled Berdych to the tune of a 31-2 record since 2007, including 24-0 on hard courts. Nothing could boost Berdych's legitimacy more than a statement victory over one of them on a big stage in 2014. He did defeat Djokovic in Rome last year, but that result stemmed more from the Serb's meltdown than the Czech's brilliance.
Stanislas Wawrinka: It cannot always have been easy inhabiting the same small country as the best player in tennis history. To be sure, Wawrinka owes his Olympic gold medal in 2008 to his doubles partnership with Federer, without whom he could not have ascended the podium. But now the apprentice has left the sorcerer's shadow, climbing into the top 10 and advancing further into draws at elite tournaments. Finishing the 2014 season as the top Swiss man would be a fitting confirmation of Wawrinka's emergence.
Richard Gasquet: Beyond his one-handed backhand, one of the first traits that comes to mind is his unsteadiness when holding two-set leads at majors. The Frenchman began to turn the page in 2013 when he gritted past Ferrer at the US Open. But memories persist of matches like his Roland Garros loss to Wawrinka this year, when he could not close out the same lead. Gasquet has suffered that embarrassment three times at his home major. Why not let him turn the tables on someone else there for once?
Jo-Wilfried Tsonga: Starting 2014 with a new pair of coaches, Tsonga will look to improve on his dismal record against the top 10. He has reached the semifinals or better at every major except the US Open, suggesting that a few tweaks might carry him over those late-round hurdles. Tsonga's game is fully formed, and his taste for showmanship over streamlined efficiency seems unlikely to fade. Injuries have hampered him too often in recent years, though, so he should welcome the gift of full health throughout next season.
John Isner: Twice a finalist at Masters 1000 tournaments in North America, Isner plays his best tennis on home soil. But last two trips to the US Open have not ended well with consecutive first-week losses to Philipp Kohlschreiber. Isner's bitterness over a lack of support there during a match against Gael Monfils struck a jarring note considering his warm relationship with most American fans. A deep run in New York next year would turn around both Isner's view of New York and New York's view of Isner. Quarterfinal, perhaps?