Chardy Pushes Himself Back To Form In Hamburg

"I was really tired," said Jeremy Chardy, still panting minutes after his tight, clutch 7-6(5) 7-5 victory over Richard Gasquet in the second round of the Hamburg European Open. "It was really tough match, from first point to the last point. The condition was really tough, really hot today. It was a big fight, so really happy with the victory today and I hope to continue like this."
Despite vexatious conditions in the searing Hamburg heat, the two Frenchmen produced a high-quality match that should encourage both. Across the net, Gasquet is still plotting his route back from groin surgery and a subsequent long layoff that kept him out of the game for eight months.
When Gasquet returned to the sport on the clay courts of Madrid, he was still struggling to run, but over the last few months he has engaged in numerous tussles, battling as he searches for one last great season at 33 years old.
The elder Frenchman arrived with a 5-2 lead over Chardy in their head to head and started with a confidence that reflected it. He nearly landed the first significant break, generating break point at 5-5 in the first set and forcing Chardy to come up with a thundering forehand down the line winner after a long, varied rally.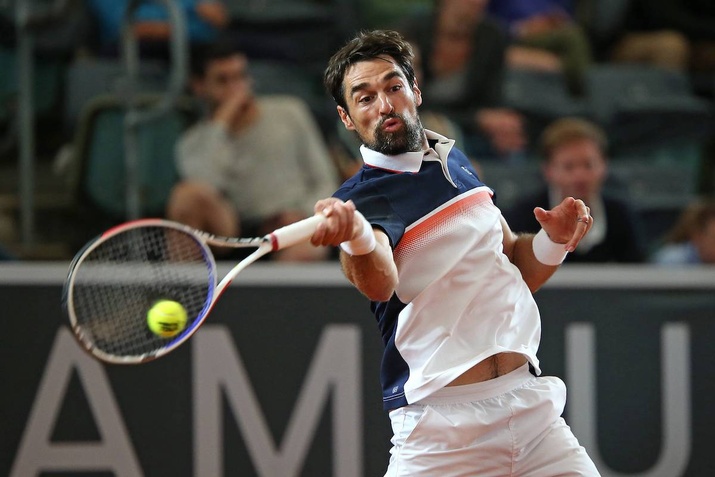 "I feel during the match, it can go both ways," said Chardy afterward. "You just have to be really focused on every single point and try to make the important point. It was a key point at 5-5 and, finally, I won the first set and after it's more difficult for him because he still needs to win two sets."
Chardy suggested that the victory was a further reflection of the minuscule margins that decide tennis matches. In this case, it was a match that was so tightly contested throughout yet was decided in a flash..
"I was trying to push every return game and, I don't know, I just pushed it and the last game at 5-5," he said. "I made two really good returns, he hit one double fault and that's it!"
As Gasquet fights back from injury, the younger Frenchman has been present and motivated since January, but he is 17-20 in 2019. Before the post-Wimbledon clay swing, Chardy had reached only two quarterfinals all year.
"I'm working really hard since the beginning of the year," he said. "I'm really motivated, and my results were not so good. I was feeling good in practice, pushing hard at every practice and the result was not there so really happy to be able to play good on court, feel good and win matches."
Finally, over the past couple of weeks the 32-year-old seems to be finding his form and presenting an opportunity to finish the year strongly. His victory over Gasquet, after edging the in-form Benoit Paire in three sets on Monday, marked a second consecutive quarter-final after two strong wins over Pablo Carreno Busta and Cristian Garin drove the Frenchman to the Bastad quarterfinals. He says that age has brought him assurance and confidence in what he does on the court.
"I'm older but I love to play tennis and practice, I will continue to play," said Chardy. "I love my sport. To be on the court, for me it's a pleasure. Now, I think the big difference is I'm really practicing and playing for myself. I'm on the last part of my career so I want to do a big push and try to do some nice things."
"When you are younger, you need your coach to push you and scream after you and you're not focused all the time," he chuckled. "You're young and you need a lot of things. When you get older, you don't need anyone to push you. You practice for yourself, you want to work hard and the relationship with your coach is different, too, it's more like an advisor. You can talk more and things. When you're younger, he tells you what to do."
Elsewhere, Andrey Rublev took a further step in his recovery by showing patience and grit in his 3-6 7-5 6-3 win over Casper Ruud. He will face top seed Dominic Thiem in the quarterfinals, who came through 7-5 6-1 over Marton Fucsovics.
"I think I played very good tennis, especially in the second set," said Thiem. "That's what I'll try to continue like this against Andrey but, of course, a completely different match-up. I think in one specific zone he is hitting the ball amazing, almost from every position on the court winners. So, my main goal is to bring him out of his comfort zone and of course not to let him too much in the offense because there he is amazing."
In the second semi-final, Chardy will face defending champion Nikoloz Basilashvili, who started and ended his second-round match with two blistering sets to defeat Juan Ignacio Londero.
"It was a tough match," said Basilashvili. "I'm really glad how I managed to be able to win in the third set. It happened first time in my career that I come here as defending champion. I have really, really nice memories here. It feels good."