Changing Of The Guard? Tsitsipas Eliminates Federer

"I truly agree with you," said Stefanos Tsitsipas to John McEnroe moments after the greatest match of his career. McEnroe had posited to the young Greek that he had believed, from the very moment he stepped onto the court, that he could pull off the type of performance that secured his 6-7(11) 7-6(3) 7-5 7-6(5) win over Roger Federer. He did.
It was clear immediately. Across the 58 electric minutes of the first set, Tsitsipas went shot for shot with Federer, narrowly losing an 11-13 tiebreak. Tsitsipas did everything that one could have expected - he served brilliantly, mixing up his first serve well. He imbued every point with his identity, chasing the net, throwing in dropshots and having the gall to show his full self in front of Federer.
Had the match petered out after the first set tiebreak and finished routinely, few people would have criticized the Greek for putting up a promising showing before departing defeated into the night. But he didn't. Throughout the second set, Federer attempted to stamp his opponents out as top players do, but Tsitsipas refused. He saved four set points in a desperate 10th game at *4-5. He saved 8 break points in total. As Federer breezed through his 1-minute service games, Tsitsipas toiled in his own service games that averaged 4 minutes.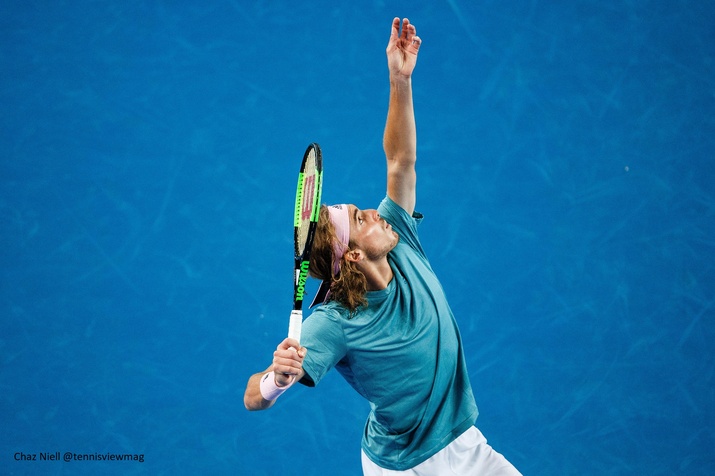 But even more impressive than the fact he hung on was the manner that he did so. Of Tsitsipas' 68 forays to the net, 2 more than his net rushing idol, 32 of them came as he battled through in the second set, trying to avoid being crushed, looking for some kind of inspiration. The fact that he was his most creative at his weakest reflects on his character and his talent.
After leveling the first set up, Tsitsipas' serving only improved. His first serve percentage rose, eventually peaking at 72% in the fourth set. He won more points behind the second serve. Most importantly, against a legend whose forehand was misfiring, but his experience ensured that he would always be present, Tsitsipas' intensity never wavered.
Afterward, a crushed Federer was quick to compliment his victor. "I think it was okay," he said. "I lost to a better player who was playing very well tonight. Hung in there, gave himself chances at some point, stayed calm. It's not always easy, especially for younger guys. Credit to him for taking care of that.
Despite the variety on show for both, Federer pointed out the conditions slowed in the night, perhaps underlining why he took on so many dropshots and was extremely unsure about finishing points with his forehand throughout.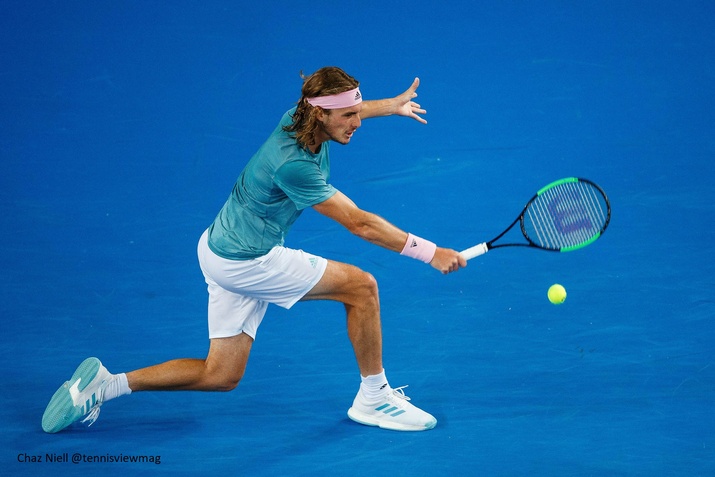 "I mean, look, conditions also changed throughout the match like every year when you start at 7, go into the night. It gets harder to go through the opponent. Yeah, I thought conditions were definitely a bit slower this year than last year. Didn't allow for as much variation, to be quite honest. But he did a nice job of taking care of his half volleys. That's maybe what won him the match tonight, I'm not sure."
For Tsitsipas, the victory was validation. It was an affirmation that he deserved to be on the court, that his decision to trust his instincts were valid, and that he's on the way to the very top of the sport.
"I do have a plan before I go to the court," he said. "Sometimes, yeah, decision making during the match, what feels right, what I see on the court. If I take a decision, I won't hesitate. That's pretty much what I've changed in my development as a player. I stopped being hesitant on what I'm going to do when the ball is in front of me. I know from the very beginning where I'm going to go, what I'm going to do, what is my plan with that shot.
"That's something that I have improved a lot. Yeah, playing these guys, you always have to have a clear plan, know what you're doing on the court, otherwise you are pretty much screwed."