Capriati and Kuerten Honored

Class of 2012 International Tennis Hall of Fame Honoring Capriati and Kuerten
American tennis star and former world No. 1 Jennifer Capriati will receive the highest honor in the sport of tennis, the induction to the International Tennis Hall of Fame. In addition to her world No. 1 status, Capriati's successful career featured an Olympic gold medal, three Grand Slam titles, a Fed Cup title with the United States team and an ability to stage remarkable comebacks. Capriati cracked the world top-10 in 1990, her first season on tour, and in October 2001, she became the WTA world No. 1, a position she held for a total of 18 weeks.
"This is a dream come true and an extraordinary tribute. I love this game and am incredibly honored by the Hall of Fame's vote. Tennis has been my passion and dedication for my entire life, and to be acknowledged for this passion and dedication is truly icing on the cake," said Capriati.
Capriati, 36, elected to the Hall of Fame in the Recent Player Category, joins other Class of 2012 members, former world No. 1 Brazilian tennis star Guga Kuerten; Spanish tennis legend Manuel Orantes; tennis administrator and promoter Mike Davies; and wheelchair tennis star Randy Snow.
"Finally, to all of my fans: You mean so much to me. I am, and have always been, blessed beyond words by your support both during and after my playing days. You unquestionably made this game so memorable for me, and I miss you all so much. I can't wait to go to Newport to express my sincere appreciation to my fans and celebrate with them, my family, my coaches and everyone else in the tennis community. Thank you all from the bottom of my heart. I truly feel humbled to be a part of history and am honored to be considered among the greatest of all time."
Gustavo "Guga" Kuerten: One of Brazil's most beloved and successful athletes, Gustavo "Guga" Kuerten, 35, was the world's No. 1 player for 43 non-consecutive weeks, and he is a three-time major tournament champion, having captured French Open titles in 1997, 2000, and 2001.
"King of the clay courts, Guga was one of the most popular players of his era, and he achieved tremendous success during a time when some of the greatest players in history were active, including Hall of Famers Andre Agassi, Pete Sampras, and Michael Chang," said Christopher Clouser, chairman of the International Tennis Hall of Fame & Museum.
With Kuerten's 1997 win at Roland Garros, he became the first Brazilian to win a major singles title since Hall of Famer Maria Bueno's 1966 U. S. Nationals victory. En route to the win he overcame three past champions, and became the second-lowest ranked Grand Slam champion at the time (No. 66).
In 2000, Kuerten became the first South American to finish No. 1 in the history of the ATP World Tour rankings. The No. 1 year-end position came down to the final match of season for the first time in men's tennis history, which Kuerten won with a 6-4 6-4 6-4 victory over Andre Agassi, breaking an eight-year reign of No. 1 finishes by Americans.
Inspired by his late brother, Guilherme, who had cerebral palsy, Kuerten opened the Institute Guga Kuerten in 2000 to help disabled people. Kuerten was awarded the ATP World Tour's Arthur Ashe Humanitarian Award in 2003, and in 2010, he was honored with the Philippe Chatrier Award by the International Tennis Federation. Currently, he supports the social activities developed by Institute Guga Kuerten.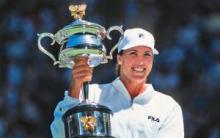 "Probably one of my greatest accomplishments was being able to get Brazilians excited about tennis, and to elevate the attention forBrazilas a tennis nation," said Kuerten. – END
This article is from the July / August 2012 issue

SOLD OUT

Subscribe now and you'll never miss an issue!