Capital Gains: Washington and Carlsbad in Review

While two former US Open champions claimed titles on opposite coasts, a star from the recent past launched her latest comeback.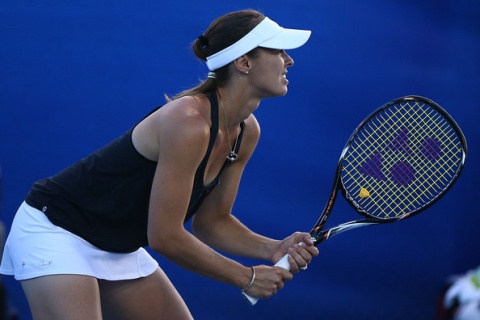 The meteoric career of Martina Hingis has become associated not just with talent and precocious glory but with burnout and unwonted controversy. The five-time major champion fell one match short of a calendar Grand Slam in 1997 at the age of 16, but Hingis would win only two more majors after that season and none after her teenage years. Overtaken by the next generation of more powerful hitters such as Venus and Serena Williams, she appeared to lose her appetite for the game as injuries accumulated. Retiring in 2003 at just 22 years old, Hingis launched a comeback from 2006-07 that brought her back to the top 10 but not to contention at majors. That second career ended with a positive cocaine test that might have led to a long suspension had she not left the game again.
Equal parts inspiration and cautionary tale, the first two careers of the Swiss Miss left many fans ambivalent about the person while admiring the player. But Hingis, who entered the Tennis Hall of Fame this summer, has seized a chance to end her tumultuous relationship with the sport on her own terms with a third, limited tour of duty. She returned to compete in doubles at the Southern California Open in Carlsbad this week, partnering Daniela Hantuchova to a victory and a tight loss. Hingis has denied speculation that she will launch from doubles into singles, perhaps tempering expectations deliberately. If she keeps to those plans, her return in the less intense, more human atmosphere of doubles could give her relationship with tennis the dignified closure that it deserves.
Hingis may have generated some of the week's most significant headlines, but plenty of others in Washington and Carlsbad deserve recognition as well.
Ad-in: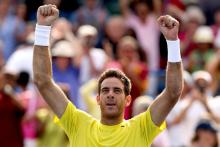 Juan Martin Del Potro: Now a three-time champion in Washington, Del Potro lost no time in showing why he ranks among the leading contenders for the US Open. No issues from a Wimbledon injury lingered this week as he swept to the final without losing a set. Chronic deluges caused delays that tested his stamina, requiring Del Potro to win two matches in one day and to play the final less than 15 hours after his semifinal ended past midnight. The 2009 US Open champion answered the bell in every way imaginable. Keeping his concentration through a long interruption against Tommy Haas, Del Potro not just broke but shattered John Isner's seismic serve in the final. He awakened from a somnambulant first set on Sunday to yield just three games in the last two sets. Highlights included two Isner smashes returned for reflex winners.
Women's champions: The 2011 US Open champion had not even planned to play Carlsbad, but a first-round loss in Stanford spurred Samantha Stosur to revise her schedule. That setback now looks like a blessing in disguise, for Stosur won her fourth career title at a tournament where she took a wildcard. And the Aussie did it the hard way, as she did in New York two years ago. On Friday came a three-set triumph over world No. 4 Agnieszka Radwanska. On Sunday came her first career victory over Victoria Azarenka, the only remaining player in the top 10 whom she never had defeated. Stosur looked far from bulletproof for much of the tournament, including in those two matches, yet she kept her composure on crucial games and points as her more notable opponents wavered. Perhaps she can atone for a disappointing first half with an impressive second half.
Some players develop an affinity for certain tournaments that defies easy explanation. Among the examples are Anastasia Pavlyuchenkova's three titles in four years at Monterrey, Mexico. Another example comes from the small WTA event in Washington, where Magdalena Rybarikova won her second straight title this week. Before stopping Andrea Petkovic, she mounted a three-set comeback over world No. 9 Angelique Kerber and demolished the dangerous Ekaterina Makarova. Rybarikova's triumph testified to the role of positive memories in boosting morale.
John Isner: Once again, his progress was laborious but relentless. Isner had needed three sets to win all but one of his matches en route to the Atlanta title, and he twice dropped the first set en route to the Washington final. Having struggled past two lower-ranked opponents, Marcos Baghdatis and Dmitry Tursunov, Isner caught fire immediately against Del Potro. He never had won a set from the 2009 US Open champion before, nor had he broken his serve. Isner did both of those things on Sunday and looked set to clinch his first victory of the season over a top-10 opponent. Then, the sleeping Tower of Tandil stirred, and the home hope had no answer.
Andrea Petkovic: No seed, no problem. Crowd favorite Petkovic brought her irrepressible energy to Washington, defeating two seeds en route to her second final of the summer. Even though her semifinal started well after midnight, she managed to outlast fourth seed Alize Cornet. That timing probably cost her for the final, which one would have favored Petkovic to win otherwise. The streaky German will benefit from the confidence gained this week almost as much as the ranking points. Like Tursunov, Petkovic will leap back into the top 50.
Ana Ivanovic: Despite traveling without a regular coach, Ivanovic still found promising form in Carlsbad. The tournament marked her first semifinal of 2013 but her second in three years at this tournament. Suited to the relaxed resort atmosphere, Ivanovic avenged a loss in last year's US Open Series to Roberta Vinci before extending Azarenka to a third set. She will recapture the top spot among Serbian women from Jelena Jankovic, whose spring momentum has faded.
Dmitry Tursunov: The Russian-born resident of the United States exploited a decimated section of the Washington draw. Tursunov excelled at saving break points at a tournament where service holds and tiebreaks proliferated. Defeating former champion Radek Stepanek, he reached his first outdoor semifinal since winning a grass tournament in 2011. Rejoining the top 50 next week, Tursunov finds his quick-strike style suited to the fast courts of the American summer.
Virginie Razzano: Fans of women's tennis will remember Razzano forever for her upset of Serena Williams at Roland Garros last year. Granted a wildcard into Carlsbad, the plucky Frenchwoman took full advantage of the opportunity. Razzano upset two seeds to reach the semifinals and won the second-longest women's match of the year over world No. 7 Petra Kvitova. Dropping the first set in a tiebreak after she served for it, Razzano rebounded from that setback and from failing to serve out the match in the third set. She then saved match points in the decisive tiebreak before prevailing 6-7(6) 7-5 7-6(8) in 3 hours and 35 minutes.
Marcos Baghdatis: Outside Davis Cup, the former Australian Open finalist had not won a match since February. Baghdatis lost the first set in his opener, but he recovered to not only win that match but upset top-20 opponent Kei Nishikori. His 2013 struggles have owed much to bad luck in the form of daunting early draws. Another of them awaits next week at the Rogers Cup, where Baghdatis faces Ernests Gulbis.
Deuce: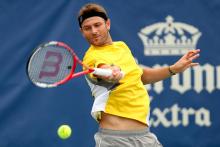 Mardy Fish: Like Baghdatis, Fish had not won a match since the early spring. In his case, however, recurrent health issues had prevented him from playing more than a handful of tournaments in 2013. Fish notched two victories in Washington before falling meekly to Kevin Anderson, an opponent whom he would have mastered before his illness woes. Little hope lingers that he can regain his peak form, but at least he gave American fans a few more chances to watch him as his career wanes.
Ryan Harrison: He defeated fellow Atlanta semifinalist Lleyton Hewitt in Washington, continuing a US Open Series more uplifting than his results earlier in 2013. Del Potro continued Harrison's career futility against top-10 opponents a round later, however, exposing the gap separating him from the elite.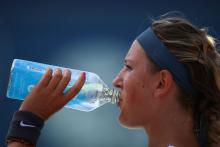 Victoria Azarenka: She played abysmal tennis on Sunday in her most lopsided hard-court loss since January 2011. Previously dominant against Stosur, Azarenka converted just one of 12 break points as her unforced error total tripled her winner total. After the final, she withdrew from the Premier Five tournament in Toronto next week, alleging a lower back injury. Viewed from a broader perspective, though, Azarenka's trip to Carlsbad served its purpose. The Australian Open champion showed that she had recovered from an injury at Wimbledon and accumulated hard-court preparation ahead of the US Open, which she nearly won last year. Perhaps most importantly, Azarenka regained the No. 2 ranking during a period when no woman wants to face world No. 1 Serena Williams sooner than necessary.
Swiss men: Withdrawing from the Rogers Cup for undisclosed reasons, Roger Federer may need more time to absorb his devastating setbacks this summer. A season that started reasonably well has gone off the rails more than anyone could have expected, and a nagging back injury has played a key role in that narrative. Ironically, Federer's fellow gold medalist at the 2008 Olympics benefited from his withdrawal. The best Swiss player overall this season, Stanislas Wawrinka moved up to a top-eight seed at the Rogers Cup.
Grigor Dimitrov: If a player survives an entire week without dropping serve, one would expect him to win the tournament. In Atlanta, for example, Kevin Anderson lost serve once in the tournament and fell just a point short of the title. Grigor Dimitrov one-upped Anderson's achievement by not losing his serve at all in Washington. And yet he fell in the quarterfinals to Haas, who showed superior poise in reducing Dimitrov's unbroken serving streak to a footnote.
Ad-out:
Defending champions: While Magdalena Rybarikova distinguished herself at the WTA event in Washington, the 2012 titlists at the two more important events did not. Defending champion Alexandr Dolgopolov continued a season of underachievement by falling in his Washington opener. That loss could cost Dolgopolov a seed at the US Open unless he regroups over the next two weeks. More predictable was Dominika Cibulkova's first-round loss to Ivanovic in Carlsbad. Cibulkova had won Stanford in dramatic fashion a few days before, draining her physical and emotional reserves.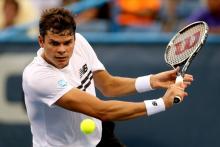 Milos Raonic: After a strong start to 2013, the Canadian has sputtered through a 5-8 stretch that continued with a second-round loss in Washington. Raonic rose faster sooner than most of the ATP rising stars, but now he risks being left behind by peers like Jerzy Janowicz and Grigor Dimitrov. A return to home soil in Montreal may strike a spark under the cherubic giant.
Sloane Stephens: Ponder this statistic: Stephens, the second-ranked American woman, has compiled a 12-3 record at majors in 2013 and an 11-12 at non-majors. Some have suggested that her success at majors stems in part from her soft draws there. While this argument makes sense, Stephens has lost routinely to the same WTA journeywomen at tournaments like Washington whom she defeats routinely at tournaments like Wimbledon.
Sam Querrey: Another statistic to ponder: Querrey, the second-ranked American man, has won one or no matches at his last nine non-majors. Unlike Stephens, Querrey has not compensated for those struggles with stirring results at majors. He has built his ranking and reputation on success at this lower level, and on home soil. Thus, early losses at both of his American tournaments this summer puzzle.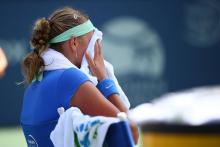 Petra Kvitova: She must defend the Rogers Cup title next week and a significant quantity of points in Cincinnati the following week. A meltdown against Razzano will not send Kvitova to Canada with the confidence that she needs to repeat those performances. Her ranking could drop outside the top 10 within a month, where it has not sunk since winning Wimbledon two years ago.
Olga Puchkova: Frustrated by allowing a lead to slip away in Washington, Puchkova swatted a ball toward the wall behind her. Instead, the ball caromed off a linesperson whom she had not noticed. The tournament director defaulted Puchkova from the match, properly holding her responsible for the consequences of her outburst.