Calm After the Storm: The Week after Wimbledon

The most significant news of the week may have come off the court. Ending a three-year partnership with Thomas Hogstedt, Maria Sharapova parted ways with the coach who helped her complete a career Grand Slam at Roland Garros. According to Sharapova, Hogstedt could not have traveled to tournaments in the coming months because of personal issues. The world No. 2 could not have chosen a worthier successor to Hogstedt than Jimmy Connors, who worked with her briefly before she won the Australian Open in 2008. A former coach of Andy Roddick, Connors shares his new charge's competitive ferocity and boundless determination to improve. The parallels between their personalities should lead to a productive partnership.
Five small tournaments unfolded in the week after Wimbledon, meanwhile, on two surfaces and two continents. Tomas Berdych and Sara Errani participated in Bastad and Palermo, respectively, but most other elite players enjoyed a summer holiday as lesser figures stepped into the spotlight. You might see a few unfamiliar names in this article who could become more familiar in the future.
Trending up: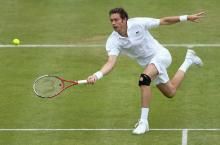 Newport finalists: Weather forced Newport to hold its semifinals and final on the same day, posing a test for the durability of its finalists. Nevertheless, the 32-year-old Lleyton Hewitt and the 31-year-old Nicolas Mahut both made the most of their last opportunity in 2013 to play on their best surface. Upsetting the second seed and two-time defending champion John Isner, Hewitt showed his tenacity in rallying from a one-set deficit. Later on Sunday, he served for the title against Mahut and led by a break early in the third set, but the Frenchman rallied to win his second straight non-major.
Italian women: For just the second time in its history, the Palermo tournament featured not one but two finalists from the home country. World No. 6 Sara Errani and world No. 11 Roberta Vinci did not surprise by reaching the final, for the doubles partners and Fed Cup teammates held the top two seeds in a meager draw. Reversing a recent trend in their singles meetings, Vinci halted Errani's title defense in three sets to claim her first Palermo title.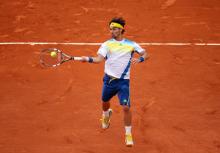 Stuttgart finalists: With Stuttgart switching to grass next year, clay specialist Fabio Fognini knew that he would not have a better chance to win a Mercedes. After victories over both of the top two seeds, Fognini will drive a new set of wheels back to his native Italy. He has played the best tennis of his career this season, reaching the quarterfinals or better at six tournaments, and Stuttgart marked his first ATP singles title. But the news was not all bad for home hope and runner-up Philipp Kohlschreiber, who also finished runner-up on home soil in Munich. Kohlschreiber had retired under mysterious circumstances from the first round of Wimbledon, so a strong week reassured fans of his fitness.
Romanians: Not on the radar earlier in the year, Simona Halep never had won a title until this summer. She now has claimed three consecutive non-majors, building on a breakthrough Premier Five semifinal in Rome. Among Halep's victims in Budapest was compatriot Alexandra Cadantu, who reached the semifinals of a field lacking in notable names. On the men's side, Victor Hanescu echoed Cadantu's Budapest achievement in Stuttgart, also as an unseeded player. Nearly gone in the first round, Hanescu eventually defeated fourth seed Benoit Paire en route to the semifinals.
John Isner: Having retired from Wimbledon with a knee injury, Isner looked fit enough when he appeared with racket and without clothes in ESPN Magazine's Body Issue. The giant from Georgia had declined an earlier offer to pose for the magazine but mustered the courage this year. More to the point, Isner found courage at of Newport in winning a series of tiebreaks. Three wins and a semifinal appearance gave the top American man some positive energy heading into the US Open Series.
Ivo Karlovic: The tallest man in the ATP returned from viral meningitis, winning his first two matches in Newport and reaching the semifinals in doubles. Opponents cannot discount that force of nature, the Karlovic serve, just yet. As Dr. Ivo put it on Twitter: "It felt so good just to play a match again. Win or lose, don't matter. Just two months ago, I thought it was over."
Fernando Verdasco: As losses piled up this spring, Verdasco's ranking sagged outside the top 50 for the first time since 2005. But opportunity knocked at Wimbledon, and Verdasco seized it with both hands. His quarterfinal appearance there may have catalyzed something more meaningful. Armed with a new coach (Ricardo Sanchez) and a new racket, Verdasco reached his first final in over a year. That breakthrough in Bastad included two dramatic three-setters against top-30 opponents Nicolas Almagro and Grigor Dimitrov. Always fragile under pressure, Verdasco did not quell his nerves as much as survive them. Accumulated fatigue from those epics may have caught up with him in the final, which he lost to Argentine clay specialist Carlos Berlocq.
Stefan Kozlov: The 15-year-old American played his first ATP match in Newport, acquitting himself well. Kozlov forced a final set against a much more experienced opponent in world No. 113 Michal Przysiezny, and the set that he won came in a tense tiebreak after he saved match points. Plenty of twists and turns await any youngster of that age, but a promising start never bodes ill.
Elias Ymer: Older and more developed than Kozlov, the Swedish junior turned even more heads when he won a set from Grigor Dimitrov in Bastad. Tournament organizers must have felt vindicated in offering Ymer a wildcard, and he might reward them by playing his small home tournament if and when he joins the elite.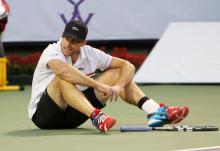 Andy Roddick: Some have speculated that Roddick retired a year too early after upsets imploded the men's draw at Wimbledon. Thoroughly content in his life after tennis, though, the former No. 1 returned to the court for light-hearted action in World Team Tennis. Expect to see more of Roddick in WTT events and exhibitions over the years. He still relishes the experience of competing, even with nothing significant at stake.
Alisa Kleybanova: Participating in the same WTT match as Roddick, Kleybanova hopes to revive her career after two years of battling Hodgkin's lymphoma. A premature comeback last year stalled, but she showed courage by persevering to try again. If Kleybanova does reassert her presence in the WTA, she will become an inspiring model for others in her position.
Trending down:
Sam Querrey: The Newport tournament typically has frustrated top seeds, and this year proved no exception. When Querrey lost in the first round, his record sank to 6-9 since the start of Miami. Many of those setbacks have come against notable opponents, such as Novak Djokovic, Tomas Berdych, Richard Gasquet, and Jerzy Janowicz. This loss to Tim Smyczek departed ominously from that trend, suggesting a loss of confidence.
Tomas Berdych: An overloaded schedule wore him down this spring after a strong start to 2013, but Berdych still entered a clay event in the week following Wimbledon. He did not carry his momentum from reaching the quarterfinals there to Bastad, where he fell to the stagnant Thiemo de Bakker. Instead, Berdych should have used the week to refresh his energies ahead of the US Open Series, a more meaningful stage for him to shine.
Budapest top seeds: This International tournament lacked star power, to put it mildly, with no entrant in the top 25. The talent in Budapest grew even dimmer one round into the tournament when top seed Lucie Safarova and second seed Alize Cornet both fell in straight sets.
Anabel Medina Garrigues: The woman who came closest to stopping Serena on clay this year exited Palermo swiftly. Medina Garrigues won just two games from journeywoman Dinah Pfizenmaier, squandering a valuable opportunity.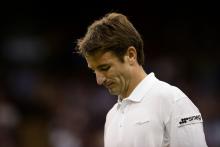 Tommy Robredo: A surprise quarterfinalist at Roland Garros, he specialized at rallying from two-set deficits. The Spanish veteran may have forgotten that he could not do the same in the best-of-three format at non-majors. True to form, Robredo lost his first two sets in his Bastad opener. They were all that opponent Albert Ramos needed.
Nikolay Davydenko: He skipped Wimbledon for the first time in over a decade, likely expecting to steal a march on men who transitioned from clay to grass and back again. What seemed like a shrewd tactic did not benefit Davydenko in Stuttgart, where he lost resoundingly to Benoit Paire.