California Dreaming – Vesnina Into BNP Paribas Open Final
Kristina Mladenovic [26] and Elena Vesnina [15] headlined the evening session of the BNP Paribas Open on Friday. Their mission, secure a spot in the singles Final. The match would be the biggest career opportunity for both players. The two shared parallel paths playing well in both singles and doubles in the desert.
1st Set - Straight Forward
The match began at 7:10 pm and appeared as though it would not last an hour. Vesnina came out playing an aggressive game hitting Mladenovic off the court. She was in control of service games holding her own and breaking her opponent twice to go up, 5-0. Mladenovic began to fight back finding success returning and testing her net skills. She quickly held her next two service games and broke Elena with the help of a double-fault, 5-3. This visible effort shift was too late. Vesnina held her nerve cleanly serving out the set with a love hold, 6-3.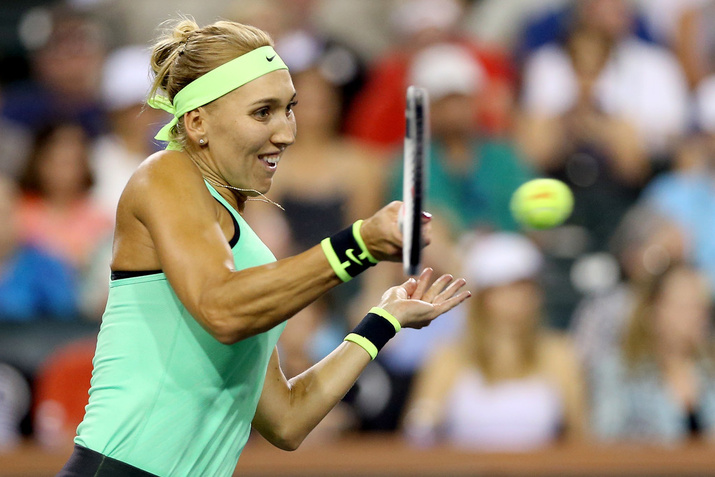 2nd Set – A Shifting Tide?
Riding confidence Vesnina maintained an aggressive return plan securing the 1st and 2nd breaks, 3-0. It seemed the match was in the bag but Mladenovic began to mix it up breaking Vesnina to 3-1. Her returns were more aggressive and she served with more precision while finding ways to come to net. Kristina found winners coming in enticing crowd participation with interesting points. Vesnina, determined to stay on course, immediately broke back and then held to 5-1, the finish line in sight. Mladenovic mounted a challenge and won the next three service games to 5-4. The possibility of a 3rd set loomed and nerves seemed to creep into Elena's game. Vesnina, who holds a Sport Psychology degree, regained focus and closed dropping only one point, 6-4.
Presser Revelations
Vesnina had this to say about her strategy. "I was not trying to play safe on some key moments… You know, I was trying to take it from her, not giving her any time. Because when Kiki is having time, she can run around with the forehand, create great angles and shots. Especially with the backhand, she can slice and drop shot. "
She spoke of her growing experience closing big matches stating, "I was serving a lot of times for the match in doubles, for the finals, Grand Slam finals, championship finals, Olympic Games finals. So, I kind of had this kind of pressure. Even in doubles it's still pressure when you're serving for the match and you need to close such a big match for you."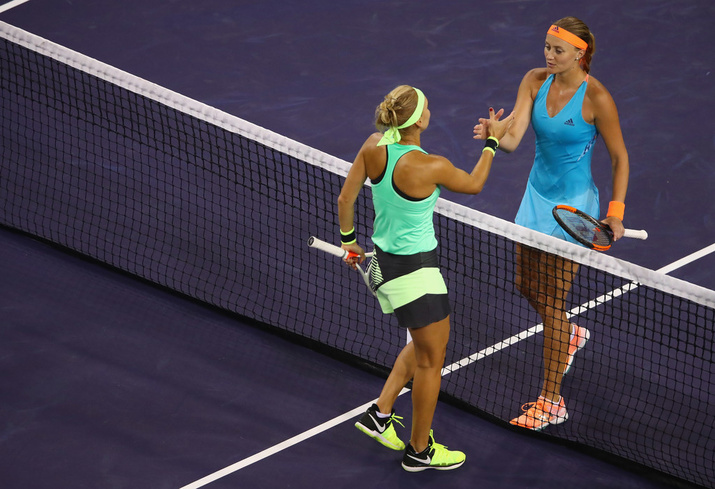 On training to handle pressure she revealed she is "a sports psychologist. I finished university. And I'm reading a lot of books about that." She discussed reading the biography of Agassi. "It's very interesting to read the interview of the big champions, what they were feeling. Of course, they not gonna be 100 percent honest with you, but still, these kind of things, it's always helping you, you know. As well, when you're talking with these champions in the locker room, as well, you know, some giving your advice, like Martina Navratilova. I know her for many years, and she was kind of always giving me some little advices in the locker room, trying to – not help me, but kind of cheer me up, you know, in the tough moments."
She hailed Andre as a "great example of the player who was on the top and then, when the very bottom and everybody forget about him and nobody believe in him, and he was still doing the same things, same job, you know. And he, like, worked his way back, like, totally worked it out. You know, it's respect, you know, to this person."
Lastly, she reflected on her first visit to the United States, Indian Wells. She was 16 years old. "I didn't get in into the qually…I looked outside, I was like, Oh, my God, I want to live here (smiling). I was staying with a really nice old lady in her house. She had, like, two cars, one was convertible, had the garden with oranges, with grapefruits, you know. Everything was just so beautiful here."
On Sunday, Vesnina plays fellow Russian and WTA Grand Slam veteran, Svetlana Kuznetsova. The head-to-head is 1-1. Both players are quick to point out that past records do not mean much. They have not shared the stage since Portugal, 2014. While the former BNP Paribas Open finalist Kuznetsova appears to have the upper hand with 17 career titles, Vesnina has played a solid draw taking out Venus Williams and Peng Shuai and dropping only two sets. This all-Russian final is a terrific story of late stage career players finding a renewed love of the game and an attitude of gratitude.