Breaking Down the Brackets: US Open Men's Draw Preview

The 2013 US Open singles draws appeared on Thursday, laying the foundation for the narratives that will unfold over the next fortnight. We greet you on Friday with quarter-by-quarter breakdowns of both brackets, starting with the men.
First quarter: Top seed Novak Djokovic has not lost before the semifinals at a major in over three years. Nor has he lost before the semifinals at the US Open since 2006, when he was still a teenager. Djokovic's outstanding consistency in New York should face few serious tests in the first week, but some déjà vu might lie ahead. After he upset the world No. 1 in Madrid this year, Grigor Dimitrov fell to him in straight sets at Roland Garros as his struggles at majors persisted. Djokovic could repeat that result en route to the second week, where Benoit Paire hopes to meet him. This rising French star should fancy his chances of securing a mini-upset over clay specialist Fabio Fognini, fatigued in August after an outstanding July. While giant-killer Lukas Rosol also lurks in this section, he has struggled to cope with the death of his father and probably cannot mount a real threat.
A rematch of meetings with Tommy Haas at each of the last two majors might confront Djokovic in the quarterfinals. Despite coping with a shoulder injury this month, Haas stands head and shoulders above most of his challengers in this section. The lone exception is 2009 champion Juan Martin Del Potro, also nursing an injury as he heads to New York. A recurrence of chronic wrist pain might blunt Del Potro's power against Djokovic, who defeated him at last year's US Open, but even a battered Tower of Tandil should reach the second week. This section includes several veterans enjoying fine seasons, such as first-round opponents Nicolas Mahut and Mikhail Youzhny. While Mahut has won two titles this summer, Hewitt has reached two finals. Former champion Lleyton Hewitt also eyes an intriguing opener against perennial comeback artist Brian Baker.
Semifinalist: Novak Djokovic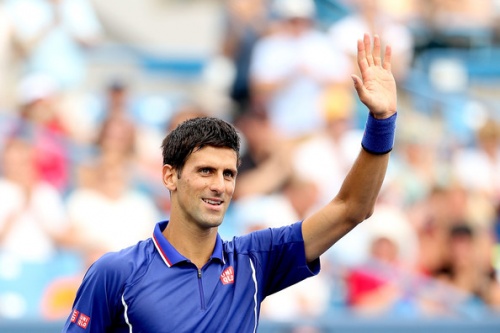 Second quarter: Defending a major title for the first time, Andy Murray needs to shrug off disappointing results in the US Open Series. He struggled at those tournaments last year as well after a strong grass season but rebounded impressively in New York. A finalist at the last four non-clay majors, and a champion at two of them, Murray should display his passing shots to scintillating effect in an opener against the net-rushing Michael Llodra. Clay specialists of dubious competitive stamina populate his section, so the defending champion should have little trouble easing past the likes of Juan Monaco or Nicolas Almagro. American fans may want to catch a glimpse of Steve Johnson, a USC alum who has won sets from several quality opponents this year. Impressive in Winston-Salem, Johnson will hope to avenge a five-set loss to Almagro at the Australian Open if they meet in the second round.
Tomas Berdych may have struggled against the rest of the Big Four, but he has won six of ten meetings with Murray. The latest of those came at Cincinnati, so he holds the momentum in their rivalry. In the top five for the first time, Berdych must avoid the early-round stumbles that have befallen him so often at majors. Three recent nemeses of Roger Federer simmer in his vicinity, knowing that they can notch huge upsets. Still, neither Julien Benneteau nor unseeded men Sergiy Stakhovsky and Daniel Brands have achieved much in 2013 other than those blows to Swiss pride. And Berdych must relish the prospect of another clash with Kevin Anderson, whom he has dismissed all nine times that they have met. Ninth seed Stanislas Wawrinka has cooled off in the second half after a torrid first half, so Radek Stepanek or James Blake could ride their fast-court skills to an upset.
Semifinalist: Andy Murray
Third quarter: The recently scrambled rankings have created one section of the draw without a clear favorite. David Ferrer has not regained his rhythm after an ankle injury sidelined him for part of the summer, falling in the opening round at both Montreal and Cincinnati. Not much more imposing have been the efforts produced by Richard Gasquet, who owes his top-eight seed to the absence of compatriot Jo-Wilfried Tsonga. The true threats may come not from the bookends of this section but from its interior, where several men wield weapons more suited to fast courts than those of Ferrer and Gasquet. All the same, Ferrer has reached the quarterfinals or better at seven straight majors, including two semifinals on hard courts. He has dominated Gasquet throughout their history.
In this section's more intriguing interior, Rogers Cup finalist Milos Raonic will square off in the third round against veteran lefty Feliciano Lopez, while Wimbledon semifinalist Jerzy Janowicz eyes plummeting Serb Janko Tipsarevic. The firepower of Jack Sock could explode in a second-round shootout with Janowicz, who never has faced Raonic. Even the first-week opponents of Ferrer and Gasquet may fancy their chances to spring a surprise. Ernests Gulbis reeled off 13 straight wins on North American hard courts this spring, and Dmitry Tursunov has reached three quarterfinals in the US Open Series.
Semifinalist: Milos Raonic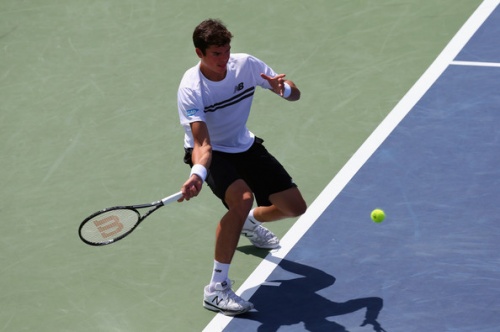 Fourth quarter: Two North American tournaments witnessed editions of the Roger Federer-Rafael Nadal rivalry this year. Rafa won both of those matches, but Federer tested him severely on a fast court in Cincinnati. Their first meeting at the US Open might follow a similar script, assuming that both can survive the first four rounds. That question arguably looms larger for Federer, who has lost four of his last nine matches. Three of those setbacks have come against journeymen Sergiy Stakhovsky, Federico Delbonis, and Daniel Brands, so underdogs should feel more confident than ever against the GOAT. Second-ranked American Sam Querrey never has taken a set from Federer, however, and he struggled to string together victories for most of the summer. More ominously, Kei Nishikori knocked off the Swiss star in Madrid this spring, and Australian phenom Bernard Tomic can upset anyone if he channels his focus for once.
For his part, Nadal never takes victories for granted, and he should not here. Winless in his career against top-10 opponents, Ryan Harrison cannot keep pace with the Spaniard in a best-of-five format, but heavier hitters nearby might. Most notably, Cincinnati finalist John Isner extended Nadal to a fifth set on the clay of Roland Garros two years ago, and he did not lack chances in their two-tiebreak final at Cincinnati. Surprise Rogers Cup semifinalist Vasek Pospisil upset Berdych in Canada, although he probably lacks the experience to outhit Nadal for three sets. Less fearsome is the second-ranked Spanish lefty, Fernando Verdasco. This Wimbledon quarterfinalist, who nearly upset Murray there, owns only one victory over Nadal—and on blue clay.
Semifinalist: Rafael Nadal
Final: Andy Murray vs. Rafael Nadal
Champion: Rafael Nadal