Book Review: The Circuit: A Tennis Odyssey

Has there ever been a poet who's written a tennis book?
Brad Gilbert, who wrote the terrifically titled Winning Ugly is kind of a poet with his creative player nicknames—Djoker, Vamos-Rafa, Special K, RF2.0.
David Foster Wallace, who was mostly a literary fiction writer, wrote brilliantly about Federer.
John McPhee, the master of long-form nonfiction, wrote the inspiring Levels of the Game.
Rowan Ricardo Phillips, an award-winning poet (Whiting Writers' Award, Guggenheim Fellowship) who lives in New York City and Barcelona, has written a glorious new tennis book called The Circuit: A Tennis Odyssey, published by Farrar, Straus & Giroux.
I'm a writer and a tennis coach, and the book's succinct glossary is enough to make me giddy. I spend a lot of time trying to explain the crazy scoring (why 15?, why no 45?) and vast lexicon: the slams, the masters, an ace, a let, a break, love, hold, a love hold. So many words that mean something different in tennis than in life. Though if you really think about it, they don't. As in tennis, as in life.
Phillips says his book is about things we can't quite describe but should try to because they're fleeting. A tennis match is decided by moments, and not all moments are created equal. "Tennis is a game in which it's possible to win more points in a match and still lose. Roger Federer has managed to pull off this feat—or have this feat pulled on him—more than twenty times over the course of his career."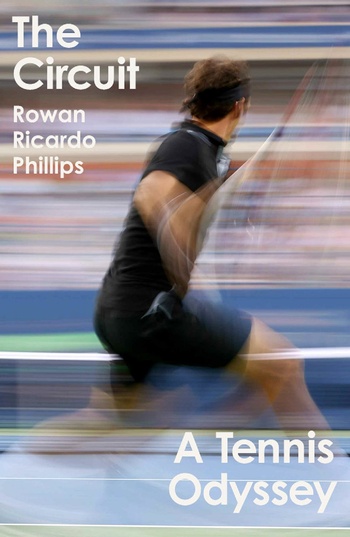 In the summer of 2016, during Wimbledon, while Phillips was recovering from a tear in his Achilles tendon from playing basketball, laid up on a sofa in a sedative haze, he watched tennis on television and remembered how he used to watch tennis with his parents, how he hit balls against a handball wall or metal gate, anything to have a racquet in his hand. Somehow, though, tennis had become a private joy—he'd kept watching, but by himself, and he'd stopped playing. He decided that when his leg healed, he'd play again. And he made a promise to himself that someday he'd focus on a year and write about it and, like the players, follow the sun. He said that even before then that he knew he wanted "to write it out, have an experience with words, which is the best and most genuine way I can think of sharing."
He began his journey in 2017 with Brisbane, the first tournament on the first day of the year. He was watching from his flatscreen in New York. The fifth seed in Brisbane was Rafael Nadal who hadn't played since October 2016 due to a wrist injury. On the third day, Nadal lost to Milos Raonic. Grigor Dimitrov won the tournament. He also won the year-end tournament at London's O2 Arena.
Next, Phillips watched Doha, which started on the seventh day of 2017. Novak Djokovic, the world No. 2 beat Andy Murray, the world No. 1, in the final. Phillips quotes commentator Simon Reed: "This is what we wanted. The best two players on the planet really laying into each other!" Phillips repeats this quote a few times, like a poem's refrain. It's meant to emphasize what is going to happen in this strange year, where Murray and Djokovic both end up losing early in the Australian Open and then disappear and reappear and disappear again, leaving Nadal and Federer at the top of the rankings.
Phillips explains what was supposed to be the story of 2017: "How Murray finally after so many torturous years of crying, growling, recriminating his team, and eviscerating himself, had risen to the number one ranking, and how then he would fare in defending it. And how the unconquerable Djokovic, now having won all four Grand Slam titles, would react to suddenly and rather unexpectedly being saddled with the number two ranking."
Phillips tells us, "Maybe you skipped Brisbane, Doha, Chennai, Auckland, and Sydney, but I know you were up with me for Melbourne. Either you couldn't sleep or needed something to take your mind off the day while Orwell's 1984 flew off real and virtual bookshelves. You knew the Australian Open wasn't going to either change or save the world, but you decided to take a peek anyway at any odd hour you could, because tennis can offer what Robert Frost said poetry provides: a momentary stay against confusion.
What happened at the Australian Open was that Roger Federer—after a long layoff, age thirty-five, seeded seventeen—played magical tennis and won. In the spring, he won the Sunshine Double, Indian Wells and Miami, the back-to-back Masters. In Miami, Federer beat Nadal in the final 6-4, 6-3 in about an hour. Murray and Djokovic both missed Miami because of elbow injuries.
Federer skipped the clay-court swing entirely. Nadal, as usual, dominated on the clay, winning Monte-Carlo and Roland-Garros. He lost in Rome to Dominic Thiem in the quarters. Sascha Zverev won that event, beating Djokovic in the final to become the youngest player to win a Masters title since Djokovic.
Next up was grass-court season, and Novak Djokovic made his return at Eastbourne, an ATP 250 warmup. He won all of his matches in straight sets. But at the start of the second week of Wimbledon, he had to retire with an injured arm. That would be the end of his season.
Nadal lost in the second week of Wimbledon to Gilles Müller.
Andy Murray, still ranked world No. 1, played with a hurt hip and lost in the quarters to Sam Querrey.
Roger Federer, who was seeded fourth, won Wimbledon. It would be his nineteenth major. His toughest match was against Tomáš Berdych, whom he'd also beaten in a close quarterfinal in Miami. "Berdych was asked if the 2017 version of Federer is better than the 2010, to which he replied, 'There is no way to prove this, if we can measure it, if he's better or not. He's playing just too good.'"
In the Wimbledon final, Federer faced Marin Čilić and won in straight sets. It felt like a letdown.
Wimbledon, for me, is freighted with nostalgia. Like Phillips, tennis was the only sport my family watched together. My most vivid memory was the 1980 epic between Björn Borg and John McEnroe. Often, I can't remember who won. I have to look it up. (Borg won. McEnroe won the intense fourth-set tiebreaker.) I remember my mother, my father, my two brothers, and me sprawled around the den of my childhood home in Arkansas, up early and mesmerized, following the ball on the worn brown and green grass, on our wood-paneled television set with the antenna just so, transmitting live from southwest London.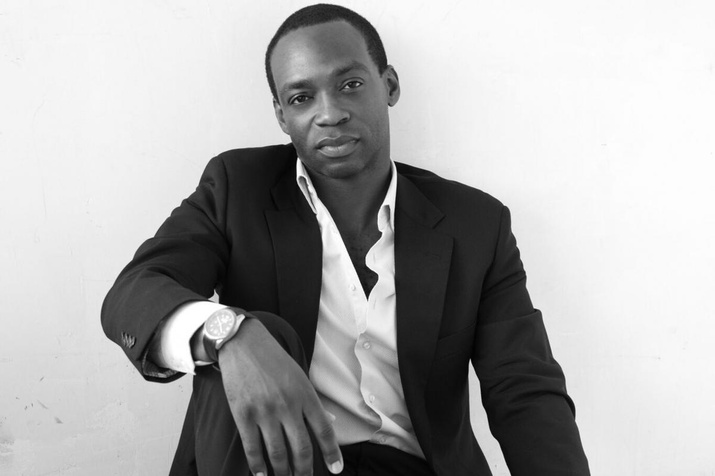 The two tournaments I saw live in 2017 were the Miami Open and the US Open. (I went to a Davis Cup tie, too, the only one in my life and am glad to have had that unique experience.)
I saw at both of those tournaments what Phillips calls "an audience becoming a crowd." In Miami, everyone wanted Federer to beat Berdych so much that it felt like Berdych obliged by double-faulting on match point. When Nadal played Del Potro in the semis of the US Open, though fans cheered for Delpo, they soon became a crowd when it was clear that Nadal would win. Rafa won the tournament, beating Kevin Anderson in the final.
I have only seen professional tennis in North America. I hope one day to see the European clay-court swing. And I hope one day to go to Wimbledon. It's still the defining tournament for tennis. Even Nadal, when asked as a teenager what tournament he'd like to win most, answered, without hesitation, "Wimbledon."
One of my favorite things about The Circuit was the way Phillips slipped in the ATP World Ranking charts every so often, before each surface change or before a slam. I felt shocked that Murray was still No. 1 going into the 2017 US Open because watching him practice there, his limp was so pronounced. There was no way he was going to play. But Andy must have thought he could. That's why he waited so late to withdraw (until the day after the draw was held, which caused total chaos because he was the second seed).
I've never seen a player try harder than Andy Murray. In the summer of 2018, in Washington, he became my hero when I watched him sob into his towel after winning a second-round match at 3 am. Seeing his effort again at the 2018 US Open, my hero-worshipping only got stronger. It's why I still have this great hope that in the way Djokovic made his comeback in 2018 and Nadal and Federer made theirs in 2017, that in 2019, Murray will, too.
Of the Big Four, Murray has had the hardest fall from grace, and the dreamer in me wants nothing more than for him to get back to No. 1 and win again at Wimbledon, that mythical place across an ocean.
After reading The Circuit, I'm more excited than ever for the 2019 season. Like Phillips, I plan on spending the first day of the first month of the year watching Brisbane.
And there is a hopeful light in my eyes for an epic Wimbledon final.
Like the 1980 Borg/McEnroe final.
Or the 2008 Federer/Nadal final.
Murray/Djokovic would be nice, but so would Murray/Shapovalov or Murray/Tsitsipas or Murray/Zverev.
When I dream my dreams of my idyllic Wimbledon final—and I realize this is in the realm of the unrealistic but hopeful—Andy Murray, his hip now free of pain, his head still with a touch of the berserker, his heart still on his sleeve, lifts the Wimbledon trophy for a third time. It's the greatest comeback story the sport has ever seen.