Bianca Andreescu Wins BNP Paribas Open

At 18 years old, Bianca Andreescu became the youngest player since Serena Williams in 1999 to win Indian Wells. She became the first wild card ever to win the tournament. Last year, Naomi Osaka won her maiden title on center court here and she has won two grand slams since then; now Andreescu's future looks just as bright.
After a medical time out, three sets, 2 hours and 18 minutes, and countless quick stretches to try and make the cramps go away, the Canadian teenager beat Angelique Kerber on her fourth match point. She started the season ranked No. 178 and is expected to reach No. 24 with this title.
Andreescu started strong with a break in the first game and managed to hold for a 6-4 victory in the first set. Angelique Kerber appeared to figure out her opponent's game in the second set. The German was prepared for the frequent drop shots and changes of pace and spin, peppered with a great deal of slice. Kerber broke in the fourth game and held on to take the second set 6-3. In the third set, both players dug deeper, fought harder, and found new ways to undermine the other's strategies. Kerber got the first break in the third set, taking a 3-2 lead. Andreescu broke back, held, and broke again for a 5-3 lead. In that game, Andreescu got a quick lead but lost three match points. Serving at 4-5, Kerber had another chance. At this point, Andreescu was clearly struggling with cramps in her legs, pausing between serves to do quick stretches. The teenager persevered and didn't waste another match point, winning the championship with a final score of 6-4, 3-6, 6-4.
Speaking with press after the match, she clearly had barely begun to process what she just accomplished. "I was actually really dizzy in the locker room because just there were so many thoughts and emotions going through my body […] it's been a crazy ride. Truly a Cinderella story. Naomi did this last year. And now to be able to have my name in front of so many amazing champions is – it means the world to me." Although this certainly bodes well for her, she is keeping her feet firmly on the ground and not speculate about her future: "I just want to savor this moment because you never know what next week can bring."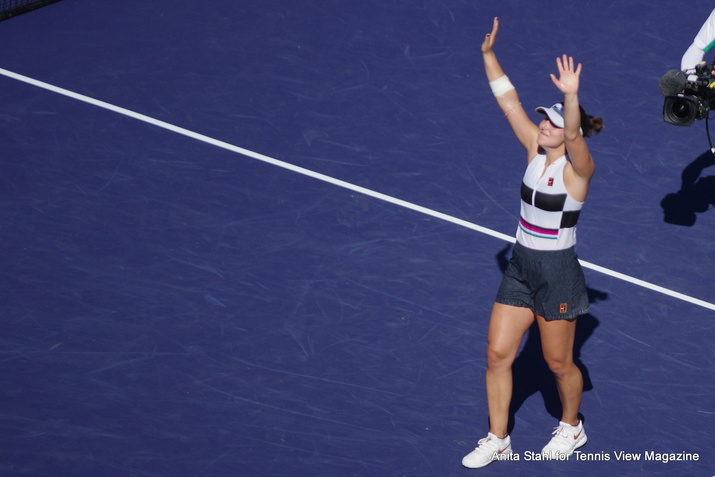 The young Canadian has gotten attention for incorporating yoga and creative visualization into her preparation and she believes it helped her get into the zone at this stage: "It basically is nothing can distract me. I'm relaxed. I trust myself. I trust my shots. I feel confident. In those moments, I try to breathe as much as I can, as well, to get into the zone. That's what I do usually before the match.
Kerber was in reasonably good spirits when she met with press after the match. Although she was disappointed to have missed some opportunities, she reflects positively on her run in Indian Wells: "I was not expecting two weeks ago to play here in the finals, especially after the last few weeks where I was struggling a little bit. So that's why I'm happy about this tournament and that gives me a lot of confidence. Also today, the match, it was a good one."
Although neither player wanted to think ahead just yet, a rematch could happen very soon in Miami, where they are set up to clash in the third round.