Beyond the Champions: Grading Roland Garros 2013

With a few days of hindsight on Roland Garros 2013, here are some thoughts on those players who did not win the titles but seized headlines there all the same.
---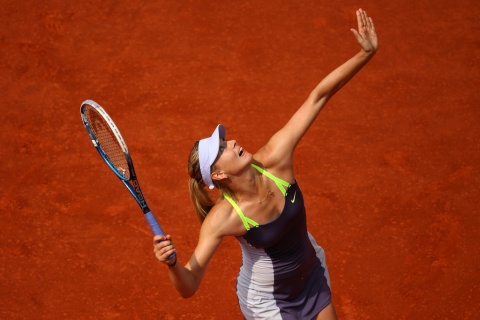 Maria Sharapova: The Sisyphean narrative of Sharapova's season continued with her third loss to Serena Williams in a final over her last five tournaments. In fact, she has not lost before the final of any tournament since February, when—you guessed it—Serena defeated her in a semifinal. Outside that single matchup, Sharapova has established herself as the best of the rest despite falling to No. 3 in the post-tournament rankings. She continued to reverse the momentum of her crucial rivalry with new No. 2 Victoria Azarenka, winning their three-set semifinal for her second straight victory in this matchup. Sharapova has lost just one match to opponents other than Serena since last October, and she shouldered with poise the pressure of repeating her outstanding clay results from 2012. Of course, one would expect no less from this most professional of competitors. A
David Ferrer: What looked like Roger Federer's cozy draw turned into just the golden opportunity that Ferrer needed to reach his first major final. When Jo-Wilfried Tsonga upset Federer, the Spaniard found himself positioned to achieve that feat without facing any of his regular tormentors in the top five. To his credit, Ferrer seized his opportunity with both hands and reached the final without losing a set. Especially impressive were his victories over Kevin Anderson and Tsonga, who held a massive power advantage over him. Ferrer conceded only the tiniest handful of cheap points in those two matches, using his court coverage and infinite patience to grind down his opponents. Like Sharapova, he would have needed a miracle to win the final, when Nadal ground down the grinder uneventfully. A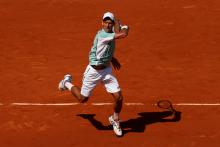 Novak Djokovic: While he did not reach a second straight final at Roland Garros, this year represented a distinct step forward from his 2012 effort. Rarely in any danger through the first five rounds, Djokovic conserved energy more effectively than he did last year. The draw handed him the task of facing Rafael Nadal in the semifinal rather than the final, but he rose to the challenge much more confidently than in the prequel. Erasing multiple deficits, Djokovic seemed on the verge of snatching victory from the jaws of defeat when he denied Nadal's attempt to serve for the match in the fourth set and broke serve to open the fifth. The world No. 1 could not quite ride that lead to the finish line, an extremely difficult task against this opponent on this surface. He has played the two best men's matches of the year, winning one and losing one. A
Victoria Azarenka: Never past the quarterfinals at Roland Garros before, she advanced within a few games of the final in a significant step forward at her least productive major. Azarenka also rose to world No. 2 after the tournament, probably assuring herself the second seed at Wimbledon and no encounter with Serena Williams until the final. She still struggles with her forehand and her movement on clay, where the unheralded Alize Cornet managed to win a set from her. Since Sharapova gradually cured her seemingly incurable flaws on the surface, though, Azarenka can do the same with time. Her body did not betray her during this arduous tournament, and neither did her emotions. A-
Jo-Wilfried Tsonga: The top-ranked Frenchman thrilled the Paris crowd when he dominated Roger Federer in the quarterfinals, his first statement win since 2011 and first under coach Roger Rasheed. Rasheed probably deserves much of the credit for infusing Tsonga with motivation and the belief that he could end his extended futility against top-eight opponents. One of the Frenchmen who rises to the occasion on home soil, Tsonga could not find the magic again in a winnable semifinal against Ferrer. The wait for a Frenchman in the Roland Garros final hast lasted longer than anyone would have imagined, considering this nation's unparalleled depth of tennis talent. But Tsonga will carry meaningful momentum to the grass season, where his game usually shines more than on the clay. A-
Sara Errani: If Azarenka deserves credit for taking a step forward, Errani deserves credit for taking only a small step back from last year's stirring breakthrough. She notched her first victory ever against a top-five opponent in snatching a tough two-setter from Agnieszka Radwanska. Losing only one set before a superb Serena demolished her, Errani dominated a number of bigger, stronger women in the early rounds despite her lack of visible weapons. Against the odds, she seems here to stay. A-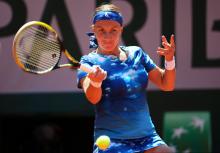 Svetlana Kuznetsova: How long is unclear, but Kuznetsova seems here to stay for now. The 2009 champion came closer than any other woman to stunning eventual champion Serena at Roland Garros this year, even leading by a break in the third set. Kuznetsova became the only woman outside the top five to reach the quarterfinals at both majors this year, scoring a three-set upset of world No. 8 Angelique Kerber that echoed a similar upset of Caroline Wozniacki in Melbourne. She always has had the physical ability, but now she has shown the competitive resilience to complement it. A-
The Tommies: Score one for a pair of old men with more lives than cats. Having come back to the court from a long injury absence, Tommy Robredo came back on the court as well. Not once, not twice, but in three consecutive matches—an Open era record—did the sunglassed Spaniard ambush his unwary victims. Robredo probably should have won at least two of those three matches less eventfully than he did, but that would have made his progress much less entertaining.
The 35-year-old Tommy Haas matched Robredo's quarterfinal result by reaching that round for the first time in 12 Roland Garros appearances. Like the Spaniard, the German made life more interesting than necessary by squandering 12 match points—another Open era record—before the 13th proved the charm against John Isner. Haas demonstrated sensational fitness, for a player of any age, by winning that five-set epic a day after his previous match. A
Jelena Jankovic: She fell just a few games short of her fourth semifinal at Roland Garros, her most consistent major, after a strong clay season. Jankovic awakened memories of her vintage self when she upset Samantha Stosur in a first-week rollercoaster. Another rollercoaster in the second week against Maria Sharapova revealed her decline from those days in both form and focus. When she reached the No. 1 ranking, Jankovic regularly won those anarchic matches. Now the chaos unglues her. B+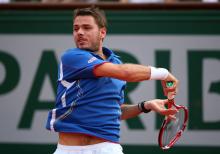 Stanislas Wawrinka: Troubled by injury before a clay tournament this spring, a heavy hitter with a sensational backhand produced his best result ever there. No, we're not talking about Novak Djokovic in Monte Carlo but about Stanislas Wawrinka in Paris. Despite his reputation as a clay specialist, Wawrinka never had reached the quarterfinals here. He brought momentum from a string of recent top-eight upsets, though, which may have helped propel him to a comeback against world No. 9 Richard Gasquet in one of the tournament's best matches. Momentum did not do much for him against Nadal, though. B+
Maria Kirilenko: One of several players to reach a maiden quarterfinal in Paris, Kirilenko snuffed out one of the draw's most dangerous dark horses in Bethanie Mattek-Sands. She did not lose a set through her first four matches and nearly extended that string against Azarenka. Extending the world No. 3 to a first-set tiebreak, Kirilenko predictably faded once she fell behind. But her poised play before then earned her a well-deserved debut in the top ten. B+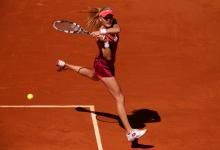 Agnieszka Radwanska: The world No. 4 recorded her best performance ever at Roland Garros while slumping to a miserable 1-7 in major quarterfinals. That mixture of good news and bad news sums up an enigmatic season for Radwanska, who has done well on paper but often flunked the eye test. A huge test awaits when she attempts to defend her Wimbledon points, and her fate still depends too much on her draw. It was exceptionally soft here. B
Roger Federer: The streak of consecutive major quarterfinals reached 36, if barely, as Federer eked out a five-set victory over Gilles Simon. But this tournament will go down as another missed opportunity in a disappointing season for the Swiss star, who heads to the grass season with only a single victory in 2013 over a top-ten opponent. Not a realistic title contender, Federer found himself positioned to reach the final with an exceptionally comfortable draw. Falling well short of that goal, he submitted an oddly disheveled and oddly meek effort against Tsonga in the quarterfinals, his most lopsided loss at a major to someone other than Nadal or Djokovic since 2004. Federer must regroup quickly for a Wimbledon title defense. B-
Italian veterans: Former champion Francesca Schiavone emitted some sparks that recalled the flames of her consecutive finals appearances in 2010-11. Reaching the second week, she upset two seeded opponents in her best effort of the season. More predictable was the second-week appearance of Errani's doubles partner, Roberta Vinci. Overmatched by Serena's power and blown away in the first set, she hung around gamely through the first seven games of the second set. The Italians compensated for their lack of flashy shot-making with gritty tenacity and passion mixed with poise. Extra credit
2012 women's semifinalists: Petra Kvitova caught some breaks en route to the final four in Paris last year, not facing a seeded opponent through five rounds. This year, more good luck appeared to favor her until she imploded in the third round. Three times a semifinalist and a finalist in 2010, Samantha Stosur displayed crisp form in the first two rounds before losing the plot in a winnable match against Jankovic. Perhaps the most concerning element of those first-week losses? The resignation with which these top-ten women, each of whom won a major less than two years ago, greeted them. C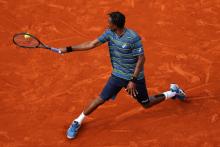 Gael Monfils: The story of the first week, Monfils thrilled his home fans on Court Philippe Chatrier by upsetting top-eight opponent Tomas Berdych in five nerve-jangling sets. Three of those went to tiebreaks as Monfils flirted with disaster, letting a two-set lead get away and dodging triple break point in the final set. He tried to repeat the feat against Tommy Robredo two rounds later but broke French hearts by failing to convert match points in the fourth set of a five-set defeat. But that match was fun too. B+
Frenchwomen: Both Marion Bartoli and Alize Cornet fought hard to get as far as they did, not allowing the pressure of playing at home to unnerve them. Cornet even won a set from Azarenka before her inherent limitations of game and mind undid her on the same day that Bartoli's house of cards collapsed. Although the return of her father will help her moving forward, Bartoli has put herself on a historically disastrous pace for double faults this season. In a pleasant subplot to the tournament, however, Virginie Razzano justified her wildcard by reaching the third round a year after she stunned Serena Williams. B-
John Isner: Like most tall men, he rarely recovers well from the long matches that he played so often. Isner produced one of the first week's many comebacks from two-set deficits against compatriot Ryan Harrison, only to find out that he needed to play against the next day. Rain delays resulted in back-to-back five-setters for the last American left in the draw, who gave Tommy Haas all that he could handle before losing 10-8 in the fifth a day after he won 8-6 in the fifth. Isner's sheer endurance, which few men could match, recalled that unforgettable epic at Wimbledon against Nicolas Mahut. E for Effort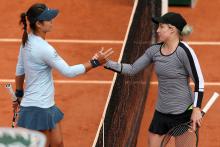 American women: To the astonishment of most observers, they populated a full quarter of the final sixteen at the major least suited to Americans. Among those reaching the second week was Sloane Stephens, repeating her result from last year as she extended her 2013 total of major wins to eight. Stephens displayed a promising ability to bounce back from a long slump, as did lefty Varvara Lepchenko. Jamie Hampton and Bethanie Mattek-Sands notched a top-eight upset apiece over a major champion. Mattek-Sands, whose singles career had looked over last year, rebuilt her confidence during this clay season after revising her diet to maximize her remaining potential. Skip a grade
Daniel Brands: Recall that he led Nadal by a set and by 3-0 in the second-set tiebreak, four points from a two-set lead in the first round. That development was astonishing at that time, but it truly boggles the mind in retrospect after Nadal went on to win the title. Brands typically plays to the level of the competition and might well have gone down easily to an unheralded opponent. He reached the second week of Wimbledon before, though, and should have built the confidence to threaten there again. Skip a grade
Li Na: Probably we should have set expectations low after early exits in Madrid and Rome, despite a finals appearance in Stuttgart. Sputtering to a second-round exit, Li allowed her fragile focus to falter during rain delays as her early momentum evaporated. The 31-year-old Australian Open finalist is a contender at every event that she enters but also susceptible to an upset at any of them. C-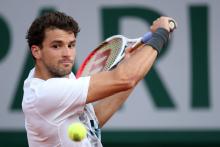 Grigor Dimitrov: Reaching the third round of a major for the first time counted as progress, although he faced an astonishingly lowly opponent in the second round. Mustering virtually no resistance to Djokovic was disappointing after his upset of the Serb in Madrid. B/B-
Caroline Wozniacki: Just about everyone has beaten Bojana Jovanovski since the Australian Open, except Wozniacki. The Dane has lost two matches to the flammable Serb in the last month, equaling her total number of wins this clay season. Her fortunes probably will continue to languish on grass. F
Nicolas Almagro: Leading by two sets against a fellow Spaniard for the second straight major, Almagro again choked away the opportunity. As he did against Ferrer at the Australian Open, he hit plenty of winners until he needed them most, when they suddenly evaporated. F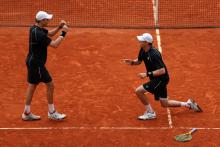 Bob and Mike Bryan: Halfway to a calendar Slam, the best team in men's doubles history needed all of their experience and teamwork to solve home hopes Michael Llodra and Nicolas Mahut in the final. The Bryans could not manage a single break point on the French serve in the deciding set and fell behind 4-2 in the tiebreak, only to sweep the last five points. Condolences to Mahut, a gallant loser in both of his career's most memorable matches. A