The Best, and the Best of the Rest: The Women's Semifinals at Roland Garros

Doze off briefly, or run an errand, and you might have missed the second women's semifinal at Roland Garros today. Its 46 minutes provided no drama whatsoever, but instead the sight of the world's top female tennis player showing how much separates her from the rest of the elite.
---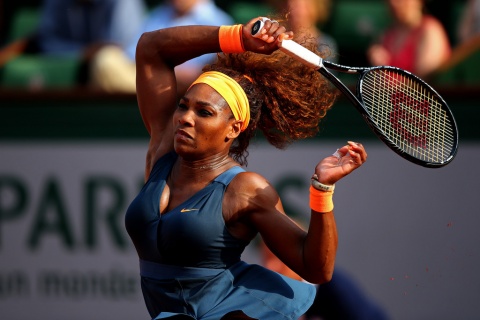 Serena Williams blasted 40 winners past last year's Roland Garros finalist, Sara Errani, for an average of nearly three per game and the overwhelming majority of the points that she won. Subjected to that barrage, Errani could feel no shame for failing to find solutions or make the semifinal competitive. No woman can halt Serena when she finds that spectacular level of form, as her victories at her last two tournaments have demonstrated. In only one of her eleven matches at Rome and Roland Garros has she lost more than four games. Suspenseful they are not, but tennis fans still should appreciate Serena's 30-match winning streak for an opportunity to see the best player in the world playing her best tennis.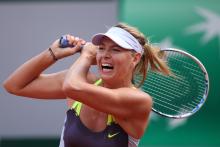 Determining her opponent in Saturday's final, the first semifinal between the second-ranked Maria Sharapova and the third-ranked Victoria Azarenka decided which of the two currently can call herself "the best of the rest." Whereas the second semifinal featured no turning points at all, other than Serena's entrance to the court, the first semifinal featured more twists and turns than a Shakespearean drama. Defending champion Sharapova ultimately reached her second straight final at Roland Garros, and more importantly defeated Azarenka at a major for the first time, but it did not come easily.
Downed by Vika at two majors last year, Maria positioned herself to exact revenge when she bounced back from a miserable first game to race through the first set without dropping another. Even a shot-maker of her quality rarely executes at such an extraordinary level of precision throughout an entire match, so Azarenka surely knew that a chance to reassert herself would come. When it did, midway through the second set, she dashed through her own streak of games to level the match. Those two lopsided frames merely set the stage for a classic 63-minute decider, however, that pitted shriek against shriek, bomb against bomb, and will against will.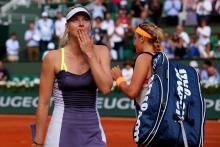 Through the first two sets, the match had resembled their US Open semifinal, in which Sharapova dominated early but started to unravel on serve midway through and never quite righted herself. This time, she shattered that mold by breaking Azarenka three straight times early in the third set. Swinging with her characteristic fearlessness, Sharapova responded to every lull of double faults and unforced errors with a flurry of aces and winners. Soon she served for the match at 5-2 with an insurance break in hand, only to let four match points escape her as Azarenka displayed her own competitive resilience. The lost opportunities in that long, intense game might have caused a lesser woman to crumble. But Sharapova snuffed out Azarenka's leaping flame of hope with a suffocating love hold on her second chance. The defending champion slammed the door with her twelfth ace of the match, recapturing the momentum in a crucial rivalry.
For the first time since 1995, then, the top two women in the world will meet in the Roland Garros final. What many expected to become the WTA's leading rivalry of the last decade has become no rivalry at all in recent years. Not only have Sharapova and Williams met only twice before in a major final, most recently in 2007, but the Russian has not defeated the American since two crucial victories in 2004 at Wimbledon and the year-end championships. Over the intervening years, Serena has allowed her former rival no respite in a series of authoritative displays. Sharapova threatened to end that trend when she briefly led the world No. 1 by a set and a break in the Miami final this spring, only to lose the last ten games. A resounding victory in the Madrid final confirmed Serena's mastery over this particular opponent, even on her weakest surface.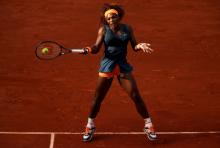 Thursday suggested that we can look to Sharapova and Azarenka as 2013 progresses for a compelling rivalry to follow atop the WTA. But Thursday also suggested that Serena Williams stands atop the women's game, unchallenged by any rival, and Saturday should demonstrate her ascendancy again.