Bertens Rides The Momentum In Rome

Wednesday's play was a washout at the Internazionali BNL d'Italia, so world No. 4 Kiki Bertens of the Netherlands (who won the title in Madrid last week) had to face American rising star (world No. 54) Amanda Anisimova in an early start of 10:00 am on Grandstand, a far-flung, intimate court of the Foro Italico.
The 27-year-old Bertens used her tough mentality and experience to edge out the 17-year-old Anisimova 6-2, 4-6, 7-5 in two hours and five minutes.
Bertens, whose best surface is clay, moved very well, sliding elegantly into her shots. She hit heavy topspin, especially on the forehand side. Anisimova hit a bit flatter and stalked the baseline, as if playing on a hard court. She often mistimed Bertens's high, looping ball by trying to take it on the rise. Bertens played farther back behind the baseline in classic clay-court style, giving herself plenty of time to swing freely.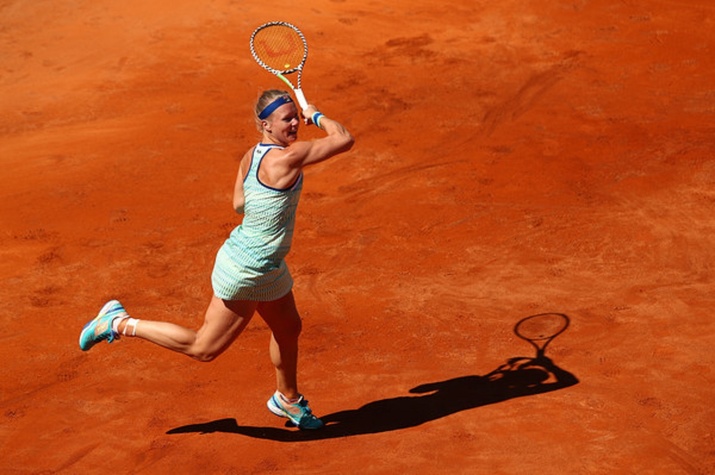 There were many long, hard-hitting rallies. Anisimova is a fighter who never gives up, and in moments, she was able to overpower Bertens from the ground, hitting winners from every part of the court.
Both players hit delicate drop shots, but Bertens's was especially effective from her backhand side, giving the ball that extra backspin that kept it out of Anisimova's reach.
Though it looks almost like a baseball swing, Bertens backhand down-the-line is sublime, and her serve is a weapon. She served 12 aces with only four double faults, while Anisimova (who has a solid serve) had zero aces and two double faults.
After the match, when asked about her frustration with the rain delay, Bertens said, "Yeah, yesterday was a tough day, I would say. But it was for everyone. Long wait. Today you have to play twice if you win the first one. It was a little bit early this morning. But tough match, tough conditions here in Rome. I'm just really happy, yeah, to get through today."
Bertens said the first set was closer than the score suggested.
She said about the second set: "I was a break up, but then she started to play better. I was still searching a little bit for my game."
About the third set, Bertens said, "In the end it was just a big fight. I'm just happy I managed to win."
On Friday, Bertens received a walkover past Naomi Osaka.
(Photo Source: Getty Images Europe)