Bertens Battles Into Zhuhai Final

On Saturday in the first semifinal at the Hengqin Life WTA Elite Trophy Zhuhai, top seed Kiki Bertens of the Netherlands battled past wildcard Saisai Zheng of China 2-6, 6-3, 6-4 in two hours and 30 minutes.
Bertens had to come back from a set and a break down. "Well, I knew I had to do something else, because Saisai was putting so much balls back on the court and I just had not the energy to play those long rallies.
"So I was just mixing it up, trying to do some serve and volley, which was working pretty well, I was surprised with that. So I was just keep on going for it. And then she gave me some mistakes also, so then I start believing that I could still turn this match around."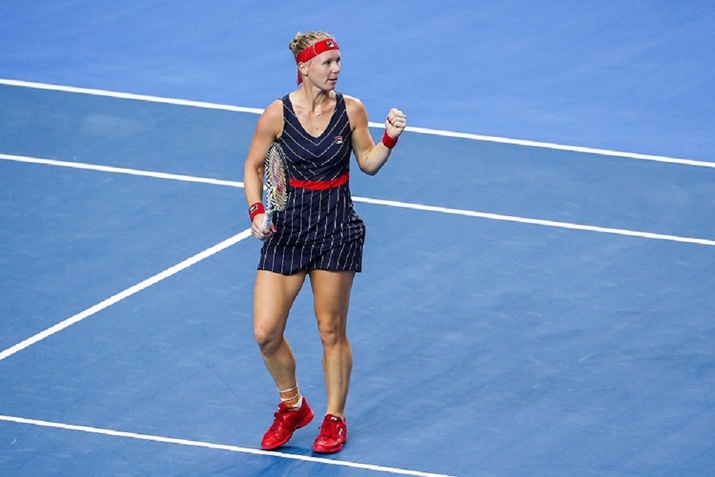 Bertens is the first alternative player for the WTA Finals in Shenzhen. "Yes, well I play the final here tomorrow and then after that, as soon as I can, I'll go to Shenzhen and wait there, if someone pulls out, yes or no."
"Oh, well, of course I gave everything to qualify for Shenzhen, but it didn't happen. But I think it's still a great year, I'm still in the top 10. So I was just happy to be here, so I was not really –yeah, of course a little bit, but not really disappointed. It's just like I've played three great matches I think here again and I've been in a final once more, so I think I can only be proud of myself. And, yes, so I'm just happy and a little – well not a little – a lot tired."
In the second semifinal, Aryna Sabalenka of Belarus defeated Karolina Muchova of the Czech Republic 7-5, 7-6 (4) in one hour and 52 minutes.
In her post-match press conference, Sabalenka said of Muchova: "I just want to say that she's playing really smart, maybe today was a little bit unforced errors from her, but she's playing really smart and she is using like slice from the backhand, topspin forehand, like flat backhand.
"So she has a good game and I think the problem today was like her serve game doesn't go well and it's helped me a lot today. But overall she's a great player and I mean I just – I mean, for me she's kind of same player like Ashleigh Barty, I think same style of game, maybe she is go to the net even more than Barty. But she, it's really great game and it's really uncomfortable to play against these kind of girls, but nothing really surprised me because I knew it's going to happen and I just watched her matches and I saw what she's going to do, so it's not like surprise. But I like her style."
This is Sabalenka's fourth time to play for a WTA title in China. "I mean, I don't know, like I said, I think China loves me and I love it too, so the results here are really good and unbelievable, so I'll just try to keep being here."