Barty Uses Surgeon-Like Tactics To Advance

Ash Barty knows what to play when. She out-tactics her opponents.
Last night on Rod Laver Arena, the world No. 1 Australian snapped the eight-match winning streak of 20-year-old American Amanda Anisimova, with a 6-4, 6-3 victory to reach her fourth consecutive Australian Open quarterfinal.
Barty neutralized Anisimova's sensational power with her phenomenal backhand slice and its variety: the one down the line turning away, the crosscourt, the soft one to bring you in.
Barty maneuvered Anisimova around, taking the points in so many different ways.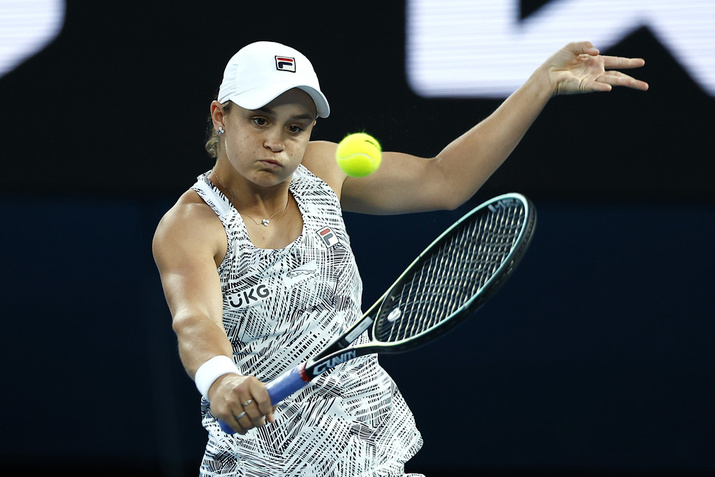 @Getty Images
At the start of the second set, Anisimova managed to break Barty's incredible stat of 63 continuous holds and led 2-love.
But then the No. 60 American overhit on one of Barty's off-pace balls and missed long and got broken back.
Still, Anisimova is an exceptional talent. Her serve is beautiful—textbook—and a weapon. She has perfect technique on her backhand—it's fluid and punishing.
Anisimova stayed aggressive and kept going for her shots. At the end, though, the pressure was too much, and she started making errors even on her backhand.
In the interview after the match, Jim Courier remarked that Barty seems so comfortable being the best in the world, that she wears it well. He asked her if it was always easy or if it took time to adjust.
Ash answered in her straightforward way: "I think the most important thing is I just tried to be me, I just continued to be me, and that's all I can do, that's what I'm good at, I mean that's who I am, and that's who I want to be."
Barty's tennis strokes are anything but straightforward. Her service motion twists and turns, making it hard to read, giving it pop and precision. She deceptively carves and spins her slice. With sleight of hand, she lifts her forehand down the line.
In her press conference, Barty commented casually on losing her serve: "Honestly, I'm not counting how many games I hold in a row or not. The fact I was able to reset, break straight back, was really important, just to be able to reset myself, go again and continue to do the right things.
"In that game Amanda saw a few second serves that she was able to punish, and she also had some really good returns off first serves. You tip your hat and you say too good to your opponent when they come up with returns from the baseline, and move on pretty quickly and continue to try and do the right things."
Barty said: "I know that Amanda has played some really good tennis over the last couple of weeks, is obviously feeling really comfortable on these courts. It was nice to be able to get through today, be really clear with what I wanted to try and do, enjoy it. I felt like I hit the ball well and I was able to control it and put it areas I wanted to today.
"Tactics and the way I want to play is unique to each and every player, and I try to adapt my game as best as I can to try and make my opponent uncomfortable."
"I'm just out here, doing what I can, enjoying it, trying to make my opponent's life as uncomfortable as possible. That's my job ultimately. And do it with a smile, have some fun with it. We try and keep it really light, just have lots of clarity, go out, have fun with it, get after it, and see how we go."