Barty Crowned Miami Open Champion

Ashleigh Barty, age 22, of Australia, is the 2019 Miami Open Champion. This WTA Premier Mandatory tournament is the biggest title of her career. She defeated Karolina Pliskova, age 27, of the Czech Republic 7-6 (1), 6-3 in one hour and 39 minutes. Barty, world No. 11, moves up three spots to No. 8 on the live rankings. She is the first Australian to reach the WTA Top 10 since June 2013 when Samantha Stosur was ranked No. 9.
After the match, Barty said, "Yeah, it's been an amazing fortnight of tennis. It really has. I think it's pretty cool to have played such a good match today, obviously in a big situation and a big match. Certainly proud of myself and happy the way that my team and I have been able to get through these two weeks."
Pliskova, who is world No. 7, moves up three spots to No. 4 on the live rankings. She has been the most consistent performer in 2019, reaching the quarterfinals or better at each of the five tournaments she has contested.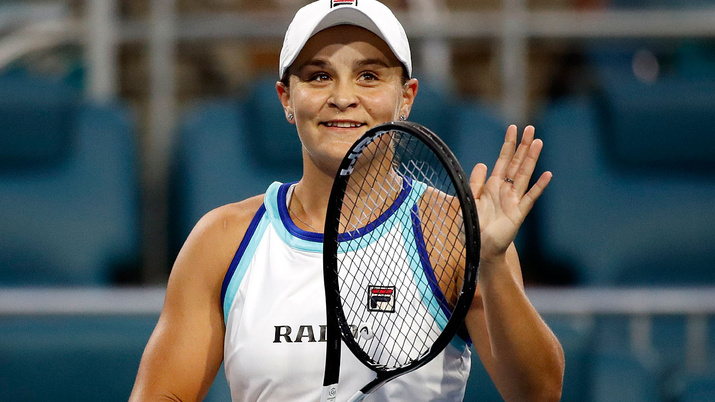 In her press conference after the match, Pliskova said that she would have loved to take the title, but that she played some good matches. "I beat Simona [Halep] which I beat just couple of times. So of course this match for me was the best out of the tournament."
For the first time in WTA history, the first 14 tournaments of the season have been won by different players. When asked about this in press, Barty said, "It's amazing, isn't it? I think the level has evened out a lot, and the depth has grown over the last few years.
"I think anyone in the draw has a legitimate chance of winning the tournament. I think you have to continue to put yourself in those situations and try and make the most of it. I think the margins are getting smaller and smaller, particularly in the women's game."
Barty is fun to watch. She plays with creative variety. It's a bit like watching Roger Federer, where everyone in the stadium is smiling, happy to be witnessing tennis artistry. Like Federer, Barty has an all-court game. She plays the game the way it's supposed to be played, like an art form. There's so much feel and touch involved. She's not like normal baseliners. She likes getting her opponent in an uncomfortable position. She's a very handy player. She can play the half-volley, the chip shot. She likes coming in with slice. She can loop the ball. For someone only 5'5" she has a powerful serve and places it extremely well. Today, she served 15 aces. Pliskova, also known for her stellar serving, hit only six.
In the first set, Pliskova got the break and was up 3-1. When the score got to 6-all, Barty played a nearly flawless tiebreaker. In the second set, Barty stayed aggressive, and Pliskova showed no signs that she was willing to dig deep and put up a fight. Barty held her serve easily and got an early break to go up 3-1. Pliskova was still just down one break at 4-3. In the next game, Pliskova hit a crosscourt winner, but Barty held at fifteen. Barty then broke Pliskova at love to win the championship.
Pliskova said, "I think it's a pity or unlucky that I didn't hold the serve a little bit longer because I was up a break, and she quite gave me a lot of mistakes in the beginning, which I think she didn't after.
"And I was tired, super tired. And also, the conditions completely different than what I have played the night matches. So, of course, I was not playing the best tennis. I was not serving the best.
"And then the tiebreak, she just went for it. She played some good shots. So I think the first set was, you know, the key of the match, because I was feeling very tired from maybe like fourth, fifth game. So if I have a set for me would be maybe different. So was somehow tough to fight in the second.
"But I think was more about me, so also the conditions here, we talked about it already, were maybe a little bit slower. So I think it's better for her, because she has time to play the slice. You know, she has time to run around her forehand."
Pliskova also commented about how Barty's playing style is different from most women on tour. "I think because she plays the slice, so it's a little bit different than if you play somebody who is just playing normal forehand and normal backhand. I think she has dangerous game, playing the slice on the backhand, and then she can really, you know, put a lot of pressure with the forehand."