Badosa Takes Indian Wells Title In A Thriller

On a hot Sunday in Indian Wells, with on-court conditions exceeding 90 degrees, in a thriller of a final, what many have called the match of the year—it felt like that watching—23-year-old Spaniard Paula Badosa edged out 32-year-old Belarusian Victoria Azarenka 7-6(5), 2-6, 7-6(2) in three hours and three minutes.
Badosa is 5'11" and hits with tremendous power on her serve and forehand. Her two-handed backhand is exquisite and accurate, and she often holds it, and then crushes it down the line, taking time away from her opponent.
Azarenka is 6'0" and also a power hitter. She likes to step into the court, taking the ball early, finding acute angles. She also has excellent volleys, often closing to finish points at the net. Her dropshot, too, was highly effective against Badosa, who was often quite deep in a defensive position.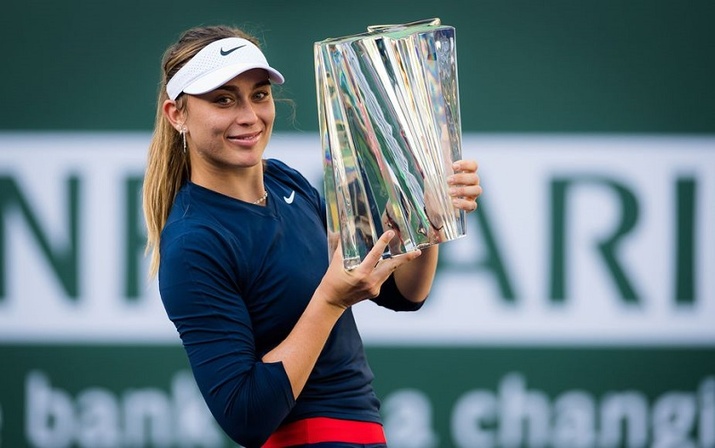 Azarenka is a former world No. 1, though this has not been her best season. This was her first final. But in past years, she's played well in the California desert, winning the titles in 2012 and 2016, and she was looking to become the first ever female three-time champion at the BNP Paribas Open.
And Azarenka got very, very close. After losing the marathon opening set, she stayed positive to win the second. In the third set, she had the momentum, but made errors in the important moments.
This was Badosa's debut at Indian Wells, but she's had a breakthrough season. She won her first WTA title this year at the Serbia Open. She also made the quarterfinals at the French Open, the fourth round at Wimbledon, and the quarterfinals of the Tokyo Olympics.
After winning the opening set, Badosa struggled with her consistency in the second. In the third, she jumped to a two-love lead but lost it. At 4-all, her serve was broken. Azarenka, serving, was just two points from victory, but lost her way. Badosa seized the opportunity. In the tiebreak, she hit a blistering forehand for 4-1 and another forehand winner on her first championship point.
In an incredibly emotional and poignant moment, she dropped her racquet, fell to the court, which was by this time in shadow, lay outstretched, face down, and sobbed into her hands. It was the biggest victory of her career.
In her post-match press conference, Azarenka said: "I think it was a really deserving final match. There was a lot of incredible moments, a lot of fight. I think we both gave it all out there. I think that's what you wish for the final.
"The outcome was not in my favor today, but I thought overall it was an incredible match. I can take a lot of positive out of these last two weeks. Of course, congratulations to Paula. She really played well today."
Azarenka said she would agree with calling it the match of the year. "I think the entire match the quality of tennis was super high level. We were both going for our shots, really pushing each other to the max.
"I think that's what made it super entertaining, that competitive spirit, really fighting for every ball, not giving in anywhere. It's very challenging to maintain that. I think that we both did that really well."
In her post-match press conference, Badosa said: "Yeah, I think it was a really tough match. I think it was really good one, as well, because she played an amazing level. I think I had to rise high level every set. At the final third set I think I played my best. It was only option if I wanted to win, so I'm really proud of it.
"I think she was playing on a very high level. In that moment I started to focus—at the final of the third set I started to focus on what to do every point, every ball, and not think of anything else. I think that was quite important because it was a final. I really wanted to win it so bad.
"It was my first final in a 1000. I had a lot of emotions.
"I was playing Vika. She's a great champion. I admire her since I was a little girl, so that's another thing.
"Yeah, it was amazing. I'm still a little bit in shock that what happened right now. But in that moment, I was super excited and super proud of what I did after three hours fighting on court."