Badosa Reaches Indian Wells Final

For the first time in 25 years, Spain has a woman into the BNP Paribas Open final at Indian Wells.
On Friday night, in the California desert, Spaniard Paula Badosa, the 21st seed, defeated Ons Jabeur, the 12th seed, 6-3, 6-3 in one hour and 22 minutes.
In the first set, in the first game, Badosa broke at love. In the second game, Jabeur had three break points but couldn't convert. Badosa led 2-love.
Jabeur held at 1-2 by deploying dropshots and breaking Badosa's rhythm, but Badosa stayed steady, and the Tunisian still had to fight off three break points.
In the next game, though, Jabeur broke for 2-all. It seemed like the momentum was changing. The Tunisian then held at 15 for 3-2.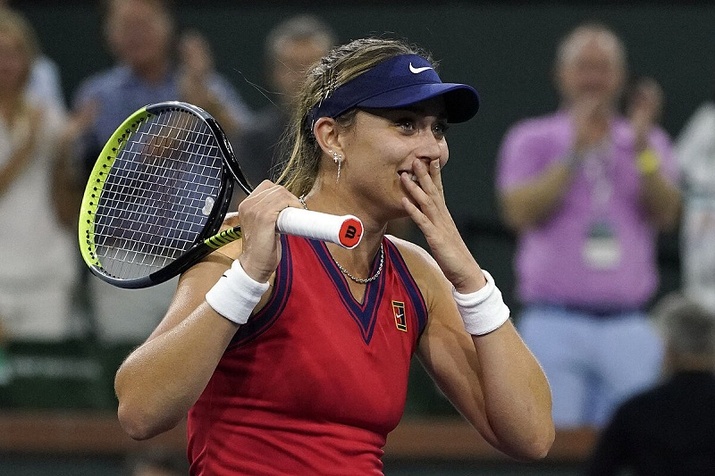 Then, the Spaniard, serving, down love-30, playing aggressively to win the next four points to hold. 3-all.
The Tunisan was serving, fought off three break points, but Badosa got the fourth for the hold. 4-3.
Again, the set stayed tight, but Badosa held onto her serve. 5-3.
On Jabeur's serve, she got down 15-40. She saved one set point, but Badosa got the other.
In the second set, there was just one break of serve. Jabeur stayed level with Badosa until getting down 15-40 at 2-3. Badosa broke on the second break point to lead 4-2.
Badosa had three break points to break for a fifth time, but Jabeur made some amazing shots, including her signature superb drop shot, to save three match points and hold in dramatic fashion.
In the final game, serving at 3-5, Jabeur earned three break points for love-40 to get back on serve. But Badosa stayed composed, intense, and steady. She saved all of them and closed out the match on her seventh match point.
After the match, in her press conference, Jabeur said: "These kind of matches, happens to me a lot, especially at the end of the tournaments when my body is tired, also when my mind is tired.
"Yeah, today I feel like I did something different than other days. I was really fighting hard even though I knew I wasn't playing very well. I just tried. I tried to think. I tried to do whatever in my power. Honestly, I don't regret much because today she was a much better player."
After the match, in her press conference, Badosa said: "Yeah, it's been a very tricky match. Ons, she's coming playing very good and very confidently. I knew I had to be very consistent and very solid and as well very aggressive. So that combination. I think I did it really well today and that's why I won the match."
Badosa will face two-time champion Victoria Azarenka in the final on Sunday.
Badosa said: "Yeah, I'm really excited to be in the final. I still can't believe it. It's an amazing feeling for me to be here.
"Of course, against Vika, she's an amazing champion. She has been here a lot of times. She has a lot of experience there. I expect a tough match.
"But I'm playing good. I'm playing confident. I will try to go for it and let's see how it goes."
Playing the final is a great dream for Badosa.
When asked why she is playing some of her best tennis, the Spaniard said: "Well, it's a little bit of everything. I think I improved a lot on my tennis. Mentally I think I'm very confident. I'm believing every point.
"Every day I'm working very hard as well. I think I'm progressing on a little bit of everything and that's what is making my level going up. That's why I'm in a final and playing against the best of the world."