Back To The Drawing Board For Sharapova

Maria Sharapova is known as a professional who flushes out her emotions in the locker room and only then does she deal with her business in front of the press. But on Tuesday, for at least one time in her career, it all proved too much. After retiring at 6-4 6-7 0-5 to Pauline Parmentier, the Russian arrived in the press room with tears in her eyes and they never left.
"It's not easy, not the way – I mean, if I finish a match – it's very rare that I withdraw from a match in the middle of the match," said Sharapova. "That certainly means that it's painful, yeah."
For much of the match, it was a normal match. Sharapova was still coated in rust and had her struggles, but she played through them against an opponent she is far superior to. After taking the first set 6-4, she moved up to a 5-2 second set lead and it seemed like Sharapova was well on her way to victory. But she says that it was in the second set that her left forearm tendon, an injury she has had on-and-off for years, flared up. She won one more game for the remainder of the match.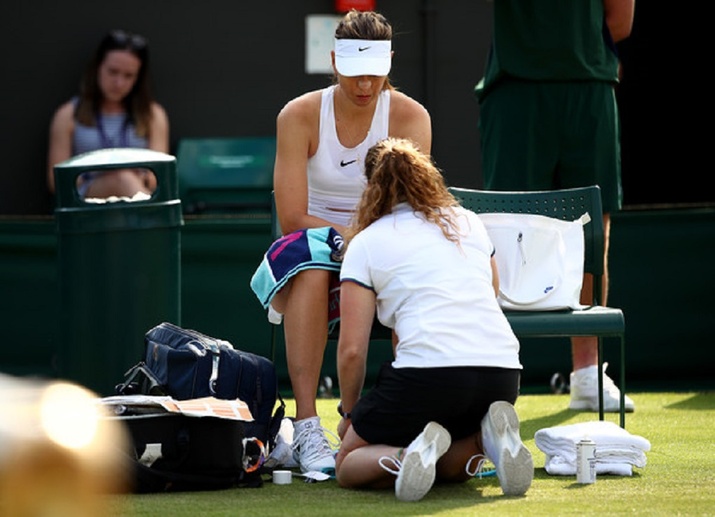 Throughout the third set, she simply couldn't hit a backhand and it was clear that the writing was on the wall, but after such an injury wrecked past months and, really, years her head was clearly in a bad space.
"I've had a history of a tendon in my left forearm flaring up," said Sharapova. "It happened today in the second set. I probably couldn't have gotten through the whole final set, but I did my best. It usually just comes on like very unexpectedly."
It was supposed to be different. After months of struggling with her shoulder, after being forced to withdraw from her home tournament in St Petersburg after the French Open she finally decided to have shoulder surgery, missing four months in total. You do not go through the agony of surgery only to get a different injury in your first match at Wimbledon.
"The way that I felt in St. Petersburg, it wasn't fun," said Sharapova. "Then just withdrawing and do like a Q&A in front of hundreds of families and kids, they probably paid a lot of money for them in order to come and watch me play. For me to withdraw, I just said, I don't want to put anyone in that position. I'm here to play. I don't want to be in this pain. Next time I come here, I want to feel great. I want to do what I'm meant to be doing at the level I believe I can."
Sharapova had missed four months but she returned in Mallorca, two weeks before Wimbledon, and physically she seemed to be in better shape. In Mallorca, she won one match against Viktoria Kuzmova and lost one against Angelique Kerber, but it finally seemed like a starting point.
Another injury means that it will be time to start again, to get her bearings again and cautiously swing through her opening practices to ensure that she does no further damage. Still, even as her body is breaking down, Sharapova affirmed her commitment to doing so.
"I'm still proud that I'm here," she said. "This is not the easy way. I think the easy way would be just for me to maybe do other things because I've set up the opportunities for myself. This is far from easy. I've never taken the easy route. I've always worked, committed, focused. Like I said, these moments are hard, but I love what I do. I still have a lot of passion for it."
And so, Sharapova started by doing her professional best, completing all her media duties even as tears twinkled in her eye.
"I don't want to leave, she said. "Everyone has a job in this place. You guys have a job. Of course, I withdrew in the middle of the match. I rarely do that. I haven't given a press conference in a long time at a Grand Slam.
"I want to show up. Yeah, I mean, it's, what, 30, 40 minutes after the match. I just saw a doctor, did a scan. Those things are not fun. I haven't seen my team yet. This is part of the job."
(Photo Source: Getty Images Europe)