Australian Open Recap

In recent years, the stranglehold of the top men over the ATP has contrasted with the greater fluidity of the WTA. Although both trends slowed in 2012, their effects continue to linger at tournaments like the Australian Open that just concluded. Whereas many of the rising stars who sparkled there suggested a bright future for the women's game, stagnation defined most of the efforts from their counterparts in the men's field. We take a look at the divergent paths charted by the young guns on both sides.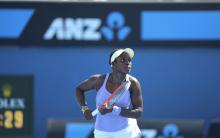 Among the tournament's leading storylines overall was the breakthrough of Sloane Stephens, a surprise semifinalist despite holding the 29th seed. While her upset of Serena Williams probably would not have happened without the champion's multiple injuries, Stephens showed remarkable poise in her first major quarterfinal against one of the game's living legends. She rallied from a break down in both the second and the third sets, also managing to overcome the nerves that arose inevitably when she served for the second set. Trailing 4-3 and a break in the third, Stephens refused to surrender against one of her role models, just as she did a day later against world #1 and eventual champion Azarenka. Together with her balanced game and refreshing charm, that inner resilience should insulate her from the inevitable bumps in the road of a rising star.
Tracing back Sloane's progress through the tournament, one uncovers the traces of other young phenoms who impressed here as well. A round before Serena, the American found herself extended to 7-5 in the third set by the latest tennis product of Serbia, Bojana Jovanovski. Often thought too mentally fragile and inconsistent to leave an impact on the WTA, Jovanovski reached the second week of a major for the first time behind flat groundstrokes supplemented by improved movement. The pedigree of previous Serbs sets the standard high for her, as it does for Americans like Stephens, but it will be intriguing to watch her build upon this season-starting success.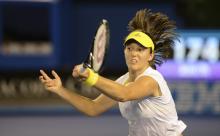 And, a round before Jovanovski, Stephens won her second meeting in as many weeks with British star Laura Robson, a former junior champion at Wimbledon. The pressure on British tennis players has grown familiar to all from Murray's career, and Robson also has attracted a heightened level of scrutiny because of her nationality. This fiery lefty rose to the occasion brilliantly by outlasting world #8 Petra Kvitova in a 20-game final set under the lights of Rod Laver, the type of occasion that has unnerved many a young star before her.
Nor were Stephens and Robson the only young women from Grand Slam nations to surpass expectations here. Robson's compatriot Heather Watson twice rallied from one-set deficits, saving match points against talented Russian Ksenia Pervak, en route to the third round. Meanwhile, Madison Keys built upon her eye-opening run to the Sydney quarterfinals a week before by unleashing her booming serve and flat groundstrokes to pummel 30th-seeded Tamira Paszek off the court. Although world #5 Angelique Kerber stifled her soon afterwards, this American teenager even threatened this quality opponent late in a tense second set. While 16-year-old Australian Ashleigh Barty fell to Cibulkova in her opener, she delighted her home crowd by reaching the doubles final with compatriot Casey Dellacqua.
Extending a long-standing trend in the WTA, a handful of Eastern European teenagers echoed the accomplishments of Jovanovski. One of the youngest players at the tournament, Donna Vekic scored a solid victory over Andrea Hlavackova that will boost her confidence moving forward. In the same section came surprises from elite juniors Daria Gavrilova and Yulia Putintseva, each of whom won three-setters from more experienced opponents. Putintseva also came within a few points of ambushing Suarez Navarro in the next round just after the Spaniard had upset the seventh-ranked Sara Errani, so audiences can expect to see much more of the fiercely competitive Kazakh in the future.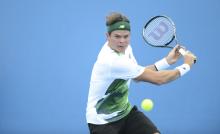 By contrast, most of the young stars expected to shine in the ATP this fortnight either barely met or failed to meet expectations rather than surpassing them, as did many of the young women. For the second straight major, Milos Raonic fell in straight sets to a top-four seed at the start of the second week. Recalling his loss to Murray in the fourth round of the US Open, his fourth-round defeat against Federer revealed how little he can threaten an elite opponent once they return his serve into play. Raonic aided Federer's cause considerably with cascades of unforced errors in an effort far less solid than his three meetings with the Swiss last year.
Also disappointing from a North American perspective was the fate of leading US prospect Ryan Harrison. While practically nobody would have expected him to upset Djokovic in the second round, he challenged the Serb much less than he had challenged Murray here last year. Like Raonic, Harrison found himself regularly outmaneuvered and outrallied from the baseline when his serve did not claim free points, as the match soon turned into a virtual exhibition. Also like Raonic, his nerves crippled him at key moments and resulted in some ghastly errors. On the heels of a defensively centered first-round performance against Santiago Giraldo, this ignominious rout by Djokovic revealed a surprising passivity from a young star who normally oozes with confidence.
The toast of Brisbane when he reached his first career final there and threatened Murray, Grigor Dimitrov became just plain toast almost immediately in Melbourne. He fell in straight sets to talented but hardly intimidating Julien Benneteau and found himself the first man to exit the Australian Open main draw. Throughout his nascent career, Dimitrov has made a habit of following his most notable successes with his most notable stumbles, a pattern of inconsistency that comprises as significant a flaw as his defense on his backhand wing. Never has he advanced past the second round of a major, and he must develop more competitive stamina before he can do so.
After his stunning breakthrough at the Paris Indoors last fall, where he shocked Murray en route to the final, Jerzy Janowicz stood atop many lists of Australian Open dark horses. He did succeed in moving as far as his seed projected by reaching the third round, where he fell meekly to Almagro in straight sets.
But Janowicz was fortunate to survive his previous match after losing the first two sets to an unheralded opponent in part because of an emotional meltdown over a line call late in the first set. That sequence displayed his need to improve his poise under pressure, which he surely will with more experience.
Perhaps the only ATP rising star who actually improved upon last year's result (in a way) was home hope Bernard Tomic. Although Tomic lost a round earlier this year than he did last year, he performed at a distinctly higher level against the same opponent, Federer. Saving break point after break point with an enhanced serve and even more enhanced focus, he threatened to take a set from the Swiss legend while displaying a more disciplined approach to points. On the other hand, Tomic narrowly avoided a fifth set against a German qualifier in the previous round as much of his game deserted him, so he remains a work very much in progress despite claiming his first career title in Sydney this month.
Of course, beneath these divergent trends in the ATP and WTA lies the question of whether the respective gaps between the younger and older generations result more from the outstanding quality of the older or the lack of quality of the younger in the ATP, and one could pose the reverse question of the WTA. Certainly it is easier to record an upset or come close to doing so in a best-of-three than a best-of-five format, and one cannot deny that some of the men's rising stars received especially challenging early draws. That said, the Australian Open still suggested in general that the long-range future of the WTA looks brighter and more clearly defined than it does in the ATP.
Photography: Tennisclix.com/Gillian Elliott