Auger-Aliassime Advances In Rotterdam

On Tuesday, at the ABN AMRO Open, defending champion Felix Auger-Aliassime defeated Italian Lorenzo Sonego of Italy 6-2, 6-3 in one hour and 22 minutes.
It was a perfect start for the Canadian who is aspiring to win the title again, back-to-back.
With his precise and powerful serve, his graceful footwork, Auger-Aiassime broke in the fifth game and then held for 5-2. He broke again to take the first set.
In the second set, he broke in the third game for 3-1. Serving at 5-3, he staved off two break points to take the match.
He served extremely well, hitting 13 aces. He converted all three of his break points.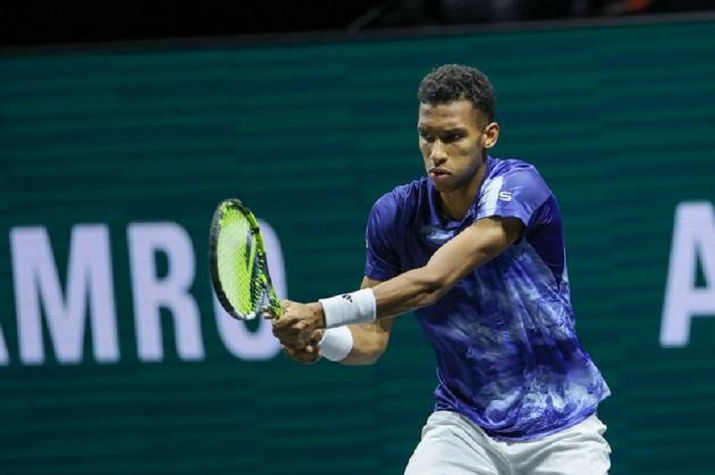 photo credit: Imago
"I am extremely satisfied about this win against an opponent who's always tricky," said Auger-Aliassime. "Sonego is a real fighter and often hangs in there during a game, but luckily it wasn't the case this time. It's a great start to the tournament for me."
Rotterdam has hosted this event since 1972, when it was won by American Arthur Ashe. Ashe went on to win the tournament two more times (1975-76), making him the singles title record holder, along with Roger Federer who also won the title three times (2005, 2012, and 2018).
ABN AMRO has sponsored the event since 1974, making this their 50th year.
Last year Auger-Aliassime arrived in Rotterdam with a 0-8 record in ATP Tour finals, but has since changed that to 4-9, taking four titles last season, all on indoor hard courts.
After his victory last year, Auger-Aliassime said: "I think looking back in my career, I think Rotterdam will always have a special place. You know, there's only one first title. And it came here."
At the Rotterdam Ahoy, on Centre Court, you can look up and see all the names of the great players who have won here. Now, Auger-Aliassime can see his own name up in lights beside them.
"It's amazing. It's really cool," the Canadian said. "I remember they put it up right after I won last year. Already to see it there among the other players. Now coming back this year, seeing my banner at the practice courts in the big hall. And then looking like wow there are a lot of good players that have won here. Most of them being in the Top 10 for many years. Roger, of course, has won here.
"To have my name among these players, but also players from the seventies and eighties and nineties. It's special. There's been some great, great winners here. It's a tournament that has a lot of history.
"It's not just like any other ATP 500 tournament. It's a tournament that's very well organized. It's got a rich history. All players want to play. That's why the draw is so strong every year. So to win the first one and have my name there. It's quite nice."
One step closer to repeating his Rotterdam crown, Auger-Aliassime will next battle Frenchman qualifier Gregoire Barrere.