ATP Turning Points of 2013: Novak Djokovic Seizes London

Nick Nemeroff concludes his offseason series on turning points in the ATP, which extended across all four of the main surfaces: outdoor hard, clay, grass, and finally indoor hard.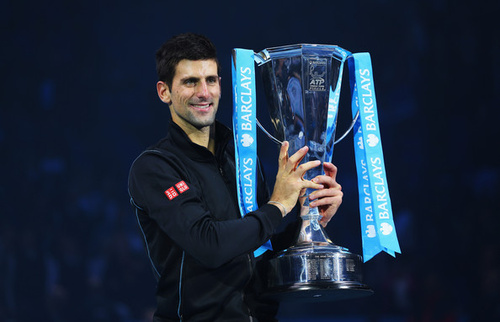 The spring and summer months of 2013 brought the tennis world an abundance of glorious on- court spectacles. These included Rafael Nadal's victory at Roland Garros after a nine-month layoff, the epic Novak Djokovic-Juan Martin Del Potro encounter at the All-England Club, Andy Murray's inaugural conquering of Wimbledon, the upsets there by Steve Darcis and Sergiy Stakhovsky over Nadal and Roger Federer, and Nadal's jaw-dropping North American hard dominance—just to name a few.
In this time, between Roland Garros and the US Open, Novak Djokovic contested arguably the biggest matches in all three major. He lost all of them. And it was not as if these were blowouts. Djokovic had his opportunities in all three matches.
Djokovic was six points from victory in the Roland Garros semifinal against Nadal, where a win would have left him heavily favored in the final. In the Wimbledon final, he led by breaks in both the second and third sets, leads that he would ultimately squander in a straight-sets defeat. In the US Open final, Djokovic led 3-1 in the third set after he had split the first two with Nadal. He looked ready to run away with the match before conceding 11 of the final 13 games.
Following the US Open, it was clear that Djokovic needed to make a massive statement. In his first tournament back after his US Open final loss, he took down Nadal 6-3 6-4 to capture the title in Beijing. Djokovic then went on to win Masters 1000 titles in Shanghai and Paris, defeating Del Potro in the final of Shanghai and David Ferrer in the final of Paris.
Then came the World Tour Finals. After winning all three of his round-robin stage matches in three sets, including victories over Federer and Del Potro, Djokovic took out Stanislas Wawrinka to set up yet another showdown with Rafael Nadal, their 39th meeting overall.
This match was critical for Djokovic for several reasons. For one, he came into the match having recorded 21 consecutive victories. But Nadal had won two of their last three hard-court matches with Djokovic having won the least significant of those three in Beijing.
A loss to Nadal in the World Tour Finals would have given the Spaniard hard court victories over the Serb in Montreal, New York, and London in a span of three months. It would have ended Djokovic's season (excluding Davis Cup) with yet another crushing loss, the exact opposite of what he needed moving into 2014.
Letting Nadal and everyone else watching know that he had little interest in letting his fall momentum disintegrate, Djokovic took command from the very first point when he drilled an untouchable forehand winner down the line past Nadal. He would break his rival on the first time of asking, racing out to a quick 3-0 lead. Nadal would break back, evening the set at 3-3. But Djokovic would break again when Nadal served at 3-4, putting away a forehand volley after a retrieving a Nadal volley that seemed to be a certain winner. The Serb would capitalize on the break, serving out the opening set to take it 6-3.
As the second set progressed, Djokovic showed that he was not in a procrastinating mood, breaking Nadal at 1-1. Up 2-1 and a break in the second set, the four service holds that Djokovic needed came much easier than expected. The match ended anticlimactically with an errant Nadal inside-out forehand that sailed into the doubles alley.
Despite a 2013 season filled with heartbreak and disappointment after his Australian Open crown, Djokovic rose above his demons to reassert himself ahead of 2014. As things stand, all roads to a championship in Melbourne next year go through Novak Djokovic.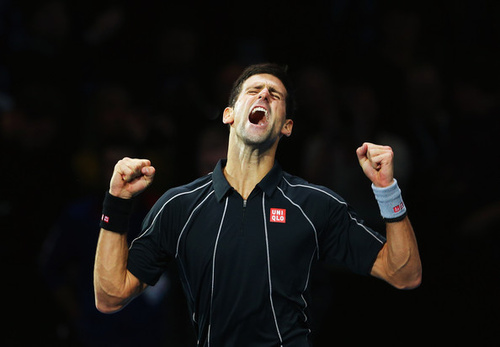 However, he must be careful. The end of his 2013 season looked a lot like the end of his 2012 season. In 2012, after losing the US Open final in five sets to Andy Murray, Djokovic won in Beijing, Shanghai, and London. This propelled him to winning his fourth Australian Open title, but his shortcomings in the other three majors showed that momentum does not last forever.
Winning in London gives Djokovic the momentum moving into Melbourne, the major that he is essentially expected to win. If he had have lost in London, Nadal would have owned this momentum. Still, Djokovic's task in 2014 will be to take the momentum that he has at the moment and hold on to it for as long as possible. If he can do that, which would not be shocking, Djokovic may be looking at two or more major titles in 2014.