ATP Feat of the Year: Andy Murray Wins Wimbledon

By the middle of June, the signs of summer have spread across Great Britain. Wildflowers bloom, strawberries ripen, and the grass turns a lush green after the spring rain. And a new legion of patriotic British fans strides through the gates of the All England Club, headed for a knoll once known as Henman Hill but more recently as Murray Mound. There, the hope for a Wimbledon men's champion from the home nation sprang eternal each year, only to be battered into fatalism and despair by a Pete Sampras, a Rafael Nadal, or another superstar from abroad.
This most time-honored of traditions defined Wimbledon, the cathedral of the game, as much as any other from strawberries and cream to Middle Sunday to the Queue. Great Britan had grown accustomed to watching its home hopes survive perilous encounters in the first week, edge within range of triumph, and then fall excruciatingly short once again. Its current standard-bearer heading into 2013, Andy Murray, had reached the semifinals or better in four consecutive years before following in the footsteps of his predecessor, the star-crossed Tim Henman. At the previous Wimbledon, Murray had dissolved into tears during the trophy presentation when he finished runner-up to Roger Federer. That moment swelled his support worldwide by revealing how deeply he coveted this title, but one wondered how many more of these blows his spirit could absorb.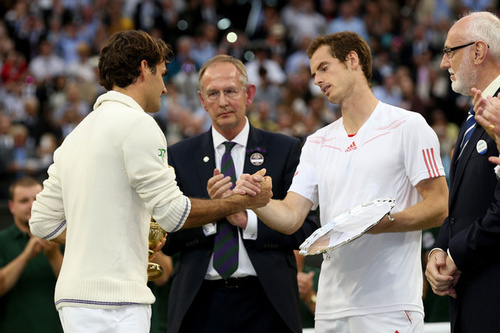 Later that summer, of course, Murray would win an Olympic gold medal on Centre Court of the All England Club by avenging that Wimbledon loss to Federer. He also broke through at a major for the first time by outlasting Novak Djokovic in a five-set US Open final. Those achievements gave British fans ample reason to celebrate and to hope for the future. Still, the suspicion lingered that Murray's unfinished business at home stalked the inner chambers of his mind like the ghost of Hamlet's father.
Cause for confidence vied with cause for concern as Wimbledon 2013 approached. Cutting short his clay season, Murray withdrew from Rome and Roland Garros with a recurrence of a chronic back injury. Then, he won the grass tournament at Queen's Club in preparation for Wimbledon, extending his winning streak on the surface from 2012 and bolstering his fitness for the fortnight. The draw did not smile on Great Britain's home hope, however. Anchoring the bottom half as the No. 2 seed, Murray found himself on course for a semifinal against Federer, his nemesis in last year's final, or against Nadal, who had defeated him three times at Wimbledon for the loss of one total set. By contrast, the top-seeded Djokovic faced a route to the final without any foe who had excelled on these lawns before.
Three days into the tournament, events unfolded in a manner more auspicious than any British fan could have dared to dream. After Nadal stumbled out on Monday, weary from his exertions in Paris, Federer suffered his earliest Wimbledon loss in over a decade on Wednesday. Murray could thank Steve Darcis and Sergiy Stakhovsky for dramatically lightening his burden, yet he needed to avoid a similar fate during a tournament littered with the carcasses of champions.
Not a single top-15 player barred the Scot's path to the final. He cruised through the first four rounds uneventfully, to the relief of the anxious eyes on Murray Mound, but one knew that a moment of truth would come sooner or later. It came, as it often does, when few expected it. Spanish veteran Fernando Verdasco had spent the 2013 season mired in what had seemed a terminal decline. He arrived at Wimbledon with a 9-12 record, and he promptly lost the first set in the first round to the fossilized Xavier Malisse. To the astonishment of all, Verdasco proceeded to win 12 consecutive sets after that stage to reach his first quarterfinal at the major least suited to his playing style.
Verdasco would win 14 consecutive sets at Wimbledon, in fact. Perhaps forgetting that he had lost to the Spaniard at the 2009 Australian Open, Murray entered their quarterfinal with his focus and intensity below their usual height. Negative emotions surfaced more quickly than they should have, and the familiar fatalism seeped into his body language to give the underdog hope. Exploiting several uncharacteristic, untimely errors from across the net, Verdasco surged to a two-set lead with the confidence of someone who had nothing to lose.
Once he stood in that position, though, he did. As a staggering upset and a semifinal berth drew near, the nerves that have undermined Verdasco throughout his career began to dog him once more. Yet it might not have mattered if Murray had not rallied his spirits despite the deep deficit and disciplined himself to stay the course. Perhaps he thought back to his five-set comeback at Wimbledon five years ago against Richard Gasquet, another man stronger in shot-making talent than in mental stamina. As a nation collectively held its breath, Murray eked out another comeback against Verdasco, prevailing 7-5 in the fifth set with play more determined than inspired. For the fifth straight year, he had reached a Wimbledon semifinal.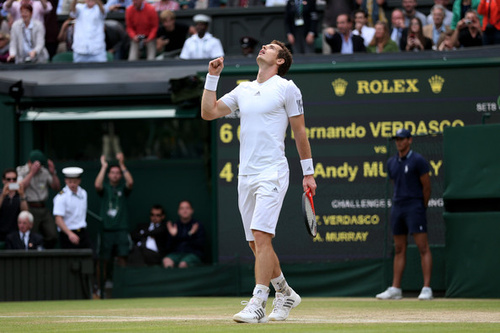 The task there loomed larger in literal than in figurative terms. Contesting his first major semifinal, Polish skyscraper Jerzy Janowicz wielded a rough-hewn game with the sort of raw power that Murray has specialized in blunting. A routine victory would have made Friday in Great Britain altogether too mundane, however, and this Cinderella threatened to claim a two-sets-to-one lead before his slipper fell off. Again, the fear hovered that Murray had done just enough to win a match in which he was heavily favored, and that his accommodating draw had played as large a role in his fortnight as anything that he had done with a racket.
One other man had survived the upset epidemic that had claimed nearly all of the notable contenders sooner than expected. This man had won six major titles, including the crown that Murray sought so desperately. A champion at Wimbledon in 2011, this man had defeated Murray in the Australian Open final six months before and had won their last three meetings overall, all after losing the first set. This man nearly had accomplished the miraculous at Roland Garros a month before by thrusting Nadal to the brink of defeat and propelling himself to the brink of a career Grand Slam. While Murray had labored past Janowicz on Friday, this man had won one of the ATP's most spectacular shoot-outs of the season from Juan Martin Del Potro.
This man was world No. 1 Novak Djokovic, and he cast an ominous shadow across Great Britain as Friday turned to Saturday and then to the Sunday of the Wimbledon final. Could Murray reverse the recent trend in this rivalry? Would he have learned from last year's demoralizing loss to Federer? Had he gained confidence from winning a gold medal on this court, defeating Djokovic en route? Could he raise his level from the previous rounds, now that the competition demanded something greater?
Murray won the first set, as he had in the 2012 final and in his three previous losses to Djokovic. The world No. 1 surged ahead in the second set, seeking to follow the same script as he had in those matches. But this had been no ordinary Wimbledon, and scripts had been discarded from the first day forward. Murray broke back, broke again, and served out the second set in style, his serve hitting its targets with precision and his baseline timing crisper than in earlier rounds. Undaunted, Djokovic marched ahead in the third set as thoughts circled back to the US Open final a year before. Murray had won the first two sets from the Serb that time before squandering his lead and nearly snatching defeat from the jaws of victory. Djokovic might have remembered that day as he fought grimly to the finish, saving triple match point and earning break points when the Scot served for the title.
The long deuce game that unfolded stretched the nerves of a nation to their most taut, but Murray did not. The first break point came and went, then a second, then a third. Finally, Murray held a fourth match point, and this chance he did not spurn. When Djokovic's last backhand settled meekly into the net, the Wimbledon men's singles title belonged to a British champion for the first time since the Second World War.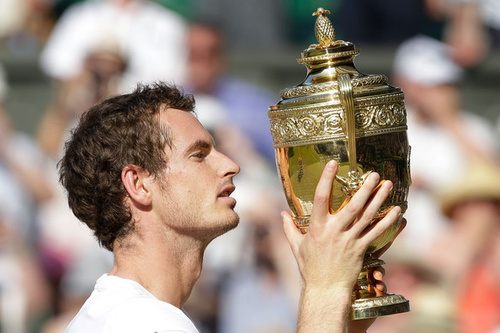 The wave of cathartic elation that swept across Murray ranks among the most heart-warming moments in recent tennis memory. This sport may revolve around superstars who inhabit a bubble-like world, unimaginable to most of us, but on that Sunday the emotions flooding from one of them struck a chord that resonated well beyond his fans.
In another long-standing tradition, Wimbledon opens play on Centre Court each year with the men's defending champion. When Murray strides onto the scene of his triumph in 2014, he will set his sights on unfinished business no longer. His title at Wimbledon this summer freed him from a burden that had threatened to define his career.
Consider Murray's career redefined.