ATP Dark Horses to Watch at Wimbledon

With the most prestigious tournament of the year in tennis coming up shortly at the All-England Club, here are some of the players on the men's side who are most likely to achieve an all-time high or score a big upset and maybe even go deep in the tournament. These players are all ranked within the top 50, and many of them are underrated. They have huge games on grass, which could make for unpredictable outcomes in Wimbledon. Such players are good for the sport. In fact, all these players are pretty evenly matched, and a lot of them could potentially face each other in the second or third round.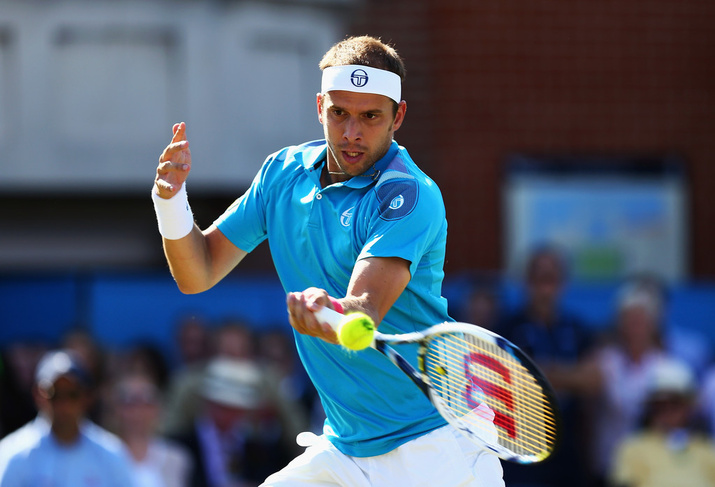 10. Gilles Muller
With his unpredictable serving, his put-away volleys, and his lefty spin, Muller can be a danger for some of the higher-ranked players. Grass has always been his best surface. He proved that last week, beating Queens defending champion Grigor Dimitrov in straight sets. He then faced eventual winner Andy Murray and kept him guessing on the return for most of the match. Andy said after his tough three-set battle, " It is tough to find any rhythm against him on my return and that is what made it really tough for me." He also has a short backswing on his forehand and can play some smart cat and mouse tennis. He has beaten Dimitrov twice this year on fast courts and lost a tough battle to Novak Djokovic at the Australian Open earlier in the year. He is 32 years old and is playing some of his best tennis
9. Alexandr Dolgopolov
Dolgopolov has an unorthodox game, mixed with all kinds of serves, angles, drop shots, slices, and extremely flat groundstrokes that stay low and are tough to handle on the grass. When he is having a good serving day and stays patient with his power game, he can go toe-to-toe with the top players. With his win last week in Queens over Nadal, he showed us he is a dark horse for Wimbledon. However, he needs to back up those results and get through some players in his field like Garcia-Lopez or Donald Young in order to go deeper and maybe even reach the second week.
8. Fernando Verdasco
Verdasco was once a consistent top-10 player, ranked as high as No. 7 and a contender in Grand Slams. Some injuries as well as some changes in his team and playing style have resulted in a bit more up-and-down performances from him. However, on fast hard courts and grass he is a real threat for anybody. He is an aggressive explosive baseliner who has a forehand known for its topspin, just like his countryman Rafael Nadal. Verdasco has a very good first serve and is another dangerous lefty who is hard to hit through. His grass court results have been decent. Let's not forget he already has a win over Nadal earlier this year in Miami, and a couple of years ago he was in the quarterfinals at Wimbledon, up two sets to love against Andy Murray, so close to a major upset. He needs to develop some more consistency in his big strokes to be a huge threat.
7. Feliciano Lopez
Another left-handed Spaniard who is an often-forgotten player. Known for one of the best slices in the sport, Lopez is another player who plays his best tennis on grass. He has made three quarterfinals here in Wimbledon, in addition to a final last year in Queens against Grigor Dimitrov where he had match points. He has been a consistent top-20 player for over five years. His game is similar to Muller's, with a little bit more variety. Lopez hits a slice 90 percent of the time on his backhand. On the Wimbledon grass, he has a great serve that he mixes up well. Can he make a breakthrough and beat a top-10 player this year?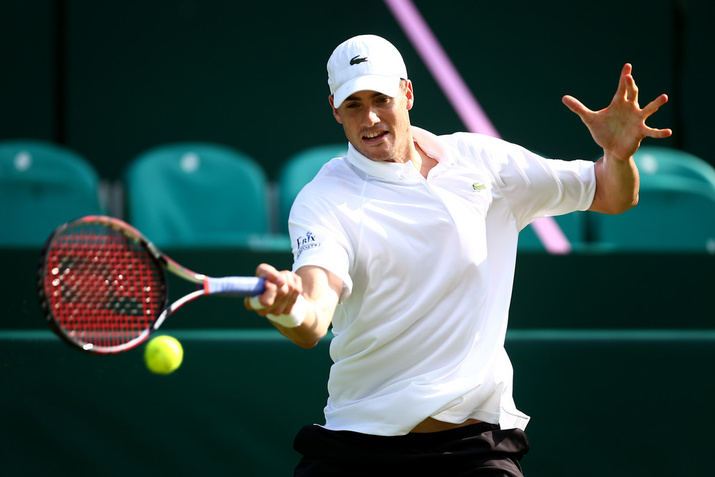 6. John Isner
John Isner has never gotten past the third round at the All-England Club, including a loss last year to Feliciano Lopez in five sets. However, can he improve his weaknesses in the rest of his game outside his serve and make it reliable? To make his game a real threat, he needs to be moving well and returning well. Isner also has a great team around him, including Justin Gimelstob, a former tennis player and commentator, as his coach. Regardless of his results, he is a really tough player for anyone due to his amazing serve and the height he gets on it.Kevin
5. Kevin Anderson
Kevin Anderson is playing some great tennis at the moment on grass. He is a big server who moves well and has a great all-round game on grass. He had a great run last week in Queens, reaching the final after beating Stan Wawrinka in the second round in two tiebreakers. He has usually fallen short, however, against the top 10, especially the Big Four. He needs a good draw to get to the second week and maybe pull off an upset.
4. Philipp Kohlschreiber
The German is one of the most underrated grass-court players. He is a consistent baseliner who sadly often falls short when it matters. He reached the quarterfinals in 2012, losing to Jo-Wilfried Tsonga. He has an elegant one-handed backhand and a good serve and keeps his groundstrokes low, so he is a favorite to reach at least the third or fourth round. He plays his best tennis on grass and recently played Federer in the first round in Halle, a tournament Federer has won eight times, and was two points away from victory but wasn't clutch enough. Can he use his experience and good memories on grass to reach the second week again?
3. Ivo Karlovic
Known as the "Ace Machine", he has many serving records, including the highest number of aces all-time. Dr. Ivo is playing some of his best tennis at age 36. With his huge serve, his unpredictable net charges, and ball-striking on the forehand, he is and will always be a player to watch out for. Karlovic had a good week in Halle last week, beating Berdych and hitting a record 45 aces in a relatively short three-set match. He lost in the semis to Federer in two tiebreaks. Let's not forget he has two wins against top-10 players this year, including a win over Djokovic in Doha. However, even though his serve is nearly perfect (in my opinion the best on tour), it's not enough to win matches on its own. He needs to go for more on his return and hold his ground a bit better at the baseline, and then he can do very well on grass.
2. Grigor Dimitrov
A young gun many call the future of tennis has a game filled with talent. But let's be realistic; Dimitrov hasn't lived up to his full potential this year. Last year during this time, he was playing the best tennis of his life and broke into the top 10, having already won three titles on three different surfaces. He reached the Wimbledon semifinals, where he lost in four tight sets. However, this year his game has hardly been the same. He is 18-12 this year and just lost last week to Muller. Dimitrov's best results this year were a Brisbane semifinal loss to Federer and reaching the semis in Istanbul, where he was expected to make the final anyway. He needs to play more aggressively inside the baseline and finish off points quickly. The chances are that if he finds his confidence and game again, he will do well in Wimbledon. Can he get out of his recent slump and equal his best result from last year?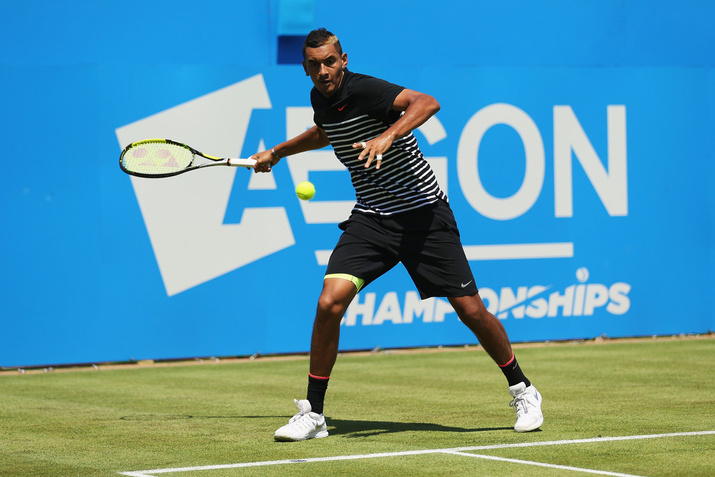 1. Nick Kyrgios
The Australian teenage phenomenon, who has already impressively reached two Grand Slam quarterfinals this year, is my top dark horse. He is a complete package and is a pleasure to watch. His energy is fantastic, and he has a tremendous serve. He also has charisma on the court. He just turned 20 this year and is living a dream, playing his best tennis. He also has a great attitude and knows he can play well if he continues working hard off the court and controls his temper. Kyrgios ousted Rafael Nadal last year in the fourth round, playing the best match of his life. He backed that up by beating Federer this year on clay in Madrid, a match where he saved two match points. His fierce forehands, flat backhand angles, and a booming serve are his biggest strengths. He is also a big-match player who has a composure like no other young gun, and he can play his best tennis on the big points and get the crowd going. He needs to practice hard, since he is coming off a one-week break and a loss to Stan Wawrinka in the first round of Queens. Can he go even a step further and reach the last four this year? We are about to find out…