Around the World for Davis Cup and WTA Events

AD

-

IN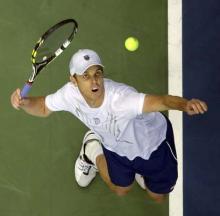 Querrey: Conquering the nerves that visibly overtook him near the end, the American #2 stood as tall as he looked in compensating for the fallibility of his countrymen. After the Bryans and Isner had coughed up what seemed like an insurmountable 2-0 lead, Querrey showed backbone in finishing off a determined Thiago Alves in the fifth rubber. Having defeated Brazilian #1 Bellucci in straight sets to open the tie, he finished what he started by staying just steady enough to slip away with a fourth-set tiebreak and avoid a final set that could have swung in either direction.
Team Canada: Spearheaded by the monstrous serve of Milos Raonic, this nation won a World Group tie for the first time in Davis Cup history. Spain admittedly brought not even an A or a B but probably a C team to Vancouver, lacking Ferrer and Almagro in addition to the recovering Nadal. All the same, the inspired performance of Raonic's compatriot Frank Dancevic in dismantling world #34 Marcel Granollers on Friday illustrated how much the Canadians embraced the occasion to shine in their home territory. Last year's finalists never broke serve in any of the three live singles rubbers, falling in the first round for the first time since 2006.
Team Kazakhstan: One rarely associates this remote nation with men's tennis, but the Kazakhs stunned the Czech Republic in 2011 and repeated the feat against Austria this year. Their victory ensured that they will remain in the World Group for a fourth straight year, not something that most would have predicted. Especially impressive was their ability to win a World Group tie convincingly despite lacking a single player in the top 150, which proved them more than the sum of their parts. Up next is a rematch with the Czechs, now the defending champions.
Djokovic: Just business as usual for the world #1, who followed his Melbourne three-peat with three aces in his first service game against an overwhelmed Olivier Rochus in Davis Cup. Djokovic showed praiseworthy professionalism in regrouping from his notable feat to join his teammates in Belgium for a much less heralded challenge, and he finally erased the blot on his resume that consisted of Rochus' winning record against him.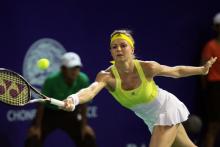 Kirilenko: A champion in singles for the first time since 2008, she captured the Pattaya City title after twice losing the first set. The elegant Russian survived a bizarre final in which she led by a break in the first set, only to lose that set and face early break points in the second. Responding to that crisis with aplomb, she reeled off nine straight games, only to waste two match points and let a 5-2 lead escape her. She who laughs last laughs best, though, and Kirilenko ended a bizarre final by sweeping eleven of the last twelve points and falling to her knees in the manner of another Russian Maria.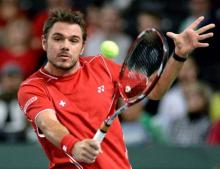 Wawrinka/Berdych: Regardless of the tie's outcome, both the Swiss and the Czech singles #1s deserved applause for their brutal test of endurance. On Friday, each man won a best-of-five singles match (Berdych in four sets). On Saturday, their teams leaned heavily on them in the longest Davis Cup match ever, which cracked the seven-hour mark in falling short only of Isner-Mahut overall. On Sunday, less than a full day after that marathon, both of these warriors trudged wearily back onto court for a best-of-five singles match against each other. The physical strain defies quantification, as does the courage.
Mladenovic: Not content with the best win of her career in the first round, this unheralded Frenchwoman made the most of her week by plowing to the Paris semifinals. Mladenovic survived an epic fraught with tension to outlast Goerges and then dismissed second-seeded Kvitova in straight sets, adding a victory over Wickmayer between them. Three straight victories against competition of such quality can cause a young player like this 19-year-old wildcard to soar in confidence overnight.
Gasquet: Once opting out of an important rubber against Roddick, he had grown notorious for falling short when his nation sought to lean on him. The negligible threat of Dudi Sela should not have troubled Gasquet, granted, but he did produce a worthy effort on French soil that departed from the dispiriting norm.
Kiki Bertens: Bounced by Razzano in the final round of qualifying, she forged a route to the semifinals of the main draw behind upsets of seeded opponents Cibulkova and Safarova. This Dutchwoman has a flair for the dramatic and a habit of turning up aces (literal and figurative) when least expected.,
Thai women: Wildcards distributed to local heroes and heroines usually provide nothing more than a chance for the fans to cheer their favorites before they gracefully drift toward the exit. In Pattaya City, Luksika Kumkhum and Varatchaya Wongteanchai each notched a victory in singles, justifying the tournament's decision to offer them direct entry. Each also threatened a much more prominent opponent in the next round, and Wongteanchai reached the doubles semifinals with her sister. .
DEUCE

:
Germans: The land of Boris Becker and Steffi Graf recorded a week in which the latter but not the former could take pride. Winning a title and reaching the final at Paris and Pattaya City, respectively, Mona Barthel and Sabine Lisicki reaffirmed the relevance of German women during a period in which many have fallen prey to injury or slumps. For Barthel, who struggled in the second half of 2012 after a first-half breakthrough, a series of upsets over Vinci, Bartoli, and Errani boded well for 2013. Never afraid to settle matches on her own terms, she struck 53 winners and 50 unforced errors in toppling the top seed to claim Paris. Lisicki has lurked around the fringes of the elite for much longer but had struggled to string together victories away from grass since mid-2011. Meanwhile, the German men submitted meekly to Argentina in a Davis Cup whitewash that left singles #1 Kohlschreiber joining Petkovic in the infirmary.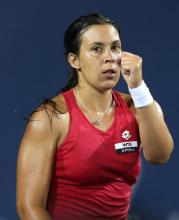 Bartoli: To her credit and the credit of Amelie Mauresmo, the new French Fed Cup captain, she ended a rift with the national team competition that had spanned nearly a decade. Bartoli will participate in Fed Cup next week for the first time since 2004, and outside the shadow of her controversial father who had played a role in igniting the friction. Meanwhile, the top-ranked Frenchwoman fell well short of defending last year's finals points at the Paris Indoors, where her vaunted return broke Barthel only once in the quarterfinals.
Women's top seeds: "Strange" may not do justice to the semblance of a tournament that world #7 Sara Errani experienced in Paris, where she needed to collect momentum after a Melbourne disaster. The feisty Italian avenged that setback in an arduous three-hour battle against Suarez Navarro but played no other complete match until losing the final, benefiting from a bye and two retirements in which she played nine total games. Scarcely less odd but much more dismal was the performance of former #1 Ana Ivanovic in Pattaya City. The Serb dropped her opener to Ayumi Morita, who failed to serve out the match in the second set but succeeded in serving out the third—two days later, once the Pattaya rains had subsided. Few conclusions can be drawn from either week, considering the circumstances.
AD

-

OUT

: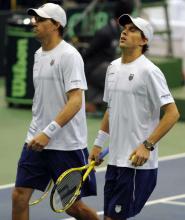 Bryans: The famous twins had lost just twice in Davis Cup, once five years ago and once eight years ago. But they continued their struggles against the Brazilian duo of Marcelo Melo and Bruno Soares by dropping a five-setter in Davis Cup, plagued by poor returning and uncharacteristic edginess. The loss felt especially surprising because they had won their 13th major at the Australian Open a week before.
Kvitova: Bounced in the second round of Paris, where she once defeated Clijsters for the title, this former Wimbledon champion has not won consecutive matches since the US Open. Kvitova remains trapped in a vicious cycle exacerbated by a game with almost no margin for error. She cannot build confidence without winning matches but cannot win matches without building confidence.
Brisbane, Sydney runner-ups: Pavlyuchenkova and Cibulkova both rang in the new season in sensational fashion by reaching finals at the two most significant non-majors before Melbourne. Unable to repeat that success when it mattered most, the two dark horses stumbled at early Australian Open hurdles and could not reverse course as January ended. This development seems especially concerning for Pavlyuchenkova, who suffered a horrific 2012 and needs to prove much more than Cibulkova does.
Melzer: The 30th-ranked man entered the Austria-Kazakhstan tie as the only notable singles player on either team and the factor that appeared to hand the visitors an edge. But Melzer lost both of his rubbers to opponents ranked outside the top 150, a dismal fate for a veteran who has committed regularly to Davis Cup throughout his career.