April Week 1 Recap: Davis Cup, Monterrey and Charleston

Ad-in:

Williams sisters: The only top-eight woman to enter Charleston, Serena entered the tournament as the clear favorite. Defending her title there just a week after she won Miami, Serena took a strong step forward in the process of transitioning from hard courts to clay. Her accomplishment came in part at the expense of her sister, Venus, who mustered just three games against her in a semifinal. All the same, Venus was justified in taking satisfaction from her performance in Charleston, for she managed to win two matches in one day despite her physical woes and continued to excel under third-set pressure.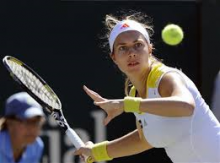 Stefanie Voegele: Upsetting three top-30 opponents en route to the semifinals, the compatriot of Federer and Hingis became the first Swiss woman to reach a Premier semifinal in nearly four years. Voegele clubbed 42 winners to oust world No. 10 Caroline Wozniacki as she rallied from losing the first set to both the Dane and talented German Julia Goerges. The distinctiveness of Charleston's green clay can lead to some unexpected results, Serena's three straight titles aside, but Voegele may bear watching when she plays closer to home in a few weeks.
Early Charleston matches: Epic after epic unfolded in the first few days of the Family Circle Cup, including a day when four matches reached 5-5 in the final set. The draw sprinkled a few upsets amid the triumphs of the favorites but did not implode entirely, creating intrigue as the week progressed without stripping the later matches of meaning.
Bethanie Mattek-Sands: Now ranked outside the top 100, the American veteran managed to win the longest WTA match of the year over Anastasia Rodionova. Mattek-Sands saved a match point and weathered distractions created by her opponent before prevailing in a third-set tiebreak after three hours and 42 minutes. Just as impressively, she came out the following day and dismissed the fourth-seeded Sloane Stephens in a composed performance that betrayed not a tremor of fatigue.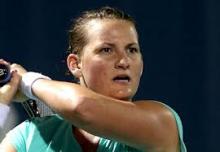 Young phenoms in Charleston: Several raw but promising WTA hopefuls left more memorable marks than expected on the green clay. Among those who shone was Stanford's NCAA star Mallory Burdette, who not only upset former champion Sabine Lisicki but competed creditably with Serena for a set and a half. Madison Keys also righted her ship after disappointments at Indian Wells and Miami by recording three straight-sets victories. The 19-year-old Jessica Pegula built upon her success in qualifying for the Indian Wells main draw by notching a compelling three-set victory over March standout Garbine Muguruza en route to the third round.
From outside the United States came two French-speaking teenagers, of whom Quebec native Eugenie Bouchard reached her first career quarterfinal and entered the top 100 for the first time. Less visible but still noteworthy was the achievement of Caroline Garcia, often remembered for her near-upset of Sharapova at Roland Garros two years ago. After qualifying for the main draw, Garcia held match points against eventual finalist Jankovic in one of the tournament's many nail-biters.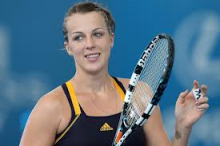 Monterrey finalists: The dominance of certain players over certain tournaments usually makes sense. Before he retired, for example, Fernando Gonzalez established his dominance over the Chilean tournament in Vina del Mar, and Sam Querrey has won three of his seven career titles at his home tournament in Los Angeles. But no clear connection explains why Anastasia Pavlyuchenkova has claimed three of her four career titles in Monterrey, winning the event in every year but one of its young history. No matter how she plays elsewhere, Pavlyuchenkova always finds her form here, and she continued that trend by upsetting top seed Angelique Kerber in the final. Before she submitted, however, Kerber gave the Mistress of Monterrey plenty to ponder by nearly erasing a 5-0 lead in the final set. While Kerber fell just short in another tight match, a recurring trend this year, she reminded onlookers how much her competitive resilience has fueled her rise to the top ten.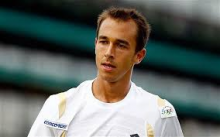 Czech Republic: When the Czech Republic hosted Kazakhstan for a 2011 Davis Cup tie, most dismissed the Kazakhs as lambs led to the slaughter by Berdych and his compatriots. Instead, the visitors slaughtered their hosts in one of the competition's more stunning recent upsets. As the Czechs traveled to Kazakhstan for a rematch without Berdych, their chances of extending their Davis Cup title defense looked grim. But Lukas Rosol played the heroic role usually occupied by his top-ten compatriot, securing two victories after clay specialist Jan Hajek began the proceedings with a key victory over Kazakh No. 1 Mikhail Kukushkin. Far from home, this team showed the resilience of true champions in adversity.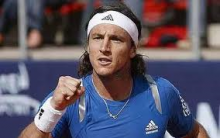 Argentina: Aligned to meet the Czechs in the next round, a very tenacious Argentine squad outfought a French team much superior on paper. Lacking their top player in Juan Martin del Potro, they leaned on Juan Monaco to turn the tide of early French momentum and secured the clinching victory in the fifth rubber from the unheralded Carlos Berlocq. (Even in his loss to Tsonga, a true mismatch, Berlocq took the top-ranked Frenchman to five sets in a courageous display.) Between those two matches, the Davis Cup stalwart David Nalbandian assisted Horacio Zeballos in defeating their heavily favored opponents, doubles specialists Julien Benneteau and Michael Llodra. Argentina never has won the Davis Cup despite repeatedly putting themselves in position.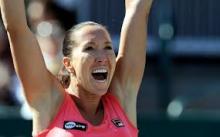 Serbia: Outweighing another early loss for Ana Ivanovic in Monterrey was the finals appearance in Charleston by fellow former No. 1 Jelena Jankovic. At her most dangerous when most overlooked, Jankovic built upon her semifinal appearance in Miami by reeling off five more victories and winning a set from Serena.
While her draw there did not mirror the event's Premier label, she relished her 500th career victory over Bouchard in the quarterfinals and will bring plenty of momentum to the European clay, arguably her best surface.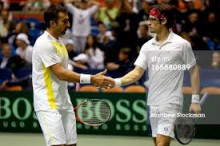 While Novak Djokovic courageously defied an ankle injury to launch Serbia into the Davis Cup semifinals, the most sensational performance of the weekend may have come from Nenad Zimonjic and Ilja Bozoljac in Boise, Idaho against USA. Overshadowed by their countryman, the classy veteran and the volatile shot-maker shocked Bob and Mike Bryan in a five-set thriller that should embed itself in the annals of Davis Cup lore. Serbia becomes the favorite to win its second Cup in four years and likely will hold home-field advantage for the rest of 2013.
Canada: Slightly favored over Italy, they ran out to two-set leads in all four matches and then watched Italy climb back into contention in three of them. In some ways, the tie resembled USA vs. Serbia, for the winning team's No. 1 swept his two singles matches for the loss of one total set but did not produce the weekend's most compelling story. Like the tie in Boise, the tie in Vancouver reached its climax in the doubles with another epic victory by another combination of a veteran doubles specialist (Daniel Nestor) and charismatic but less familiar figure (Vasek Pospisil). Canada reaches its first World Group semifinal but now faces the daunting task of stopping Djokovic & Co. in Serbia.
Doubles: This alternate form of the sport often feels like an afterthought at the professional level, although greater commitment by singles stars has improved its status lately. On Saturday afternoon, doubles burst into the spotlight with the two USA-Serbia and Canada-Italy matches that spanned nearly nine hours and over 800 points. Both ended in 28-game final sets, among other eerie similarities, and both showcased the spirit of Davis Cup at its finest in proof of the competition's sustained relevance.
Deuce:
Charleston weather: A full day of rain on Thursday robbed fans of tennis and forced players into double duty on Friday. That day, however, featured a spectacular order of play with four combined matches by the Williams sisters, likely for the first and last time ever.
Team USA: Notable highs and notable lows have defined this team's transition from an era of consistent contention into—what, exactly, remains unclear. This weekend offered a microcosm of what makes Jim Courier's squad such a dangerous dark horse and what prevents it from becoming a Cup contender. The Bryans battled fiercely in nearly registering their first comeback from a two-set deficit, but the twins ultimately suffered their first pair of consecutive Davis Cup losses instead. One cannot expect these aging legends to produce automatic points anymore, nor can one expect Sam Querrey to step into Andy Roddick's shoes despite the resemblances in their games. Querrey competed bravely in capturing a five-setter on Friday, but another must-win match against Djokovic on Sunday failed to inspire a similarly gritty effort. In short, this team has plenty of experience and talent. What it lacks is a leader at its core on whom it can rely when a tie hangs in the balance.
Italy: While Italy never seemed likely to win the tie in Vancouver, the visitors deserve credit for mounting stubborn resistance on their worst surface. The Italian Seppi rallied from losing the first two sets to open the tie with a victory, and their doubles squad nearly did the same in a match that would have redefined the weekend's trajectory. Like Argentina, this team seems greater than the sum of its parts, and Canada's clinching celebration betrayed some relief together with elation.
Ad-out: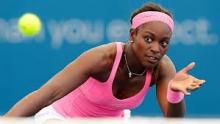 Sloane Stephens: The second-ranked American woman recently commented that she could afford to lose in the first round for the next two months of tournaments without suffering much damage to her ranking. Saddled with a sub-.500 record since reaching the Australian Open semifinals, Stephens appeared to put that plan into action when she won just two games from Mattek-Sands in Charleston. She has the physical tools to succeed in the upcoming clay season but will not get far there without a sharpened focus.
German women: While Kerber chose Monterrey, most of her compatriots spent the week in Charleston—or at least the start of the week, for none survived to reach the Friday quarterfinals. A day after she recorded a double bagel, Lisicki suffered yet another three-set loss in which she had won the first set. A similar fate awaited Julia Goerges against Voegele, and top-eight seed Mona Barthel petulantly tossed away the second set against Pegula in a display of her immaturity. Most concerning of all was the news that Andrea Petkovic had added to her litany of woes with a calf strain that forced her to retire against Wozniacki. Will she ever be fully healthy again?
British girls: In the week when Heather Watson received a diagnosis of mono, a common and often devastating tennis-player disease, Laura Robson again faltered in a third set. For the third straight tournament, Robson allowed her composure to desert her in a winnable match as her progress has slowed in a fashion similar to Stephens.
France: Plenty of teams have imploded in the fraught atmosphere of the Parque Roca in Buenos Aires. But France, arguably the best Davis Cup team in action this weekend, confirmed many of their negative national stereotypes by wilting under pressure to feisty but overmatched underdogs. The surface also had much to do with the outcome, yet truly elite teams refuse to let crowds, conditions, or other distractions obstruct them in ties that they should win. This was that type of tie for France, which again revealed itself something less than the sum of its parts.