Anisimova Makes Herself Known In Cincinnati

Sixteen-year-old Amanda Anisimova is through to the third round of the Western & Southern Open in Cincinnati, beating 27-year-old and world No. 51 Petra Martic of Croatia 6-4, 6-3. Anisimova had been given a wildcard into the tournament. With her first-round win over world No. 41 Timea Babos 6-3, 6-4, Anisimova, world No. 173, became the youngest WTA player to win a main-draw match in tournament history.
Because of a two-and-a-half-hour rain delay, the Anisimova/Martic match started late Wednesday night with few fans in the stadium. It was experience versus youth for this second round. The first game was eighteen minutes long and full of drama, with many break and game points saved and lost, until finally, Anisimova held.
The Croat tried to get the American out of rhythm with different spins and angles, but the American withstood the challenge and answered with grit and creativity, hitting several perfectly-placed dropshots. They stayed on serve until 5-4 when the wind picked up and rain began to fall. Anisimova had begun to improve her returning, and with Martic serving at 15-40, play was suspended and Anisimova had two set points.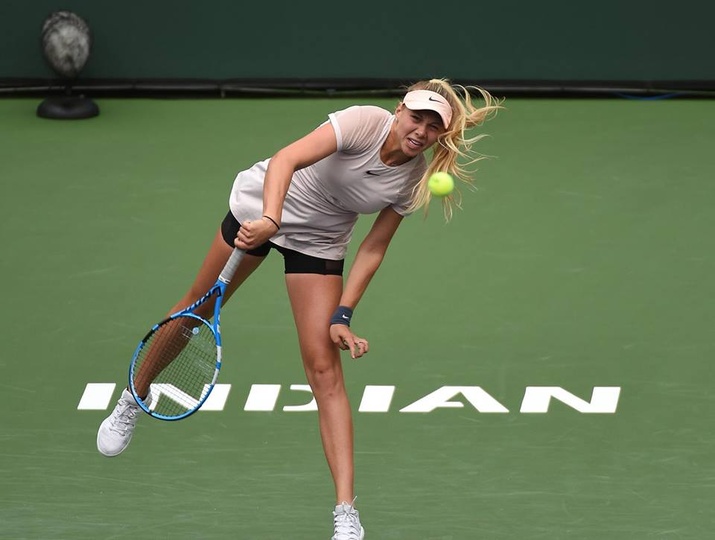 Play resumed on Thursday afternoon. Martic was able to dig herself out of trouble and get back to deuce when it started raining again. This delay was a short one, and when play began Anisimova was able to wrap up the set. Early in the second set, Anisimova broke and took a 3-1 lead. Martic broke back, and they were back on serve. Then Anisimova got another break and served for the match, winning on her first match point.
Last year Anisimova won the US Open juniors and got to the fourth round of Indian Wells, beating her first top-10 player Petra Kvitova 6-2, 6-4. She said afterward that Kvitova was the best player she'd played and it was the biggest court she'd played on, but that she was startled by one thing: "I would see myself on the big screen. I wasn't use to that." She added that "it was definitely nerve-wracking kind of, but I was enjoying it so much out there and I was playing my best. It was a good day."
Many good days are ahead for Amanda Anisimova.
The 5'11" American, the daughter of Russian parents, was born in Freehold, New Jersey, and now lives in Aventura, Florida. With technique-perfect blistering groundstrokes, lightning-quick footwork, and a blasting serve, she is a pleasure to watch. She wears her long blonde hair in a braided ponytail, held in place by a visor. Like Anna Kournikova and Maria Sharapova, two other blonde Russian tennis prodigies and style icons who arrived young to Florida to train, Anisimova seems destined to be a megastar of the sport.
This past March, in her first round at the Miami Open, in a freak accident, she fell as she took a step to stop a let ball. She appeared to have twisted her ankle. A physio arrived with a towel and ice, and Anisimova was able to play and finish with a win over Qiang Wang of China. That she was able to continue, on what must have been adrenaline and strong will, is a testament to her mental and physical toughness and her great ability to close. But she was forced to pull out of her second-round match against Garbiñe Muguruza. It turned out there was a small bone fracture in her right foot.
Anisimova reached a career-high ranking of world No. 126 in April 2018. After a four-month layoff, her first tournament back was last week in San Jose where she lost in the second round to the No. 5 seed Mihaela Buzarnescu of Romania 7-5, 2-6, 6-1.
When asked about her long-term goals, Anisimova has said, "I hope to be No. 1 and win every Grand Slam." Then she said if she had to win only one, it would be the US Open. She will get her chance soon as she's received a wildcard into the main draw, which begins on Monday, August 27th, in Flushing Meadows.