Anisimova Fights Through To The Third Round In New York

Amanda Anisimova, the 5'11" American, a daughter of Russian immigrants, is wearing her long blonde hair in a braided ponytail. She has on a retro Nike outfit. A bright pink top with wild and colorful patterns of pale pink, azure blue, grass green, neon yellow. Think Andre Agassi. But Amanda's toning it down with a plain white visor and white shorts.
Anisimova, who turned 19 on August 31, has just beaten fellow American teenager, 16-year-old wildcard Katrina Scott, 4-6, 6-4, 6-1, to move into the third round of the 2020 US Open.
After her victory, Anisimova, visibly relieved, said: "I'm extremely happy, not just with my win, but just how I came back and fought in that match. I'm just really proud of the way I turned it around against her.
"She came out literally firing. I think she was hitting serves at 117 [mph], so all the credit to her. She was playing amazing.
"It's not that I was having a bad day or anything, but I'm really happy that I was able to not have a mental breakdown like I normally would have and then lose a match like that.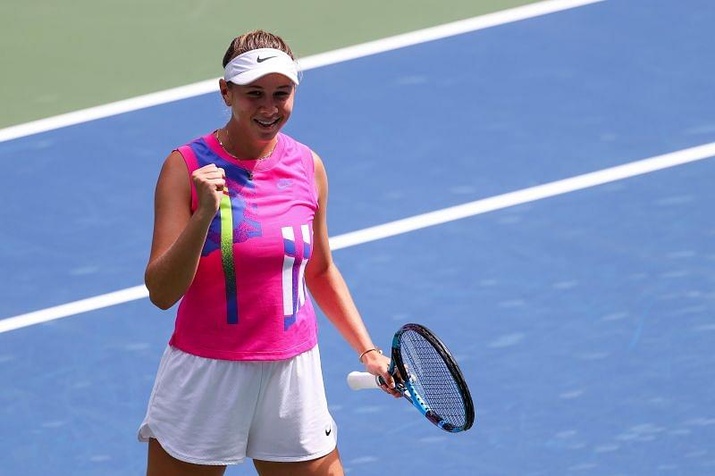 "I was just thinking about my dad the whole time. And I didn't want to lose without putting up a fight, so I'm really happy about that."
Last year, one week before the start of the 2019 US Open, while Anisimova (who'd had a breakthrough year, reaching the semifinals of the French Open) was training for the tournament in New York, her father, Konstantin Anisimov, who'd also been her longtime coach, died of a heart attack at age 52.
Grief-stricken, Anisimova withdrew, retreating back home to Aventura, Florida, to be with her mother and sister.
I understood that grief. I felt deep empathy for Amanda. We shared something profound.
We both knew what it was like to be a young girl and lose your father suddenly, a father you loved and adored, who also played tennis and taught you all he knew about the sport.
I'd been a junior tennis player. I'm now a teaching tennis pro, as well as a writer. I'd been shattered by my father's death when I was living in New York, a creative writing student at NYU.
So I'm invested in watching Amanda's match. She's back in New York after not playing last year.
She's playing on the second biggest show court, Louis Armstrong Stadium, which has 14,000  seats and a retractable roof.
She's playing someone younger than she is, Katrina Scott, the world No. 637, who does come out firing.
Looking full of self-belief, Scott serves first and holds easily. After a scintillating forehand down-the-line winner, she breaks for 3-1, then holds with a blistering backhand down the line for 4-1.
Because of the pandemic, there aren't any fans to cheer this remarkable start in her second-round match of her Grand Slam debut. Just parents, coaches, fellow players. Very much like the atmosphere of a junior tournament.
Scott is an accidental tennis prodigy. She first started in ballet, then switched to figure skating. But because of a carpool, she ended up taking a tennis lesson with a friend, and her identity changed. She was now a tennis player.
I'm concerned for Anisimova. She's a player who hits a lot of winners, but her error count is high. But this is how she plays. Aggressively. She has an attacking style, plays close to the baseline, but she is slightly mistiming the ball with her on-the-rise shots.
In the sixth game, serving, it's love-30, but she hits a fantastic serve down the T that seems to shift the momentum. She holds for 2-4.
Then the momentum shifts back with Scott, who serves an ace to hold for 5-2. Then back again to Anisimova who breaks with a crosscourt return winner off a second serve and is gifted a double fault.
Serving at 5-3, Scott lets two set points slip away, and Anisimova breaks for 4-5.
Amanda is back in this, and she is serving.
But then she misses a forehand long, a backhand wide, double-faults, and Scott hits a backhand winner, breaks back and takes the set.
In the second set, Anisimova raises her level, beginning with the first point when she crushes a backhand return crosscourt for a winner. Scott stays competitive, still serving fearlessly, returning deep and in the middle, not giving Anisimova much to work with. They both hold until 4-all.
At this crucial stage, Amanda is able to break with a blasting backhand down-the-line winner and a missed volley in the net by Scott.
At 5-4, Anisimova serves beautifully, holding at love to take the second set.
In the third set, Anisimova breaks Scott in the first game and never loses another, playing at a high level with her easy power: creating cross forehand angles; lacing backhands down the line; smacking a swinging volley winner to the open court.
I feel emotional over her win.
In 2017, I watched Amanda's junior matches when she became the US Open Girl's Champion.
Last year, when I heard of her father's death, I knew that in time, the tennis court would save her, always save her—the grief never goes away—as it still saves me.
Anisimova said that she was thinking a lot about her junior days: "I'm getting a lot of like memories from the juniors when my dad was with me. And I had a match just like this, you know. I was down, and then he was saying some encouraging words, so that really helped me.
"So, I don't know, I was just thinking about him the whole time. And it was just giving me a lot of energy to pump me up and keep myself going. And then I started playing very well, so I'm just really happy with this win."