Anisimova Comes Back To Defeat Gauff At Wimbledon

At Wimbledon, in a clash of young Americans in the third round, 20-year-old Amanda Anisimova defeated 18-year-old CoCo Gauff 6-7(4), 6-2, 6-1 in two hours and seven minutes.
Anisimova got off to a slow start for her Centre Court debut, getting down 3-love in the first set. But then she rallied back, winning four games in a row. In the tiebreak, Gauff was down 4-1, then won the last six points to take the set.
In the second set, Anisimova held in the first game, serving well—she served 72% first serves in for the match—and with a sensational swinging forehand volley.
With an excellent backhand return and a missed forehand wide by Gauff, Anisimova broke for two-love. Gauff broke back in the next game, but after that, Anisimova had all the momentum, with exquisite timing, solid volleys, and a gorgeous slice backhand down-the-line approach.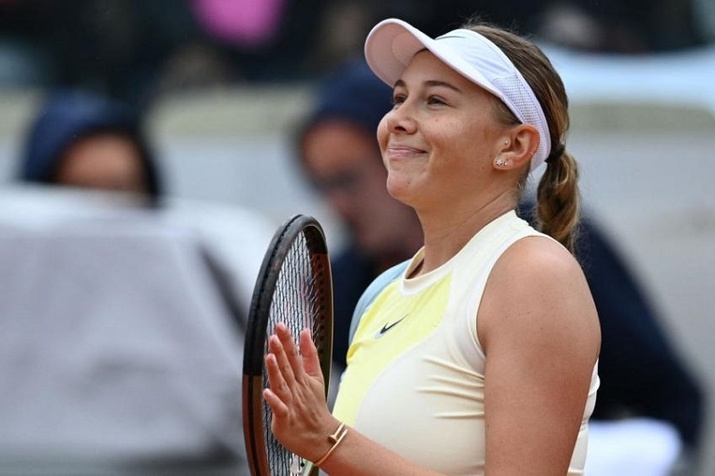 Both players have a weapon in their backhand. Anisimova's backhand down the line, especially, is dazzling.
Tactically, Anisimova was able to break down Gauff's forehand, then, when she had the opportunity, step in for the finishing shot.
Anisimova plays high-risk tennis, returning on or inside the baseline, hitting on the rise, always going for her shots. Anisimova hit 27 winners and 40 unforced errors, while Gauff hit 16 winners and 20 unforced errors.
It was an emotional victory for Anisimova, who, after hitting a backhand winner on match point, lay down on her back on the grass, her hands covering her face.
In her post-match press conference, Anisimova said: "Yeah, it was super tough match today, but it was extremely special to get to play on Centre Court for the first time in my life. I was trying to soak in every moment that I had. It was extremely special.
"Just being here all week and seeing Centre Court, it's just so amazing to just be around it.
"I was extremely happy that I got to play on it today. Yeah, I was just coming in today super excited. I was kind of visualizing playing on it. Then I saw how packed it was. It was just extremely special. Especially after last year, I wouldn't have pictured myself in this position just coming off of so many losses last year. Having this moment, it just means a lot to me."
On losing the close first-set tiebreak, Anisimova said: "Well, it's obviously uneasy to lose a first set 7-6 and bounce back after that. It's extremely difficult.
"But I was just trying to slow down the pace and just really take it one moment at a time. Of course, I was a bit more tired after that first set. It was just kind of slowing down. I could feel that the wind kind of calmed down as well so I was able to play my game a bit more."