Andy Roddick Excited About Return to London

In an era where experience appears to be far more valuable than the vigour of youth, it seems faintly ridiculous that Andy Roddick is already two years into retirement from the professional tour, at the age of 32. With 33-year-old Roger Federer coming within a whisker of finishing the year as world No. 1 and the comparatively ancient Tommy Haas still proving his mettle at the highest level at the age of 36, it feels hard to believe that Roddick is well into his tennis dotage.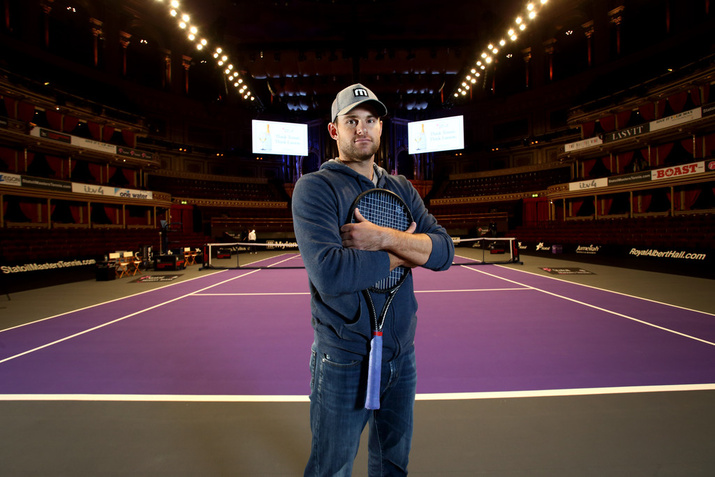 Instead of preparing for next month's Australian Open, these days Roddick is mixing it with the 'golden oldies' of the ATP Champions Tour and he's in London this week for the circuit's traditional season-ending Statoil Masters at the Royal Albert Hall. Not that Roddick will be able to take things too lightly. His round-robin group contains Xavier Malisse and Sergei Bruguera, who contested a thoroughly entertaining encounter in the opening Group B match on Wednesday evening, which Malisse edged in a final-set tiebreak. Malisse is also fairly recently retired and still possesses the lethal power on serve and off the ground that saw him regarded as a dangerous and mercurial player who never quite fulfilled his potential at the highest level.
Roddick begins his Albert Hall campaign against Bruguera on Friday and he admits that he may have still be competing on the ATP Tour had it not been for the sport's rather draconian rules regarding the number of events players have to compete in each year. Roddick wanted to restrict his participation to around seven tournaments maximum to protect his injured shoulder, but doing so would have left him facing hefty fines.
Instead, he's shifted to a predictably popular role as commentator and TV pundit and has been an intrigued observer of the unfolding drama this year with Stanislas Wawrinka and Marin Cilic making surprise breakthroughs to claim the Australian and US Open titles. Roddick expects the trend to continue.
"The shake-up happened in a big way this year," he said. "The top guys still have a hold on the game but it's a looser hold. Federer and Nadal are going to have to start prioritising their events a bit more as I think the days are past when they'll win 80 matches in a year."
We've been used to the so-called 'Big Four' of Roger Federer, Rafael Nadal, Novak Djokovic and Andy Murray, sharing the spoils over the past five years but Roddick is convinced that their dominance is over.
"I don't think you can define it with a number anymore," he said. "Maybe tiers, the top tier, then the next five or six guys who are all equal as far as winning.
However Roddick expects his old nemesis Federer to continue the resurgence he's shown over the past 12 months, as long as he can stay healthy.
"In his prime he was the best offensive player in the world and the best defensive player. Last year he wasn't playing defence so that meant he was playing more high-risk tennis. He was pulling the trigger in rallies, not getting that rhythm and missing more. Then confidence goes. But to my mind he just had to get healthy and regain his speed."