Andreescu Wins US Open Title

In December of 2015, 15-year-old Bianca Andreescu won her second Orange Bowl, the prestigious junior tournament in Miami. Afterward, she wrote herself a check for $3.3 million, the prize money received in that year by Flavia Pennetta, the first Italian to win the US Open.
Ever since that moment, Andreescu's been visualizing winning here in Flushing Meadows.
On Saturday, she became the first Canadian to win the US Open, defeating Serena Williams 6-3, 7-5. The prize money is $3.85 million.
Now she has her check for real.
"I've been dreaming of this moment for the longest time," Andreescu said, breaking into tears in the interview room after the match.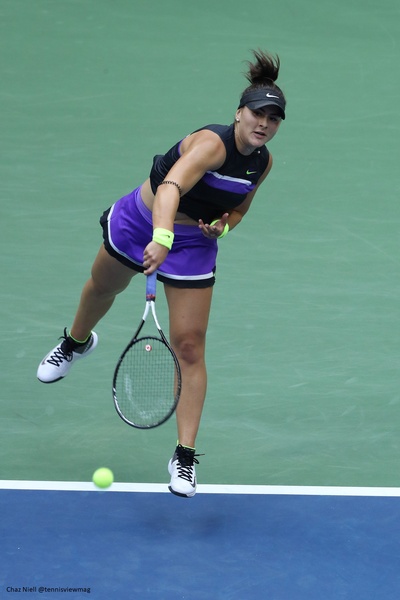 She lowered her head, placed her hands over her face, and quickly gained composure: "After I won the Orange Bowl, I really believed that I could be at this stage. Since then, honestly, I've been visualizing it almost every single day. For it to become a reality is just so crazy."
She smiled. "I guess these visualizations really, really work."
That quote from her did not surprise me. In 2016, I had my first credential to the US Open. I stayed at the Grand Hyatt in midtown Manhattan, a hotel where a lot of players stay, and I got to ride the shuttle bus with her out to the venue on most days. Even then, Andreescu had that star quality—you know it when you see it.
On our bus rides, her gaze was pensive as we passed the cemetery crowded with graves. Dreamy as we made the curve to where the stadiums first come into view. We were all dreamy then. And energized. We were alive.
I watched her junior matches. She lost in the semifinals.
Bianca Andreescu has said that she did pretty well on the junior circuit. That it helped her. I was also a junior player, not at her level, but it helped me, too.
Andreescu is 5-foot-7 with powerful legs. She's an excellent mover. What separates her from the field, though, is her belief. There is incredible belief inside Bianca. And her demeanor. Her demeanor is fearless.
She also draws confidence from her ability to change pace. She can slice, drop shot, lob, attack the net. She has a good overhead, good serve.
In the final on Saturday, Andreescu won the coin toss but elected to receive.
Serena served an ace on the first point, but she also double-faulted twice in the game. Andreescu broke, then held. 2-love.
At 2-4, Serena held a crucial game, saving five break points, so that she would not go down a double-break. Serena struggled with her backhand, but she still looked like Serena, hitting winners from everywhere to every part of the court.
At 4-3, Andreescu is serving. The crowd is cheering wildly for Serena. Andreescu fights back, hitting heavy-flying groundstrokes, mixing in the slice, finishing at the net. She holds serve for 5-3 with an ace out wide, then a serve plus one, a forehand crosscourt winner.
In the next service game, Serena double-faults on set point.
The second set followed a similar pattern to the first. Serena said to her box, "I can't get my serve in." She quickly got down 5-1.
Then she staged a Serena comeback—that familiar warrior one that all Serena fans know—back to 5-5.
The crowd is roaring. Andreescu puts her fingers in her ears to drown them out. It works. Bianca hits three successful serves down the T, one an ace. Serena nets a couple backhands.
Serena is serving 5-6. She misses a forehand long, makes a forehand crosscourt winner. 15-all. Bianca crushes a forehand down the line off a second serve. 15-30. Serena misses a backhand wide. 15-40. Serena aces out wide. 30-40.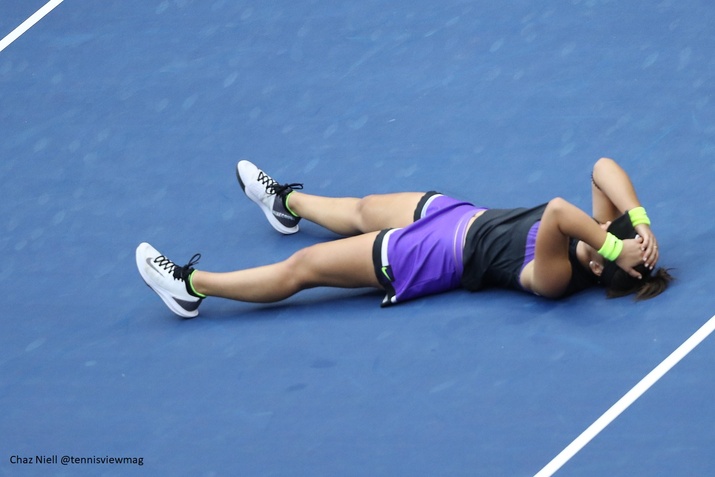 On her second championship point, Bianca hits a forehand winner, drops her racquet in disbelief, kisses the court, falls on her back in her Canadian snow-angel way, has a warm embrace with Serena at the net. She climbs into her box to hug her coaches and parents.
In press, Andreescu was asked about that tactical decision that she and her team made, choosing to receive against the best server in the history of women's tennis. Andreescu shrugged. "I always do that. I just kept to the same routines. I don't know why. It is what it is."
Me, too, I thought. I always choose to receive. A lot of us juniors do.
When asked if there were any specific Canadian athletes that she looks up to, the first one Andreescu listed was Carling Bassett.
I loved Carling Bassett, too. Beautiful, sassy, and she got as high as eight in the world.
But I mostly loved Carling for starring in a movie about junior tennis called Spring Fever. It did not get good reviews, but my teenage-self loved it.
At the end of her press conference, Andreescu summed it all up for all of her fans: "It's been a goal of mine to inspire many people, especially Canadian athletes. I think that this win will hopefully do that. Just what I've accomplished this past year. Because so many Canadian athletes have paved the way for me when I was young and hopefully I can be that person to them."