Andreescu Makes Successful Return To The Tour In Madrid

At the Mutua Madrid Open, in stunning style, 21-year-old Canadian Bianca Andreescu, takes out 28-year-old American Danielle Collins, the sixth seed, in a shocking scoreline, 6-1, 6-1, in just over an hour, to reach the third round.
Andreescu returned spectacularly, taking time away by standing inside the baseline, crushing inside-in forehands and backhands down the line. She served well, especially into the body, jamming Collins, then following up with a forehand crosscourt winner.
The Canadian made 69% of her first serves, with one ace and two double faults. She saved five of six break points.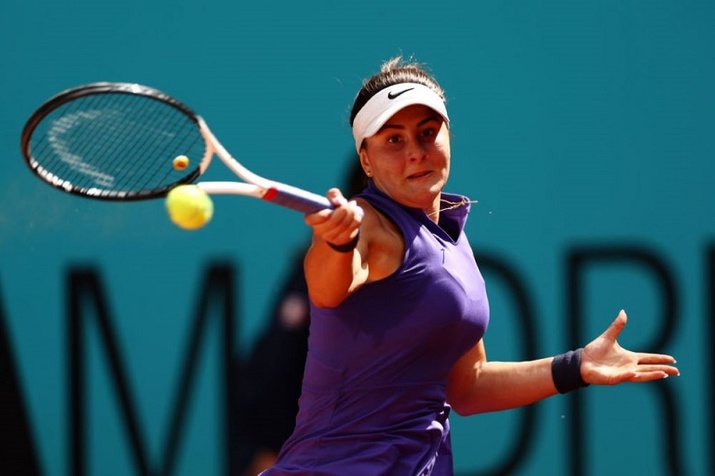 It is Andreescu's first time to play in the Masters 1000 event in Madrid (and first time playing at this level since Indian Wells in 2021).
When asked how it felt to be back in the mix, Andreescu said: "Yeah, it's amazing. I have never actually played this tournament before. You feel like you're at a Grand Slam, like everything, the organization, the food, everything is just perfect. I love the courts.
"So, it definitely feels good to be in an environment like this again."
Recently, Andreescu stepped away from the game to take care of her mental health. Before that, she'd been off the court from a knee injury that happened a month after her electric 2019 US Open title, defeating Serena Williams in a thrilling final and rising to world No. 4 in the rankings.
Andreescu said of her recent break: "It was one of the toughest decisions I have had to make in my career. It didn't come overnight, like I have been feeling some sort of way up until that point for maybe about like actually maybe three months. I was going to say two, but maybe even longer.
"I didn't want to continue putting the people close to me through what I was going through. Not only for myself but for them too because I love them so much. I just felt like it wasn't fair.
"I thought of different scenarios, like, Okay, I stop after Indian Wells and then what happens? I take a month off? Will things really change? I don't know.
"So, I kind of didn't put a time on it. I just wanted to figure out, you know, what's good for me and what's not good for me. I was luckily able to figure that out in five months.
"It's pretty long, but at the same time, it's not. But I think I really used my time wisely. Now I can't say that I regret that decision. I think it was one of the best ever."
In the past five months, Andreescu said she'd done things outside of tennis, such as martial arts, dance lessons, basketball, and making music. "I hung out with a bunch of my friends, kind of got a lot of stuff out of my system, including, you know, spending time with family. I just kind of regrouped, basically."
She also did volunteer work. "I volunteered at a women's domestic violence shelter. I also volunteered at a SickKids Hospital. I did some videos for some patients that were struggling a lot physically. Just to see the look on their face like, you know, they did reaction videos, just makes my whole day. So, I'm very grateful for that experience."
We are grateful to see Bianca back and healthy and playing so beautifully. With her talent, charisma, and creativity, she is always an enthralling addition to the tour.