Ana Ivanovic Twirls Back Into Relevance

With the final, searing laser beam of a forehand to seal it all, out predictably came the gunshow. This time, Ana Ivanovic's trademark fistpump was punctuated with a double-armed salute, her left leg hovering from the ground and body twirling in 180 degrees of furious arm thrusting. It was pure ecstasy, as was the familiar sound of words tumbling out of Ivanovic's mouth in a breathless, frantic mumble.
"I am a very emotional player," she laughed at mention of the celebration, "and when I made a good shot I want to give credit to myself. I am very pleased."
And you couldn't begrudge her the excitement, either. This was her second landmark victory in a span of four and a half months that have defibrillated a career previously stuck in limbo. First came the rousing return clinic against Serena Williams on the hard courts of Australia, the site of five of Williams' major titles. And here, when in Rome, why not take out the two-time champion Maria Sharapova?
It was Ivanovic's fourth top-10 victory of the season and a landmark 30th victory in all competitions, a stat that sharply contrasts with the respective 24, 33, 32, 37 and 40 victories she recorded in her last five full outings on tour, all with considerably more losses. Ivanovic's current WTA 2014 win-loss record of 30-7 puts her firmly on course to smash all of her previous seasons.
A productive year so far, indeed. And while the numbers represent a dramatic improvement over recent years, perhaps the most interesting aspect of this Ivanovic semi-revival has been her performances themselves. The relentlessness of the bombastic forehand demonstration in Australia may have been difficult to sustain, but the red clay has showcased a different, more resourceful side to her game. As with her forehand, the slice has become a pivotal weapon in the Ivanovic arsenal. It was on show as she traded between the double-handed backhand struck with uncharacteristic depth and the single-handed slice to expose the uniquely towering height of Sharapova.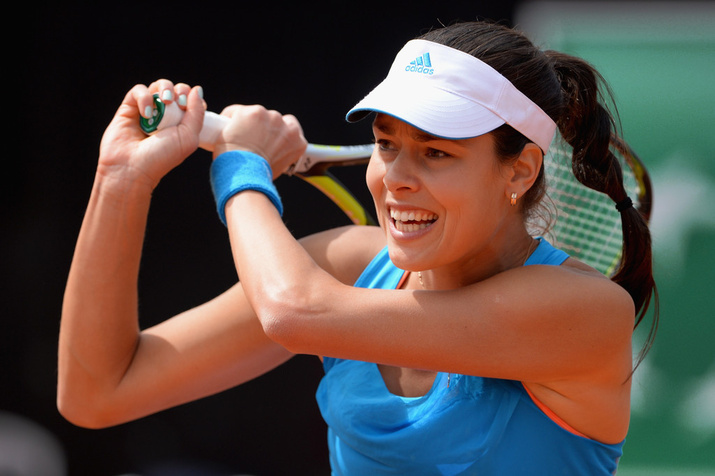 Over the six years since she won Roland Garros, there may not have been a single Ivanovic press conference that hasn't featured at least a small allusion to her brief glorious past. The result of such anxiety among fans is that every one of her small successes since then have been hyped to death and celebrated as her glorious return to the big time.
By contrast, this time the hype machine appears to be silent. Perhaps people have learned from the premature predictions of the past and are guarding against the feelings of futility and disappointment that have haunted Ivanovic and her fans for half a decade. But it may just be that she finally has returned from the wilderness, after all. Not back into contention for Grand Slams, granted, but back in the conversation as a threat to the elite contenders and a possible member of the top 10. And that is worth a fistpump or two.